Bin-nadang di Kordilyera: A Group Exhibition of Tam-awan Village Artist Group
See Igorot-inspired art pieces in ArtistSpace and Chanum Foundation's Bin-nadang di Kordilyera (translated in English as Bayanihan of Cordillera), a group exhibition of Tam-awan Village Artist Group from March 23 to April 7, at the ArtistSpace Ayala Museum.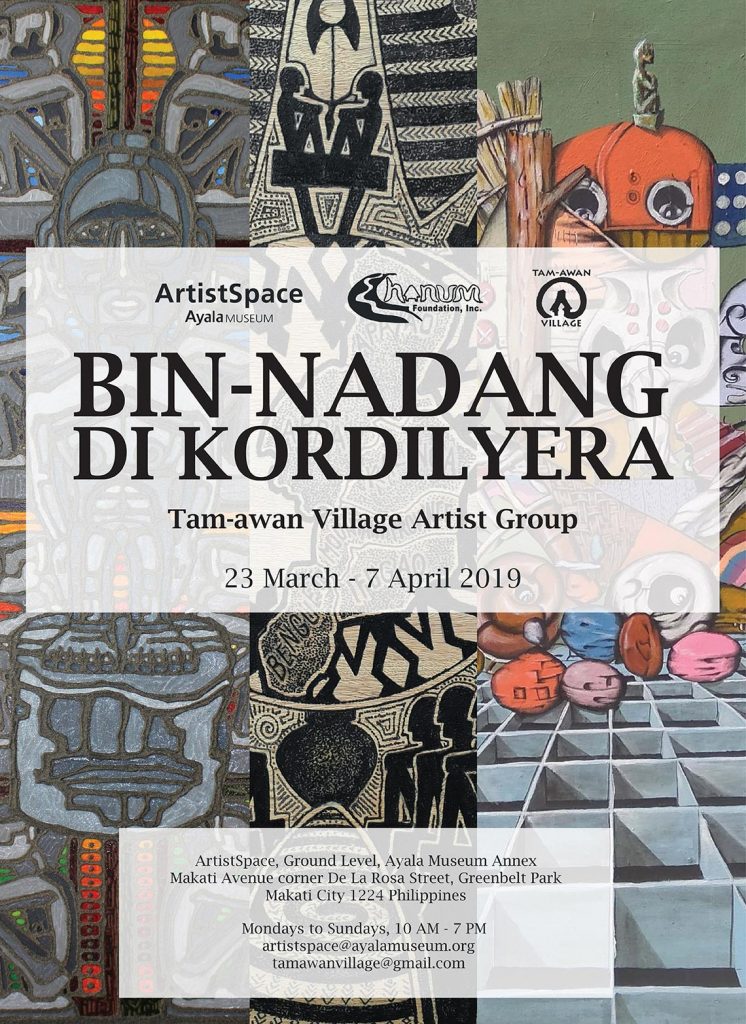 The Philippines is a country rich in cultural diversity. However, one indigenous group has stood out the most in terms of richness and preservation of its practices, beliefs, and traditions.
Nestled in the mountains of the north and central Luzon lived a number of tribes that were spared by the Spanish colonization. The Igorots, now called Cordillerans, have always been faithful to the old ways of their heritage.
Despite political division and particular differences in practices and influences, the Igorots and/or the Cordillerans continued to flourish, and have even embraced the outside world as one.
Bin-nadang di Kordilyera exhibit aims to reintroduce the depth of what the Cordilleran culture is to us as a unified people. Take a look at the minds and hearts of those who have descended from, were born into, inculcated or adapted the Igorot/Cordilleran way of life.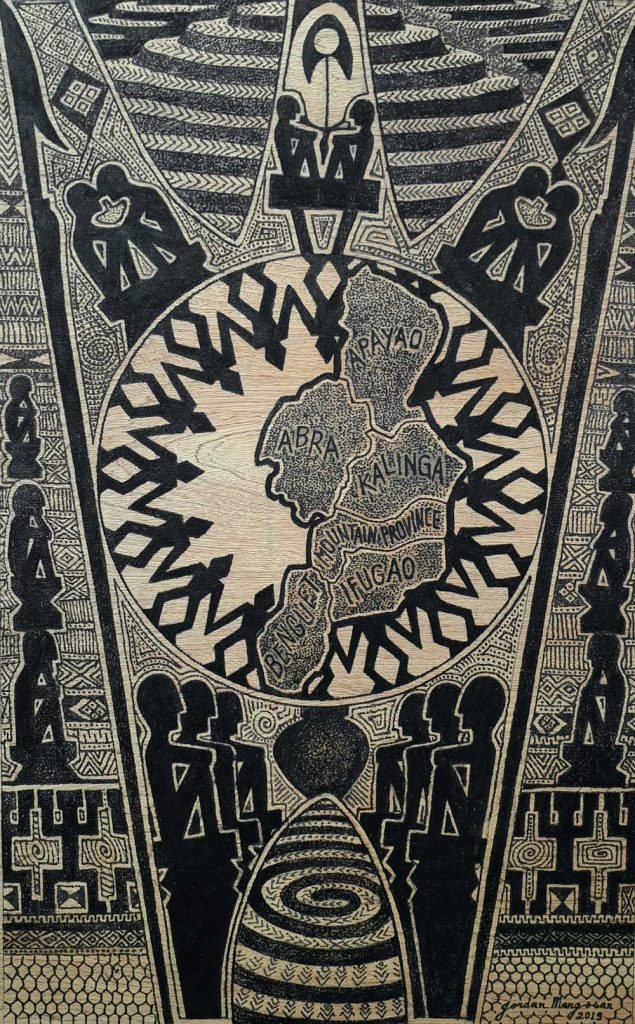 UNITED CORDI'S (2019), a solar drawing created by artist Jordan Mang-osan
About the Artist
Chanum Foundation, Inc. was founded in 1998 and began reconstructing Ifugao huts in Pinsao to establish the Tam-awan Village. Founders, National Artist Ben Cabrera, Jordan Mang-osan, Chit Asignation, Atty. Nestor Mondok, Anne Camdas-Micheal, and Jackson Bryan III worked together to envision an ideal and unique organization for culture and the arts.
With the aim of making Tam-awan Village the premier venue for the ultimate cultural and artistic experience, Chanum also established its group of artists called the "Tam-awan Village Artist Group."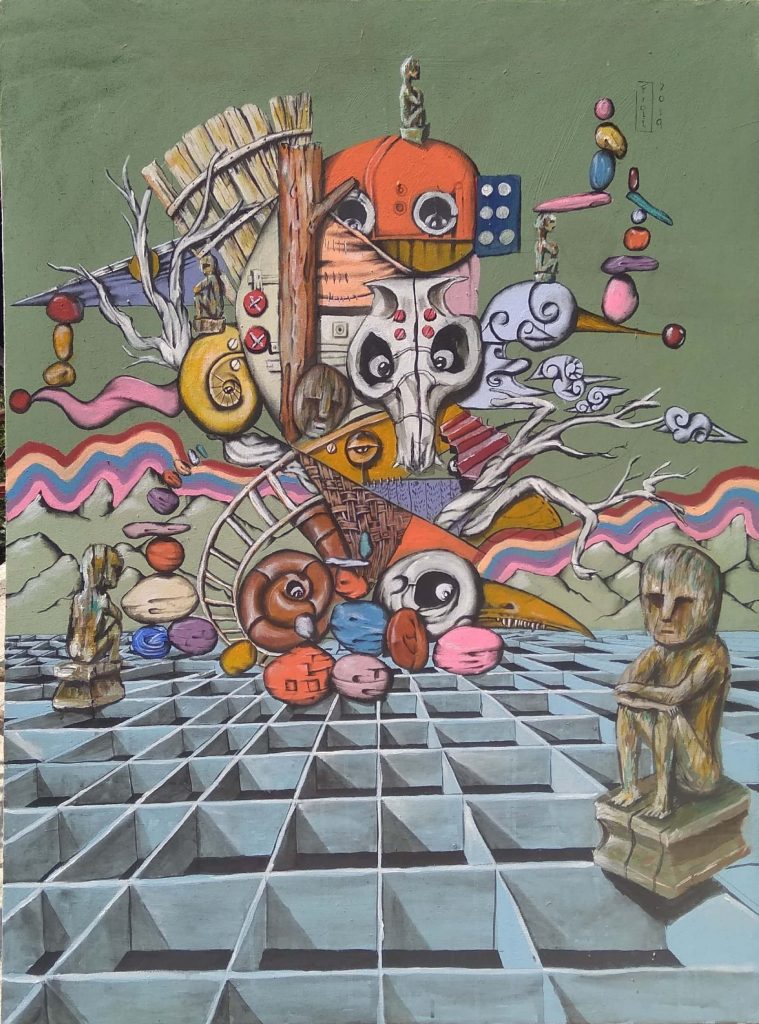 Francis Alingcayon's Interlink (2019)
The purpose was to create a group of visual artists who would promote the diversity and richness of the Cordilleran culture and lifestyles through their artworks. The Tam-awan Village Artist Group now boasts of 27 active artists who incorporate Igorot culture and ideals into their works.
Now, the group has expanded its focus and has embraced different forms of art. The group has begun conceptualizing and organizing recruitment and membership under performing arts, literature, and has included film and photography under visual arts.
Highland Rice God (2019), a sand art by Edwin Macadaeg
Bin-nadang di Kordilyera is on view at the ArtistSpace, Ayala Museum Annex, Makati City from March 23 to April 7, 2019. It is open from Mondays to Sundays, 10 am to 7 pm. Admission is free.
For more information, you may call or e-mail Jane Salvador at (02) 759-8288 and artistspace@ayalamuseum.org or Arvin Molintas at 0917-5108196 and tamawanvillage@gmail.com.
Details:
What: Bin-nadang di Kordilyera: Group Exhibition of Tam-awan Village Artist Group
Where: ArtistSpace, Ayala Museum
When: March 23 to April 7, 2019, 10 am to 7 pm
Admission: Free
---
This is a press release. Minor edited were made prior to publishing.
Images courtesy of ArtistSpace Ayala Museum