Natsu Matsuri: A Japanese Summer Festival in Manila This March 29!
Natsu Matsuri, which translates to "Summer Festival" is a traditional way of honoring the people's ancestors. Now, it has become a way for people to relieve stress and have a little bit of fun.
Hinomoto, a student-run organization of Ateneo de Manila University (ADMU) brings back Natsu Matsuri with sights, sounds, food, and games this March 29, 2019, at the university's Bellarmine Field.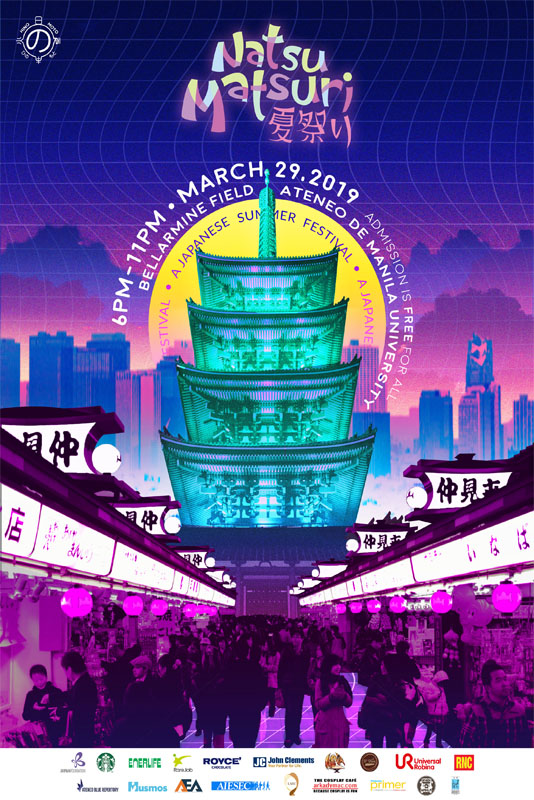 This is the season to go to the festival grounds, don a yukata, and enjoy games and festivities! Everyone is invited to participate and experience the Natsu Matsuri as well as parts of the Japanese culture. Entrance to the event is free and the program proper will run from 6 p.m. to 10 p.m. – the booths, however, will operate until 11 p.m.
The event features performances from different artists and musicians. There will also be performances by Hino Ongaku and Hino Odori – Hinomoto's music and dance group, respectively.
The game booths will run through a "chit" system where festival goers would need to purchase chits from one of the booths in order to play the game. Please take note that these tickets are not required to enter the event itself.
There will be a variety of games such as the "Kingyo-Sukui" where the goal of the game is to scoop a goldfish from a small pool; and the "Wa Nage", a classic ring toss game. These are just some of the many game booths that you can enjoy at the Natsu Matsuri.
There will be booths selling food and drinks throughout Natsu Matsuri. Apart from these, there will also be a booth for yukata rentals, a Tarot Card reading booth, and a photo booth!
Celebrate summer with Natsu Matsuri happening on March 29, 2019, at Ateneo de Manila's Bellarmine Field from 6 p.m. to 11 p.m. Admission to the event is free.
For more information, you may visit Hinomoto's Official Facebook Page. You may also visit Natsu Matsuri's official event page.
Details:
What: Natsu Matsuri 2019: A Japanese Summer Festival
Where: Ateneo de Manila University's Bellarmine Field, Katipunan Ave., Quezon City
When: March 29, 2019
Ticket Information: Admission is free.
---
This is a press release. Minor edits were made prior to publishing.
Images courtesy of Hinomoto.