Celebrate with Espacio Femenino: Spanish and Filipino Female Filmmakers This March
In celebration of International Women's Month, Instituto Cervantes Manila presents Espacio Femenino: Spanish & Filipino Female Filmmakers, a film series featuring female directors. It will be held every Saturday of March from 4 p.m. onwards at the Plaza San Luis Complex, Intramuros, Manila.
The event is in collaboration with the Embassy of Spain in the Philippines, Film Development Council of the Philippines, and Intramuros Administration.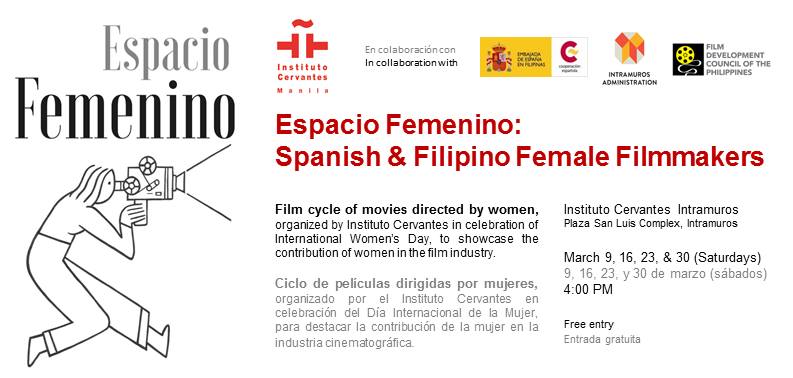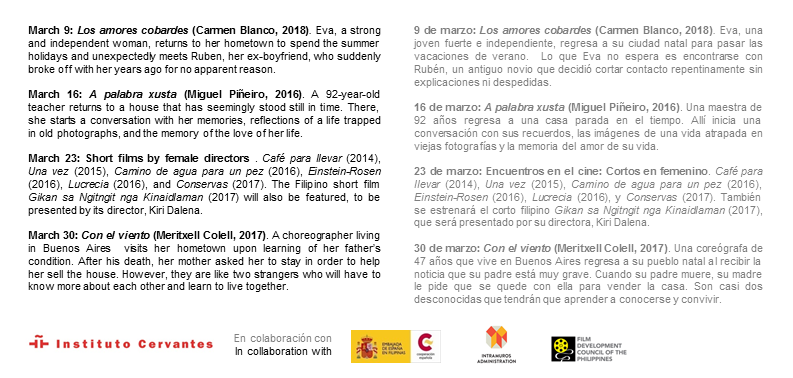 Here's what you can expect at the Espacio Femenino for all Saturdays of the month:
March 9: Los amores cobardes (2018) by Carmen Blanco
Los amores cobardes follows the story of a strong, independent woman named Eva, who goes home to spend the holidays with her mom and her best friend Gema. However, she bumps into her ex-boyfriend Ruben, who she hasn't spoken for long. He left her with a broken heart without any goodbyes—but is there a second chance in love?
March 16: A palabra xusta (2016) by Miguel Piñeiro
A palabra xusta is about a 92-year-old teacher who goes back home, where she starts to reminisce as she views the old photographs, particularly the memory of her one true love. This story will touch your heart in ways you can't imagine.
March 23: Short films by female directors
Among the short films to be screened on March 23 are Café para llevar (2014), Una vez (2015), Camino de agua para un pez (2016), Einstein-Rosen (2016), Lucrecia (2016), and Conservas (2017). A Filipino short film Gikan sa Ngitngit nga Kinaidlaman (2017) by Kiri Dalena also made it to the list.
March 30: Con el viento (2017) by Meritxell Colell
Con el viento starts with the story of Monica, who returns home after her father died. There, she reunites with her mother and two sisters, Elena and Berta. Monica and her mother will have to sell the house, but there are wounds that may have to be reopen, just to heal completely.
Which of these films are you excited about? You can watch them all for FREE, so better drop by any Saturday of the month at 4 p.m.! Note that admission is on a first come, first serve basis.
For more information, you may like and follow Instituto Cervantes Manila's official Facebook page. 
Details
What: Espacio Femenino: Spanish & Filipino Female Filmmakers
When: March 9, 16, 23 & 30, 2019, 4 p.m.
Where: Plaza San Luis Complex, Intramuros, across San Agustin Church, Manila
Admission: FREE