ArtistSpace Presents Sweet Disposition Exhibition on March 8
In a world that is becoming increasingly digital and full of screens, it is refreshing to experience what is real and tangible.
Remind yourselves to find beauty in ordinary things as ArtistSpace presents SWEET DISPOSITION on March 8 at Ayala Museum in Makati. It is the first solo exhibition of visual artist Mykie Concepcion that is sure to capture the innocence of the youth.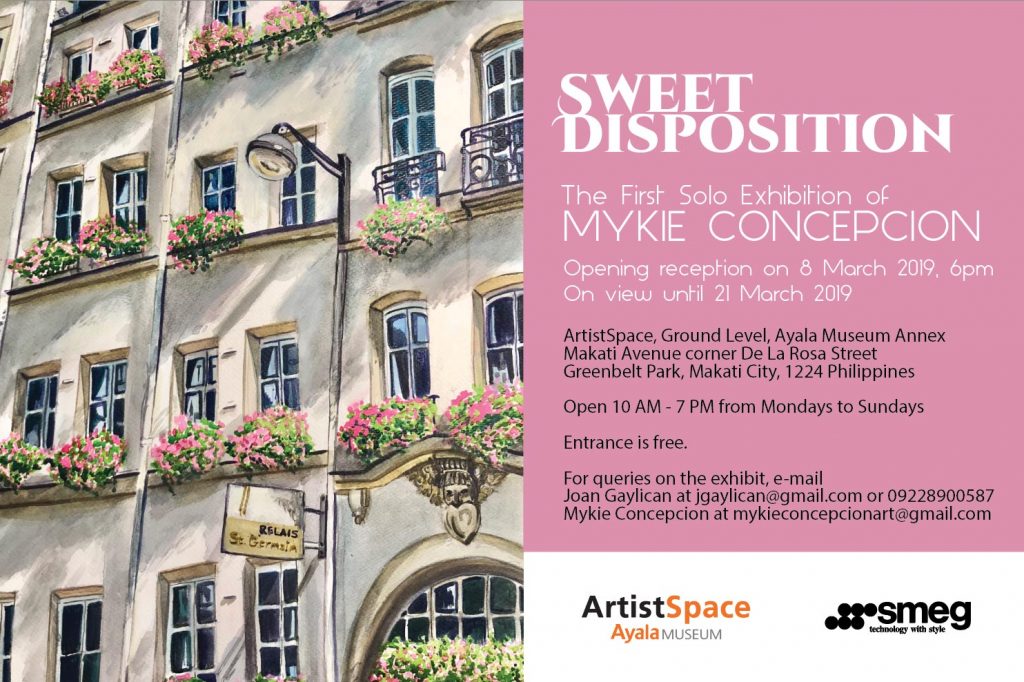 Mykie Concepcion's realistic paintings and drawings represent moments that people might take for granted. She uses a variety of mediums, primarily oil paint, watercolor paint, graphite pencil, and charcoal.
Her works are mainly realistic, with hints of colorful impressionism taken from the artist's love for Claude Monet, Edgar Degas, and Vincent van Gogh. The artist also enjoys graphical elements that are achieved in her rubber cut prints.
Certainly, Mykie finds happiness in painting the things she loves. If her works manage to make someone smile or find joy in them, then she believes she has fulfilled her role as an artist.
About the Artist
Mykie Concepcion, born in 1994, is a visual artist and a graphic designer based in Manila, Philippines. She graduated cum laude from the University of the Philippines (UP) in Diliman with a degree in Bachelor of Fine Arts major in Painting in 2016. She was a member of UP Junior Marketing Association (UP JMA) from 2015 to 2016.
At 24 years old, Sweet Disposition will be Mykie's first solo exhibition. She has held group exhibitions which includes Tukod Foundation's Awit at Laro in October 2018, and Tagaytay Art Beat 2 in Museum Orlina, Tagaytay in May 2018.
SWEET DISPOSITION will be on view at the ArtistSpace from 8 to 21 March 8 to 21, 2019 with an Artist's Reception on March 8 at 6 p.m. ArtistSpace is located at the Ayala Museum Annex, Ground Level, Makati Avenue corner De La Rosa Street, Makati City. It is open from Mondays to Sundays, 10 a.m. to 7 p.m. Admission is free.
For more information, please call or e-mail Jane Salvador at (02) 759-8288 | artistspace@ayalamuseum.org, Joan Gaylican at jgaylican@gmail.com | 0922-8900587 or Mykie Concepcion at mykieconcepcionart@gmail.com.
Details:
What: ArtistSpace Sweet Disposition Exhibit
Where: ArtistSpace, Ground Level, Ayala Museum Annex, Makati Ave. cor. Dela Rosa St. Greenbelt Park, Makati City
When: March 8 to 21, 2019
Tickets: Free Admission
---
This is a press release. Minor edits were made prior to publishing.