M Butterfly National Tour 2019 in the Philippines
UPDATE: Shows in Manila, Davao, and Baguio are canceled as announced through MButterfly Philippines Facebook Page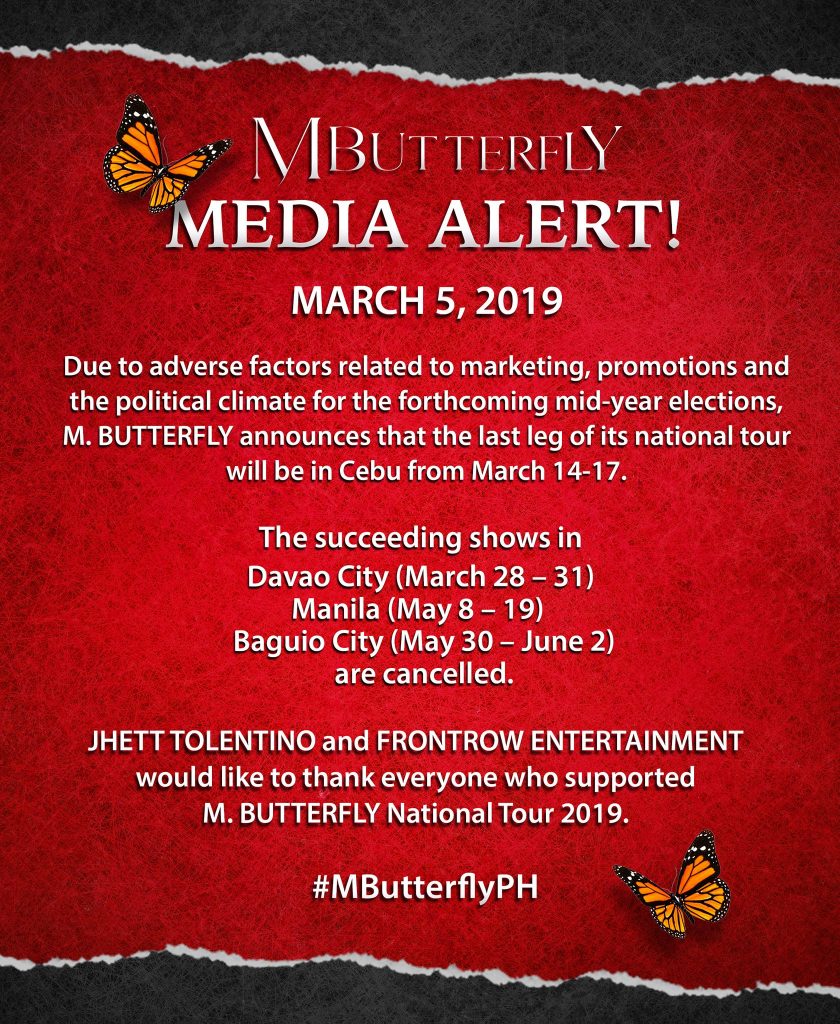 The multi-awarded play, M. Butterfly, which prompted last September for its National Tour stops by in Manila to perform from May 8 to 19 at the Maybank Performing Arts Theater in Bonifacio Global City!
M BUTTERFLY National Tour 2019

The M. Butterfly National Tour 2019 is about to kick-off! Catch us on the following dates and locations:Iloilo on Feb 14-17Dumaguete on Feb 28-Mar 3Cebu on Mar 14-17Davao on Mar 28-31Manila on May 8-19Baguio on May 30-June 2.For more information, follow us on our social media pages @MBUTTERFLYPH on FB, IG, Twitter. Follow our hashtag #MButterflyPH

MButterfly Philippinesさんの投稿 2019年2月3日日曜日
M. Butterfly's narrative revolves around the twisted story of Rene Gallimard, a former French Embassy diplomat, who falls deeply in love with a Star Opera actor, Song Liling, who is unknowingly a man portraying a woman in the play. Meanwhile, Liling is also part of a Chinese Communist Party which broke a West and East espionage.
IMAGE M Butterfly PH
M. Butterfly premiered its debut at the National Theatre, Washington, D.C. on February 10, 1988, then later performed at the Eugene O'Neill Theatre on March 20, 1988. The play stopped its play after 777 performances accumulated on January 27, 1990.
In 1988, M. Butterfly bagged these following awards: Tony Award for Best Play; Outer Critics Circle Award for Outstanding New Broadway Play, Outstanding Debut Performance (B.D. Wong) and John Gassner Award for David Henry Hwang; New York Drama Critics' Circle for Best Play by David Henry Hwang. And took the finalist podium finish for the Pulitzer Prize for Drama the succeeding year.
M. Butterfly also copped the awards for the Best Play, Best Actor, and Best Director in the Aliw Awards 2018.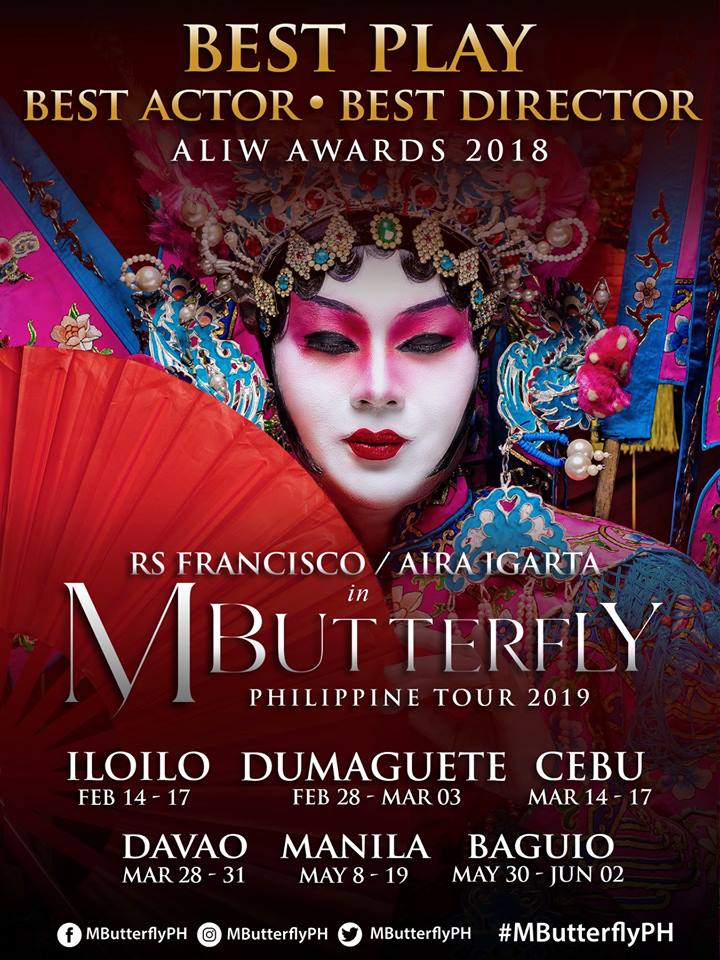 IMAGE M Butterfly PH
Look forward to RS Francisco and Aira Igarta who will alternately take the lead role as Song Liling. Also check out Olivier Borten as he plays Rene Gallimard, Norman McLeod as Manual Toulon, Maya Encila as Renee and Pin-up Girl, Rebecca Chuaunsu as Comrade Chin, Lee O'Brian as Marc, and Pinky Amador as Helga.
Also, expect new casts performing like Jasmin Salvo being the Opera Singer, Jenine Desiderio being Helga, Sasal Cabalquinto, Kay Megan Kierulf, Pheith Iena Ballug, Ullyses Basa, and Rica Nepomuceno as the Kurogos.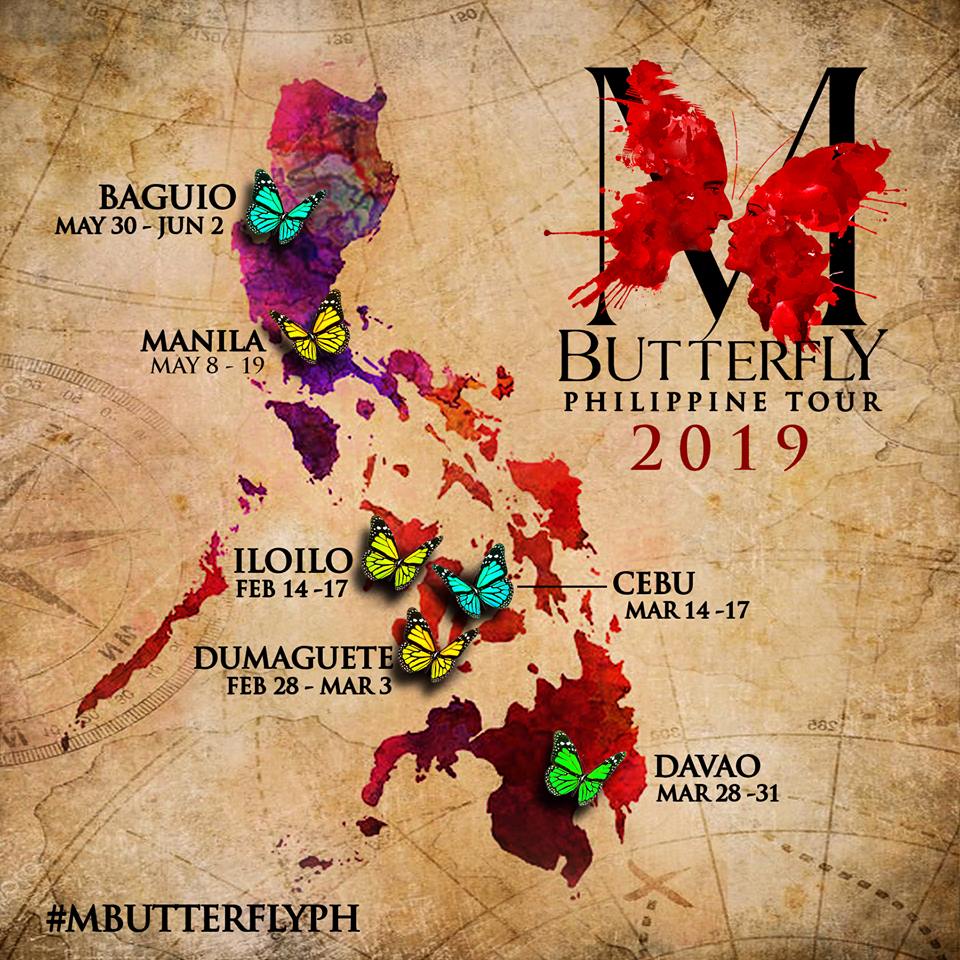 IMAGE M Butterfly PH
This amazing play is directed by Kanakan-Balintagos and is written by David Henry Hwang, a Tony award winner three-time nominee, and a two-time Nominated Finalist for the Pulitzer Prize in Drama, and a three-time Obie Award winner.
On February 28 to March 5, M. Butterfly will perform at Dumaguete, Luce Auditorium Siliman University. From March 14 to 17 at the SM City Seaside Centerstage, Cebu. On March 28 to 31 at the SM Lanang Premier Cinema 6, Davao, and May 30 to June 2, 2019, at the Saint Louis Unversity, Baguio.
This play is exclusively brought to you by Frontrow and Jhett Tolentino.
For ticket reservation and online purchasing please visit TicketWorld. You may also direct your inquiries via 02-891-9999.
Details:
What: M. Butterfly National Tour by David Henry Hwang
Where: Maybank Performing Arts Theater, BGC Arts Center, 26th St. cor. 9th Ave., Bonifacio Global City
When: May 8 to 19, 2019
Wed, May 8 – 8 pm
Thu, May 9 – 8 pm
Fri, May 10 – 8 pm
Sat, May 11 – 2 pm
Sat, May 11 – 8 pm
Sun, May 12 – 2 pm
Sun, May 12 – 8 pm
Wed, May 15 – 8 pm
Thu, May 16 – 8 pm
Fri, May 17 – 8 pm
Sat, May 18 – 2 pm
Sat, May 18 – 8 pm
Sun, May 19 – 2 pm
Sun, May 19 – 8 pm
Other schedules:

February 28 to March 5 – Dumaguete, Luce Auditorium Siliman University, Dumaguete City
March 14 to 17 – Cebu, SM City Seaside Centerstage, Cebu City
March 28 to 31 – Davao, SM Lanang Premier Cinema 6, Davao City
May 30 to June 2 – Baguio, St. Louis University, Baguio City

Ticket information:
Php 2,000 – Price Zone 1
Php 1,750 – Price Zone 2
Php 1,500 – Price Zone 3
Php 1,250 – Price Zone 4
Php 1,000 – Price Zone 5