Education USA Fair Is Stopping in Manila This March 1!
Have you ever wanted to study in the United States? This might be your call!
Education USA Fair is happening this March 1, 2019, from 1 p.m. to 4 p.m. at the Bonifacio Hall, Shangri-La at the Fort, Taguig City. The program aims to cater to students who want to pursue their higher education in the U.S.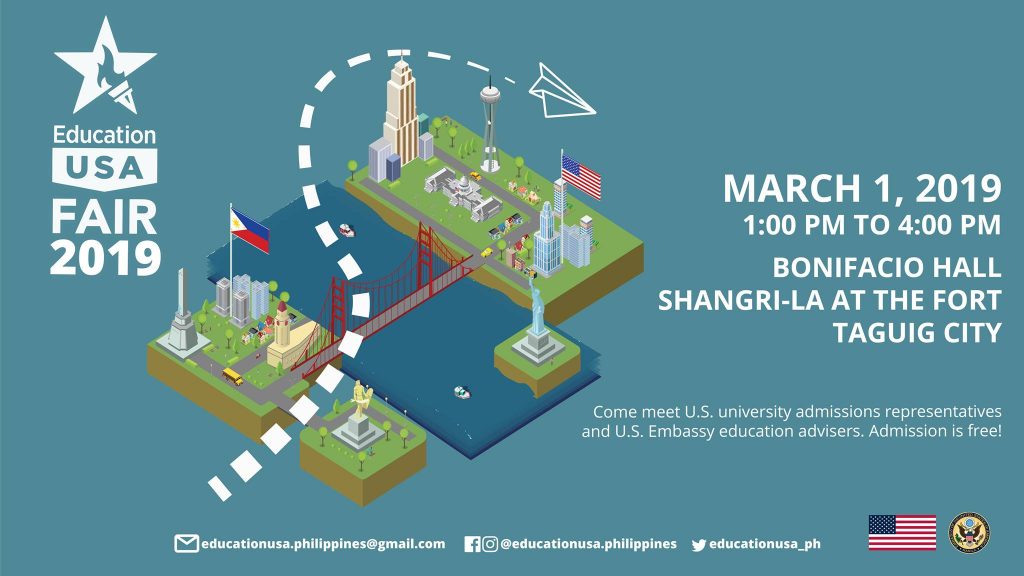 Get a chance to meet admission representatives from various universities and colleges in the US for FREE! You will also learn about the processes and resources available for Filipinos.
Over 30 US universities will be present at the fair. Among the participating universities are Seattle University, Miami University, University of New York, University of Arizona, University of South Florida, and so much more!
Check out the list of U.S. universities and colleges that will be attending our free #EdUSAFair2019! Have you signed up yet? Register now: https://goo.gl/BYTfBt 🇺🇸️🇵🇭️
You may pre-register through this link to get a welcome kit and a chance to win special prizes. Walk-ins are also welcome.
Education USA Fair is also stopping in Cebu for the second time prior to the Manila stop. This will be held on February 28, 2019, from 1 p.m. to 4 p.m. at the Santa Maria Ballroom, Radisson Blu Hotel, Cebu.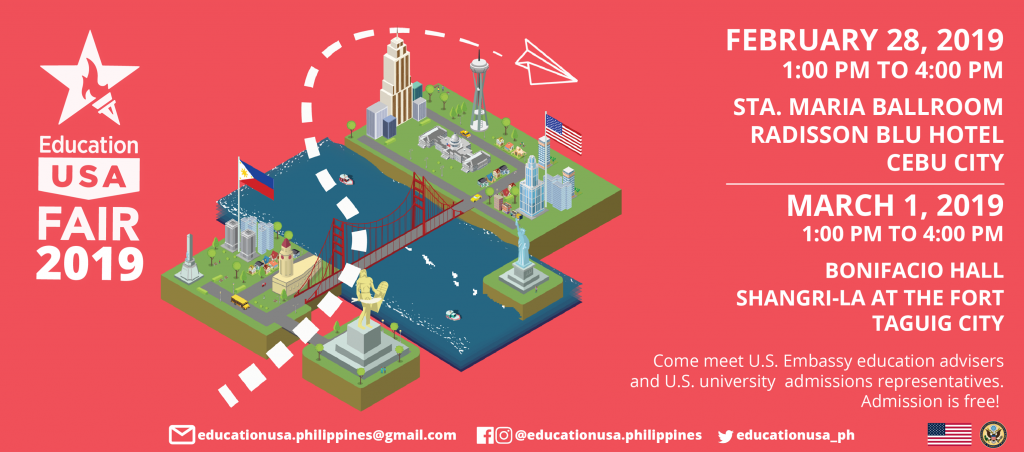 Education USA is the United States government's official resource on American higher education.
For more information about the Education USA Fair, follow EducationUSA Philippines on Facebook.
Details
What: Education USA Fair 2019
When: February 28, 2019 from 1 p.m. to 4 p.m. (Cebu)/ March 1, 2019 from 1 p.m. to 4 p.m. (Manila)
Where: Santa Maria Ballroom, Radisson Blu Hotel, Cebu / Bonifacio Hall, Shangri-La at the Fort, Taguig City
Ticket information: Free