The Asian Cultural Council Art Auction 2019 Happening on February 23
Fuel your passion for arts as the Asian Cultural Council collaborates with León Gallery to showcase a magnificent selection of art pieces from some of the finest artists in the Philippines in The Asian Cultural Council Art Auction 2019 on February 23 at León Gallery, Legazpi Village, Makati City.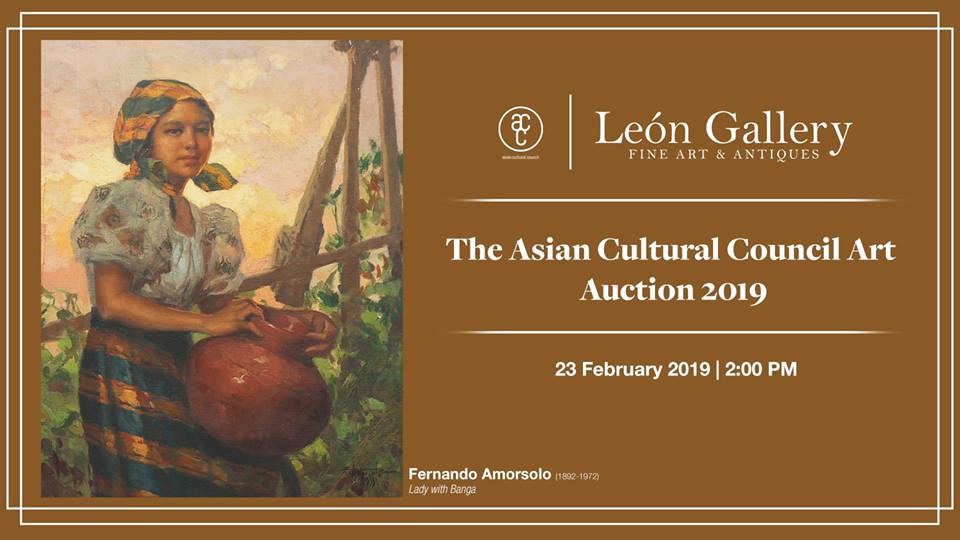 For the 5th anniversary of the partnership between Asian Cultural Council Philippines Foundation (ACCPF) and León Gallery, the art auction will feature rare and significant artworks made by notable artists in the country, not only to promote local artists but also to raise funds for their education and art development abroad.
Among the auctioned works are two paintings by Damian Domingo entitled "Un Indio Noble de Manila" and "Una India de Manila," which will be auctioned for the first time anywhere in the world. These pieces are considered as one of the most significant discoveries in the Philippine art scene.
Damian Domingo – The Father of Filipino Art

One of the most important finds of the Philippine art world : A pair of signed Damian Domingo 'tipos del pais' reveal why he was indeed the Father of Filipino Art. A highlight of the forthcoming León Gallery – Asian Cultural Council Auction 2019

Leon Galleryさんの投稿 2019年2月21日木曜日
Another rare item is the 1868 masterpiece by Lorenzo Guerrero entitled "Vendors" signed, dated, and documented in various publications back in the 1970s. The art auction will also offer three of Filipino artist Fernando Amorsolo's well-known landscape paintings, the "Cooking Under the Mango Tree," "Lady with a Banga," and "Under the Mango Tree."
Fernando Amorsolo : Last Crowned Head of Philippine Landscape Painting

Fernando Amorsolo y Cueto would be the last crowned head of Philippine Landscape Painting. Three of his masterpieces reign supreme in the upcoming León Gallery – Asian Cultural Council Auction this 23rd February : The "Tabacalera" Amorsolo of "Cooking Under the Mango Tree", the classically beautiful "Woman with a Banga" and another stunning version of "Under the Mango Tree."

Leon Galleryさんの投稿 2019年2月20日水曜日
Aside from the paintings and sculptures, a furniture collection will also be auctioned like the traditional matrimonial bed by Ah-Tay, and a lyrical hat rack in kamagong created by Maximo Viola.
Rare documents involved in the history of the Philippines will also be put up for bidding such as the confessions and personal statements involving Andres Bonifacio's death, and a collection of writings by The Soul of the Philippine Revolution, Emilio Jacinto.
The bidding for auctioned items starts from Php 50,000 to Php 10 million.
Leon Gallery specializes in collecting important and historical art pieces from old to modern paintings, antiques from the pre-Hispanic to Hispanic era, memorabilia, and pieces of furniture. For more information regarding the art auction, you may contact Leon Gallery at (+02) 856-2781 or email them at info@leon-gallery.com.
Details:
What: The Asian Cultural Council Art Auction 2019
Where: G/F Eurovilla 1, Rufino corner Legazpi Street, Legazpi Village, Makati City
When: February 23, 2019, 2 pm
Website: leon-gallery.com
Facebook: www.facebook.com/LeonGalleryMakati
---
Source: León Gallery website and Facebook page