Get Ready for the Biggest Rakrakan Festival 2019!
The countdown starts as Redhorse Pambansang Muziklaban brings you yet another groundbreaking Rakrakan 2019: 2 Days of Peace, Love Music on March 1 to 2, 2019 at the Makati Circuit Grounds!
An all-out 2-day Original Pinoy Music festival awaits you as the event has stored the biggest festivities. These include 120 local bands performing on 6 stages, an all-indie merchandise bazaar, series of skate tournament and exhibition, live art exhibition, carnival games, street art competition, and so much more.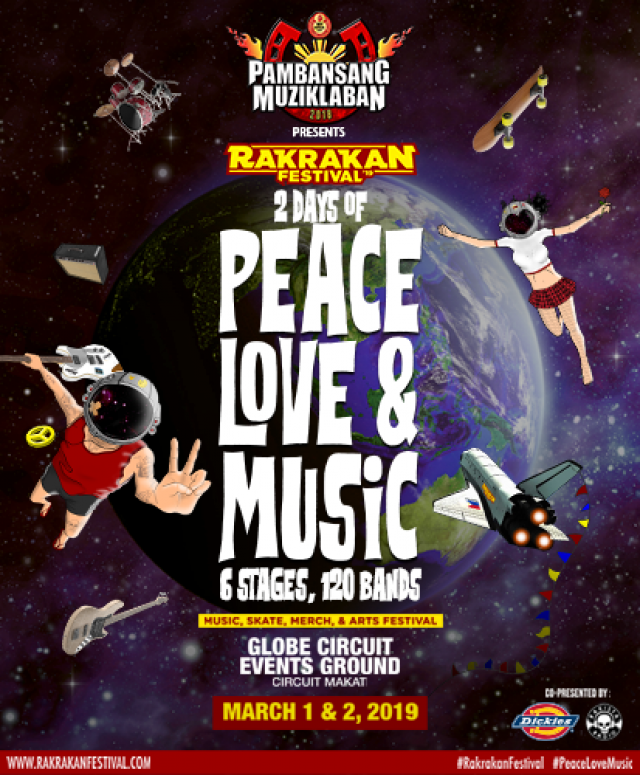 On Day 1, 20 bands will perform respectively at three different stages: Center stage, Aklas Move Stage, Indie Stage. On Day 2, 20 more bands will respectively play at these stages: Lakas Most Stage, Peace Stage, Slam Stage. See the complete list of bands here.
Rakrakan Festival has been around since 2013, giving local artists and their supporters the attention that they deserve. The success of Rakrakan Festival is a celebration of everything that relates to OPM from its culture, talents, even its future.
We recommend that you buy your ticket now while it's still available! Rakrakan Festival 2019 is one of the biggest events in the nation that you shouldn't miss!
Tickets are available via SM Tickets. Note that this event is strictly for people aged 13 and above only.
For ticket inquiries, please call 02-470-2222. To keep posted on the band updates, follow Rakrakan Festival on Facebook or check their website.
Details
What: Rakrakan 2019: 2 Days of Peace, Love, and Music
Where: Circuit Makati, A. P. Reyes Avenue, Makati City
When: March 1 to 2, 2019
Ticket details:
Php 2,650 – VIP* 2-day pass (2 tickets + Free 4 Redhorse beers)
Php 1,590 – VIP* Day 1 March 01 (Free 2 Redhorse beers)
Php 1,590 – VIP* Day 2 March 02
*VIP comes with:
– DSLR Access
– VIP Area
– Official Event Shirt (2 shirts for 2 day pass)
– Meet & Greet
– Dedicated VIP Entrance
– Dedicated Portalette
– Access to all activities and other freebies
Php 750 – Regular 2-day pass pre-sale (2 tickets)
Php 430 – Regular pre-sale day 1 March 01
Php 430 – Regular pre-sale day 2 March 02