Catch Sergio Mendes Sizzlin' Valentines Concert at Solaire This Feb 14 and 15!
Valentines will be an even bigger celebration as Brazil's coolest musician Sergio Mendez sets hearts ablaze at his Valentine's Day Concert on February 14 and 15 at The Tent in Solaire.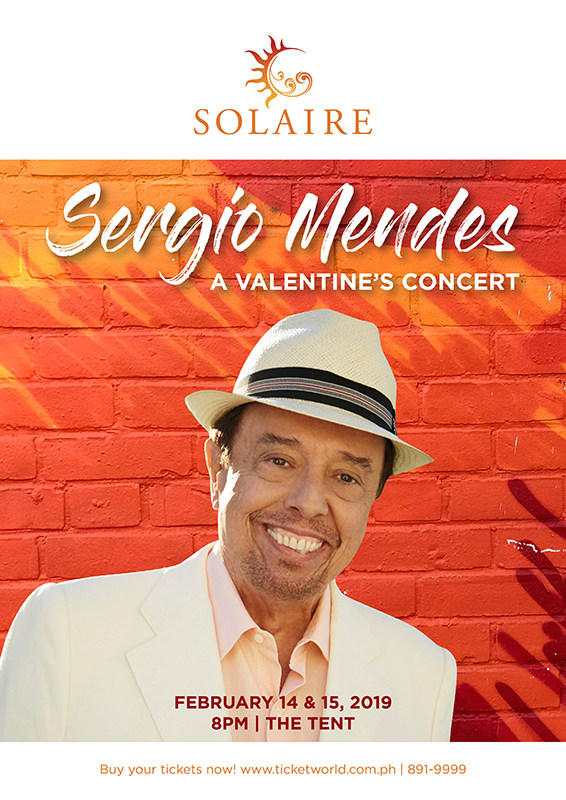 Sergio Mendes' influence in the industry dates five decades ago when Brazilian music rose in the international music scene. His album Brasil 66 was the first Portuguese album to reach the top 5 in Billboard magazine.
Also read: Solaire Resorts and Casino: A premium hotel in Manila
Adapting to the changing music landscape, Sergio Mendes expanded his reach by venturing into other genres and collaborating with new-age artists. He has worked with the likes of Will.i.am, Justin Timberlake, and John Legend in the past and has also made music for the animated films Rio and its sequel Rio 2.
Sing and dance along to his bossa nova-jazz beats featuring the classics like The Girl From Ipanema, Look of Love, Think I'm Going Out of My Head, Never Gonna Let You Go, the Beatles' classic The Fool On The Hill, and his timeless breakthrough hit, Mas Que Nada.
Also read: Yakumi at Solaire Resort and Casino Revamps Your Favorite Weekend Buffets
Feel the enduring sounds of love-struck passion surround you in a two-night serenade with Sergio Mendes. Tickets are priced at Php 10,000 for VIP, Php 7,000 for Zone A, and Php 5,000 for Zone B. You may get your tickets at Ticketworld or call 02-891-9999.
The Brazilian superstar will be the first international artist that will grace the resort's newest venue.
Details:
What: Sergio Mendes A Valentine's Concert
Where: The Tent, Solaire Resort & Casino, 1 Aseana Avenue, Entertainment City, Paranaque City
When: February 14 & 15, 2019, Thursday & Friday, 8:00 p.m.
Ticket information:
VIP – Php 10,000,
Zone A – Php 7,000
Zone B – Php 5,000
Website: Solaire Resort and Casino Website
---
This is a press release. Minor edits were made prior to publishing.