Catch the 10th Philippine International Pyromusical Competition 2019 Starting February 23
Catch the 10th Philippine International Pyromusical Competition 2019 Starting February 23
Updated as of March 22, 2019
Watch out as the skies transform once again into a canvas-like exhibition of exhilarating fireworks in the 10th  Philippine International Pyromusical Competition 2019 from February 23 to March 30, at the SM City Clark, The Meeting Place, Clark, Pampanga.
The much-awaited Philippine International Pyromusical Competition is composed of 10 participating countries around the globe–including new and returning participants and Masters of Pyromusicals.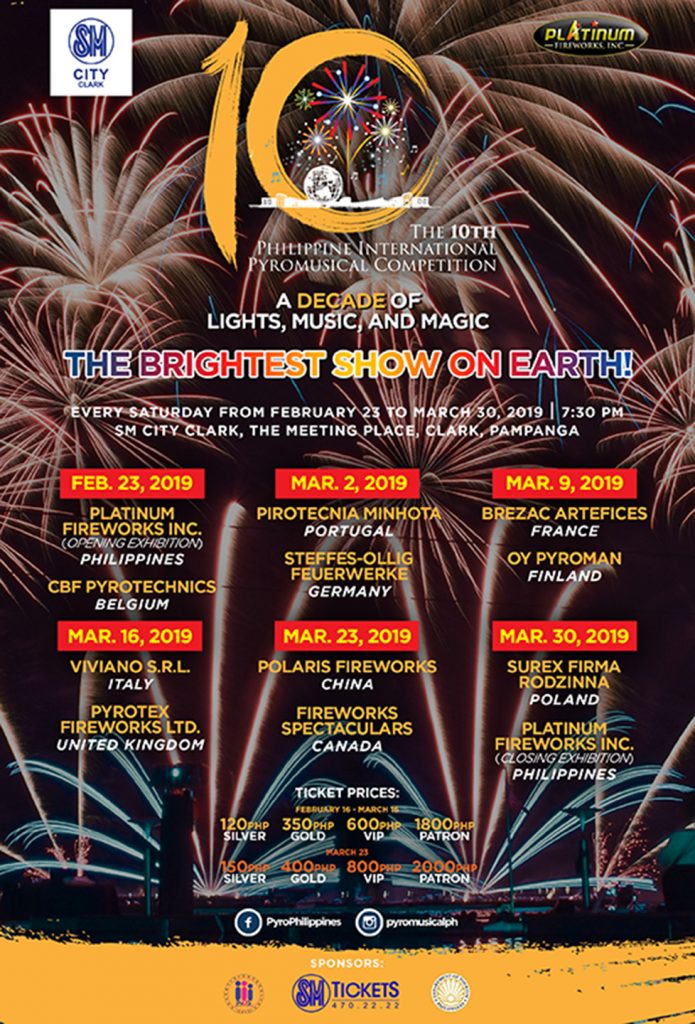 The competition lasts for six Saturdays, popping off at exactly 7:30 p.m. Check the updated schedule below for the show times:
10th Pyromusical Competition Schedule:
February 23, 2019 (Opening Exhibition): Philippines' Platinum Fireworks Inc. and Belgium's CBF  Protechnics
March 2, 2019: Portugal's Pirotecnia Minhota and Germany's Steffes-Ollig Feuerwerke
March 9, 2019: France's Brezec Artefices and Finland's Oy Pyroman
March 16, 2019: Italy's Vivano S.R.L and United Kingdom's Pyrotex Fireworx, Ltd.
March 23, 2019: China's Polaris Fireworks and Canada's Fireworks Spectaculars
March 30, 2019 (Closing Exhibition): Poland's Surex Firma Rodzinna and Philippine's Platinum Fireworks Inc.
Be sure to spread the news and don't miss the biggest annual fireworks display in the country!
For more information and ticket purchasing, you may visit smtickets.com, SM Cinemas, and at the SM Mall of Asia ticket booths starting February 14. Get updates and support the event through their Facebook and Twitter page. You may also follow, like, or check out their event photos on their Instagram page. 
Details:
What: 10th Philippine International Pyromusical Competition
Where: SM City Clark, The Meeting Place,  Clark, Pampanga
When: 7:30 p.m. February 16, 2019, to March 30, 2019
Ticket information:
February 16 to March 26:
Patron (With Dinner) – Php 1,800
VIP – Php 600
Gold – Php 350
Silver – Php 120
*Ticket prices will be different on the closing day (March 30) of 10th PIPC.