The First Philippine International Magic Convention Is Set on April 2019
Calling all magic enthusiasts out there! The first International Magic Convention makes its way to the Philippines as Cecile and Mighty International brings the Pacific Coast Association of Magicians & Philippine International Magic Convention 2019 on April 24 to 26, 2019 at the SMX Convention Center Aura, Taguig City.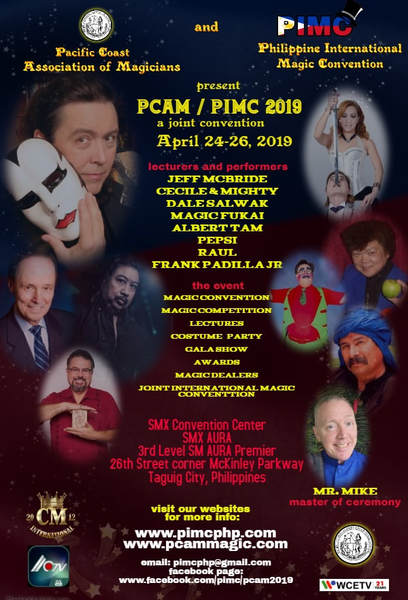 As a tribute to late Asia's pride Magician Sword Swallower "Demilo", the PCAM/PIMC 2019 hosted for the first time by the Philippines paves way for Asian magicians and magic enthusiasts to showcase their one of a kind talents and learn from the experiences of fellow magicians and gurus from the West.
The three-day joint convention will host lectures and performances by special guests Jeff McBride, Cecile & Mighty, Dale Salwak, and Raul from the USA, Magic Fukai from Japan, Albert Tam from Hong Kong, and Pepsi from Thailand.
There will also be a magic competition, costume party, and awards presentation.
Aside from the convention itself, a music gala show is also open for guests to join on the last day of the convention. Magicians and guests can register online on their official website, with tickets on sale at Php 236.
For updates regarding the event, visit their Facebook events page and official website at www.pimcphp.com. You may also contact them at pimcphp@gmail.com and cecileandmightyshow@yahoo.com.
Details:
What: Philippine International Magic Convention 2019
Where: SMX Convention Center, SMX Aura, 26th st. cor., McKinley Pkwy, Taguig City
When: April 24 to 26, 2019, 10:00 a.m. to 6:00 p.m.
Website: www.pimcphp.com
Ticket information: USD 236, payments can be made through PayPal Credit
---
Source: Philippine International Magic Convention 2019