Shangri-La Plaza Holds GourmetFest For Lovers of Good Food This Oct. 18-21
With a wide variety of cuisines around the world, Shangri-La Plaza takes you on a gastronomic trip with its GourmetFest happening at the Grand Atrium starting today October 18 until October 21.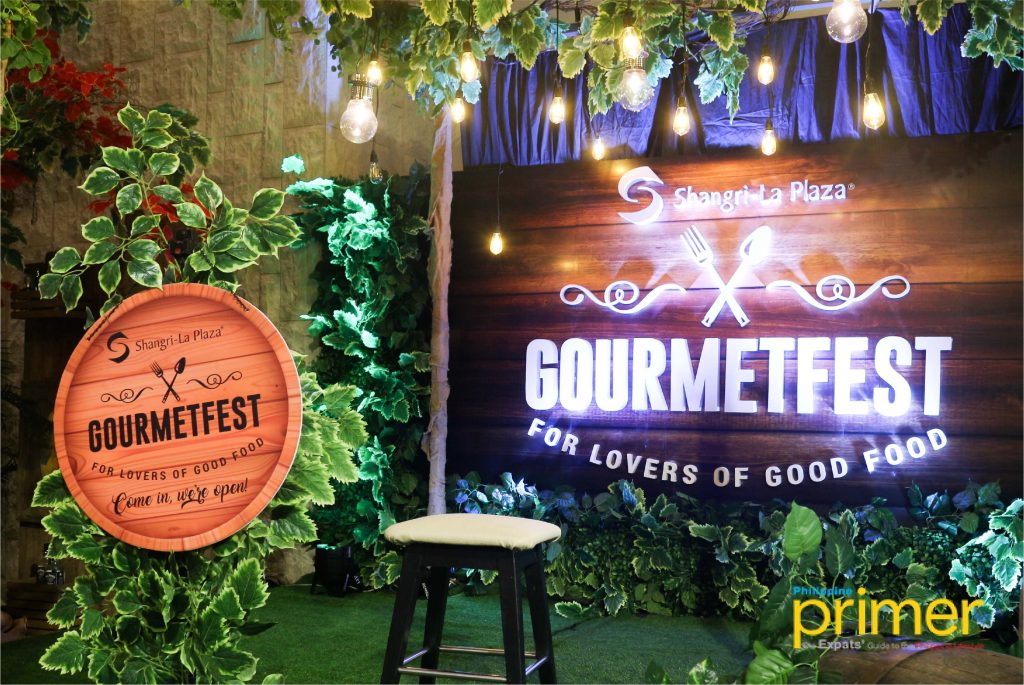 Shangri La Plaza's GourmetFest is happening from October 18 to 21
"We always look forward to gathering our roster of restaurants and show mall guests that Shang is the go-to destination for the best food in town," Lala Fojas, Executive Vice President and General Manager of Shangri-La Plaza, said in a press release.
Participating restaurants include Akira, Arya, Balboa, Bo's Coffee Primo Brotzeit, CPK, Epicurious, Figaro, Ganso Shabuway, Kettle, La Creperie, Pages Deli, Papermoon, Pasto, Pepi Cubano, Pepper Lunch, Shi Lin, SumoSam, Tender Bob's, Thai BBQ, The Red Crab, Wobbly Pan, and Zao.
Whether you're craving for European, American, or Asian food, GourmetFest has you covered. For instance, California Pizza Chicken will up your pizza game, serving flavors with twists. Other American cuisines are seen from Kettle, Epicurious, Epi Cubano, Red Crab, and Tender Bob's.
Explore unique pizza flavors at California Pizza Kitchen
Japanese dining is taken to the next level with Akira and SumoSam. You'll especially love the unique teriyaki flavors, combining the sweet and salty taste that will linger in your mouth.
SumoSam's bestsellers: Chicken Teriyaki Donburi and Beef Misono Donburi
The land of smiles, on the other hand, is given directly on the palm of your hands with Thai BBQ–their pad thai surely is the perfect balance of sweet and spicy, matched with their fresh spring rolls. Arya is the place to be for Persian cravings, while Zao offers delicious but light in the stomach Vietnamese food. You may also warm yourself up with Ganso Shabuway's hot pot and Shi Lin's xiao long bao soup dumplings. And of course, who would miss out on Pepper Lunch?
Also read: Discover Unique Thai Flavors at Thai BBQ Original in BGC
Thai BBQ's mouthwatering Pad Thai and BBQ Pork Belly
For Italian cravings, Pasto features signature Italian dishes, while Balboa blends Italian cuisine with American dining. If you're in for some flavorful Hispanic taste, indulge with Spanish bistro Wobbly Pan and their Paella Valenciana.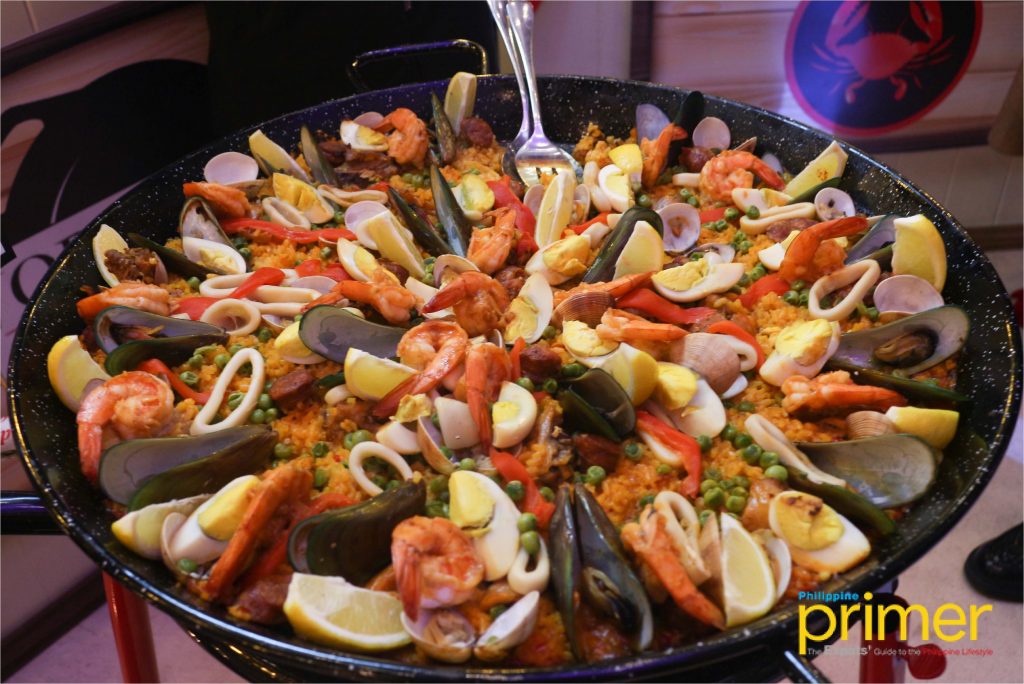 Wobbly Pan's flavorful Paella Valenciana
Brotzeit will take you to an authentic German culinary experience with its famous Brezn, also known as pretzel, dipped in sweet or hot mustard. The unique taste is full of flavor that melts in your mouth.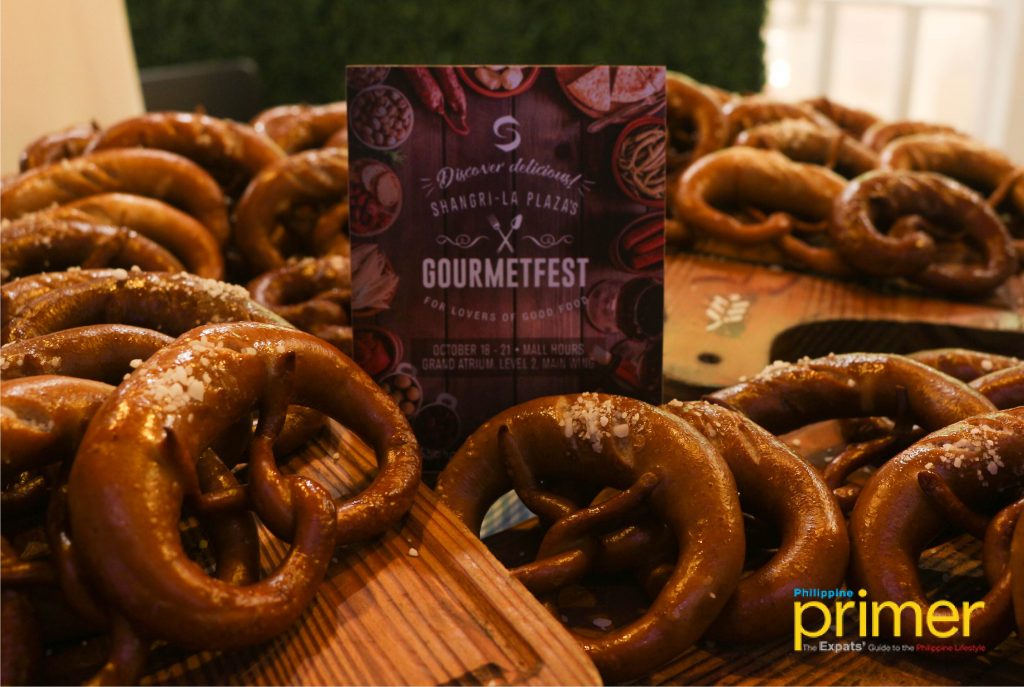 Brotzeit's Brezn can be eaten as it is or dipped in sweet or hot mustard
Other dessert places like La Creperie and Paper Moon will surely satisfy your sweet tooth. The kids will especially love them! Pair them up with your daily dose of cup of Joe from Figaro or Bo's Coffee Primo.
Also read: La Creperie: Modern France of Salcedo, Makati
GourmetFest is located at Shangri La Plaza's Grand Atrium
GourmetFest isn't just for satisfying your stomachs–beginner cooks and foodies can also learn as Metro Channel and Metro.Style unveils the Metro Kitchen Series on October 20 at 3 p.m. Expect the interplay of Filipino and Spanish flavors, featuring Chef Sandy Daza and Chef Robby Goco, and Wobbly Pan's very own Chef Rolando de Gracia as they showcase how they do the magic of cooking. Get a chance to take home exciting prizes from the on-site raffles, too!
But wait, there's more–you're also in for some treat as diners can get a chance to win a trip for two to Singapore, inclusive of hotel accommodations and Singapore Explorer Pass Tickets. Simply dine in any restaurant at Shangri-La Plaza starting October 18 to November 18 with a minimum purchase of Php 500 for a one raffle coupon.
For more information, visit Shangri La Plaza's official Facebook page or follow them on Instagram at @shangrilaplazaofficial. You may also give them a call at 370-2597/98.
Details:
What: GourmetFest
Where: Grand Atrium, Level 2, Main Wing, Shangri La Plaza, Ortigas Center, Mandaluyong
When: October 18 to 21 11 a.m. to 9 p.m.
Website: www.shangrila-plaza.com