ABS-CBN Philharmonic Orchestra Presents National Geographic: Symphony for Our World
Prepare to be mesmerized by some of the world's most amazing wildlife scenery paired with live orchestral performance as National Geographic: Symphony for Our World is coming to the Philippines this November.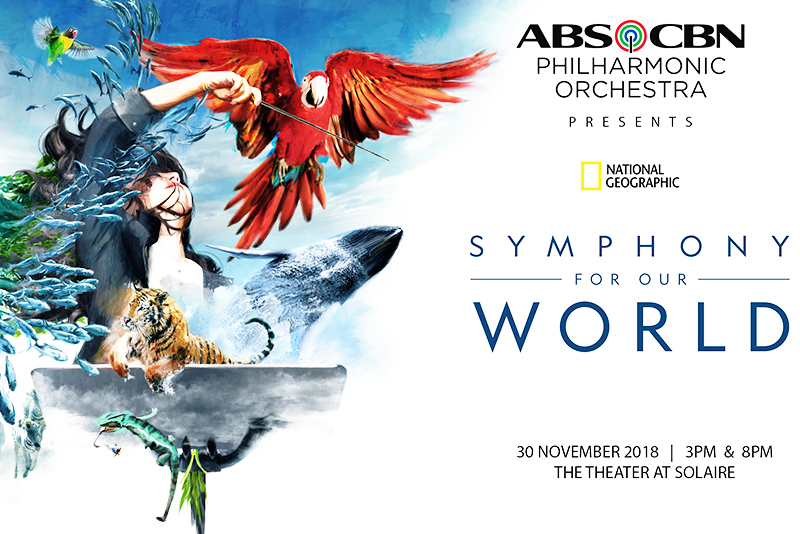 Symphony for Our World will take place at The Theatre at Solaire Resort & Casino on November 30, with Matinee show scheduled at 3 p.m. and Gala show at 8 p.m.
Running for 90 minutes, the orchestral performance features the ABS-CBN Philharmonic Orchestra, under the baton of Gerard Salonga and the Ateneo Chamber Singers.
This spectacular musical will present National Geographic's scenic shows as seen in its 130-year history, so expect stunning imagery and excellent storytelling perfectly synced with live orchestra and choir.
In partnership with Jason Michael Paul Entertainment, the Symphony for Our World's first tour took place in San Francisco last April exactly on Earth Day. Original symphony and theme were created by Emmy and BAFTA-nominated Bleeding Fingers Music, with composers Austin Fray and Andrew Christie.
"National Geographic has inspired generations to explore, understand and protect our world. Bringing this type of storytelling to life in symphony is an incredible honor," Jason Michael Paul, President of Jason Michael Paul Entertainment, Inc., said in a press release. "We're bringing together everything I've learned from over 20 years in music production with National Geographic to create something truly special."
Join the adventure as the whole show takes you from the depths of the sea up to the sky, and expect various orchestral movement with each environment. It's not every day that you get to see art marrying science.
Tickets are available at Ticketworld. You may contact the Ticketworld office at (632) 891-9999 or email tickets@ticketworld.com.ph.
Details
What: Symphony for Our World
Where: The Theatre At Solaire Resort & Casino, Aseana Avenue, Entertainment City, Paranaque City
When: November 30, 2018 3 p.m. and 8 p.m.
Ticket information:
PRICE ZONE 1 – Php 5,225
PRICE ZONE 2 – Php 4,180
PRICE ZONE 3 – Php 3,135
PRICE ZONE 4 – Php 2,090
PRICE ZONE 5 – Php 1,045
PRICE ZONE 6 – Php 522.50
---
This is a press release. Minor edits were made prior to publishing.