Midnight Museum 2018: Dia de Muertos Forgotten Souls
Still got no plans for the Halloween? Ayala Museum, together with the Embassy of Mexico's Midnight Museum got you covered!
Dia de Muertos: Forgotten Souls is happening this October 26, 2018, from 7 p.m. to 12 m.n. This event pays tribute to the dead–specifically the forgotten souls who are not able to cross over to the other side–guiding them through several rituals, superstitions, as well as ceremonial challenges.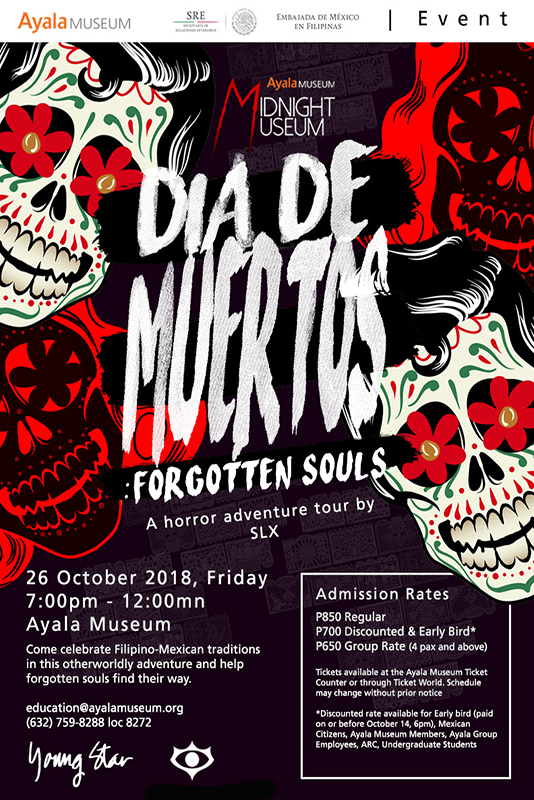 And yes, you also have to come in theme, so better grab your costumes as this spooky experience surely isn't something you'd want to skip.
All tickets are inclusive of 30 minutes of Forgotten Souls horror adventure tour with ensemble SLX, 30 minutes Fil-Mexican Loteria Game Night, unlimited access to Ayala Museum galleries from 1 p.m. to 5 p.m. and 7 p.m. to 12 m.n., and of course, freebies and discounts from Dia De Muchies booths!
Fil-Mexican Loteria Game Night
After the Forgotten Souls horror adventure tour, there's Fil-Mexican Loteria Game Night. It lasts for 30 minutes, giving a classic Filipino game a twist. This game will teach you more about the Filipino and Mexican culture. And have we mentioned that winners also get exciting prizes?
Dia De Munchies
Ready for some authentic Mexican food trip? From 11 a.m. to 12 m.n., you'll enjoy overflowing tacos, nachos, tequila, and other Mexican munchies!
To join this event, simply email, call or visit Ayala Museum directly to check for available slots. If you can get more friends to join, the better! About 25 pax will join each slot, and your group will join the rest of the participants registered in the event.
The first batch starts at 7 p.m., while the last batch starts at 11 p.m. These activities last for an hour, so be sure to arrive at Ayala Museum's ground floor briefing area at least 15 minutes before your scheduled time slot.
For more information, visit their website at Ayala Museum or call them at 759-82-88 loc 8272. You may also send them an email at education@ayalamuseum.org.
Details:
What: Midnight Museum 2018 Dia de Muertos: Forgotten Souls
Where: Ayala Museum
When: October 26, 2018, 7 p.m. to 12 m.n.
Ticket information: Php 850 regular fee, Php 650 group rate per head (4 or more tickets), Php 700 early bird who paid on or before October 14 6 p.m., Php 700 Ayala Museum Members, Ayala Group Employees, ARC Card holders, Undergraduate Students, Mexican Citizens
Website: www.ayalamuseum.org
---
This is a press release. Minor edits were made prior to publishing.