Learn Capoeira and Mural Making at Ayala Museum's Art in Movement Workshop
Learn the basics of Capoeira and Mural Making and incorporate its techniques in creating your own live-action painting at Ayala Museum's three-part workshop called Art in Movement: Capoeira x Mural this coming October 20, 2018, at the Ayala Museum GF Lobby and Plaza.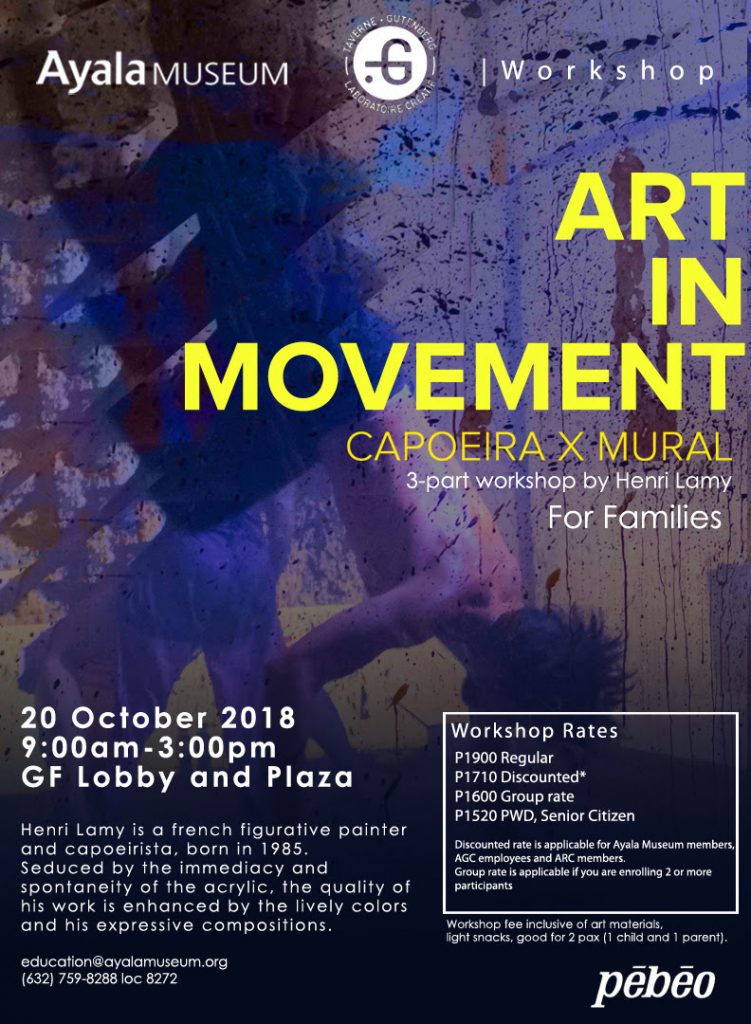 This may sound unfamiliar to most people but Capoeira, a martial arts incorporated with dance and music can be associated with Mural Making to make your very own live-action painting. In this three-part workshop by Ayala Museum, learn its basics and techniques and create your own masterpiece with Mr. Henri Lamy, a French figurative painter, and capoeirista.
About the Artist
Born in 1985, Henri Lamy is a French figurative painter, capoeirista, and is one of the founders of Taverne Gutenberg in France. Seduced by the immediacy and spontaneity of the acrylic, the quality of his work is enhanced by the lively colors and his expressive compositions, as well as the use of a palette knife.
IMAGE Henri Lamy's Official Website 
The Taverne Gutenberg is an association which aims to create encounters between artists and the public. It is located in a three-story high building, in Lyon's city center. The project was founded by Henri Lamy (painter from Lyon), Maïa d'Aboville (interactive designer), joined by Mathilde Corbet (artist in charge of the studios), Guillaume Sénéchal (project coordinator), Romain Weber (artistic programmer), Aurane Comte (communication), Pierre Paumier (production) and a team of dedicated volunteers. In only two years, the Taverne Gutenberg has curated dozens of exhibitions and counts over 17 000 members.
Art in Movement: Capoeira x Mural Making will be happening this October 20, 2018, at the  Ayala Museum GF and Plaza from 9 a.m. to 3 p.m. Price ranges from Php 1,520 for PWDs and Seniors to Php 1,900 for regular price. To register: 2018 Ayala Museum Workshop/Lecture Form

For inquiries and reservations, you can call the Ayala Museum at 759 82 88 loc 8272 or email them at education@ayalamuseum.org.
Details:
What: Art in Movement: Capoeira x Mural Making
When: October 20, 2018 | 9 a.m. to 3 p.m.
Where: Ayala Museum G/F Lobby and Plaza, Makati Avenue corner De La Rosa Street, Greenbelt Park, Makati City
Facebook: facebook.com/ayalamuseum
Website: www.ayalamuseum.org
Workshop Rates:
Regular – Php 1,900
Discounted* – Php 1,710 
Group Rate** – Php 1,600
PWD and Senior Rate – Php 1,520
*Discounted rate is applicable for Ayala Museum members, AGC employees and ARC members
**Group rate is paid per head and is applicable if you are enrolling 2 or more participants
---
This is a press release. Minor edits were made prior to publishing.