'Cinderella' by Philippine Ballet Theatre Revives Timeless Love Story at CCP
If there is one love story that everyone knows, and everyone dreams to have, it is Cinderella's timeless tale of rags-to-riches, paired with Cinderella's victory over dealing with the princess' evil stepsisters and their reckless stepmother and the fruitful love story she had with her ever Prince Charming! Fortunately, the dream is yet again within our reach as Philippine Ballet Theater brings the ageless tale of Cinderella at the CCP Main Theater, Tanghalang Nicanor Abelardo this September 29 and 30, 2018!
Philippine Ballet Theatre invites you to its second main production this 32nd Season, CINDERELLA. This timeless and well loved rags-to-riches story mirrors every person's dream to find true love, long lasting happiness, and a better life. Specially choreographed by PBT's Artistic Director, Ron Jaynario, Cinderella promises to captivate and teach children and adults alike that dreams can come true, and that happiness is found in a heart that is pure— and not in material wealth. Performing together with the company is Guest Artist, Kristoffer Reyes, of the Pamela Hayes Classical Ballet Theatre in California USA. Performance Schedule:September 29, 2018 (Saturday)| 3:00PM & 8:00 PMSeptember 30, 2018 (Sunday) | 3:00PMCatch our performances at the Tanghalang Nicanor Abelardo (CCP Main Theater).For ticket inquiries and orders please contact:PBT office at (02) 632-8848CCP Box Office at (02) 832-3704Ticketworld at (02) 891-9999#PhilippineBalletTheatre #PBTCinderella

Philippine Ballet Theatreさんの投稿 2018年9月5日水曜日
Featuring the Cinderella musical ballet arrangements of Russian Composer Sergei Prokofiev, this second production of the Philippine Ballet Theatre ushers in company member Regine Magbitang, performing alternately with Veronica Atienza, who was recently awarded the Senior Category's Special Jury Encouragement Award at the USA International Ballet Competition in June.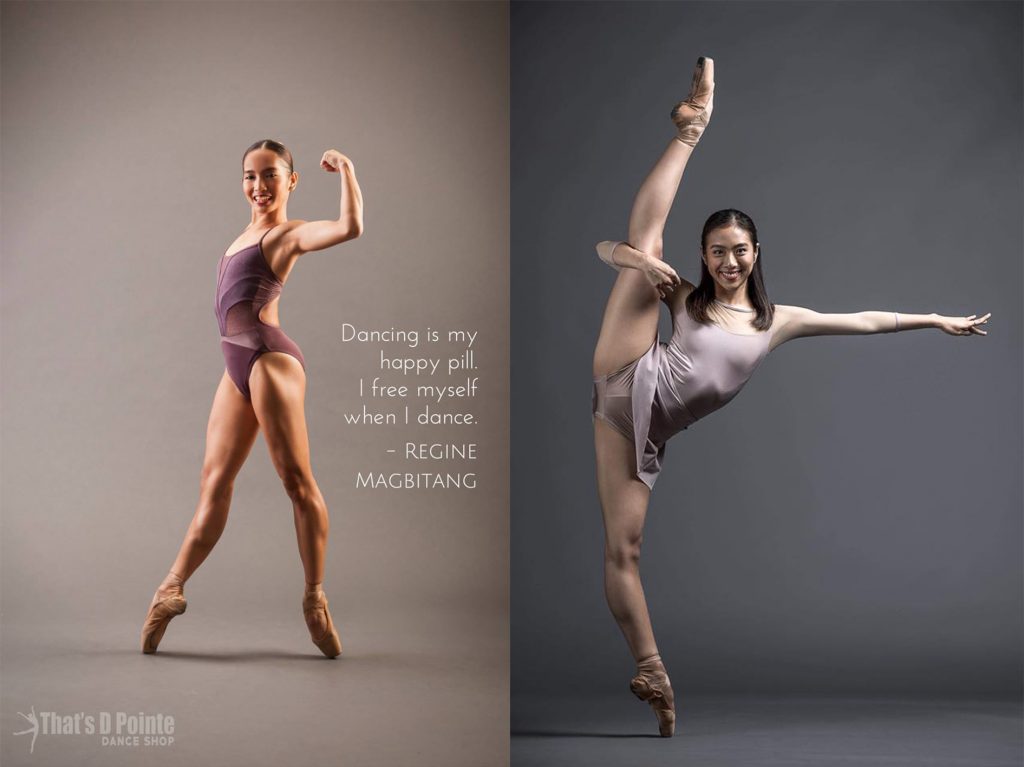 To perform in Philippine Ballet Theatre's Cinderella is PBT's company member, Regine Magbitang (left), and Veronica Atienza (right) known for her ballet techniques of pirouettes and extensions./ IMAGE That's D Pointe Dance Shop and Larry Salgado
Alongside these powerful ladies is their equally charming Prince, Ballet Master Kristoffer Reyes from the Pamela Hayes Classical Ballet Theatre, known for enabling ballet dancers to practice their craft with the right "anatomical placement," complementing their dynamic movements and techniques.
The magnetic ballet artist will definitely be in for a greater challenge as he would have to fight for his and Cinderella's well-deserved happy ending against Cinderella's evil stepmother and stepsisters.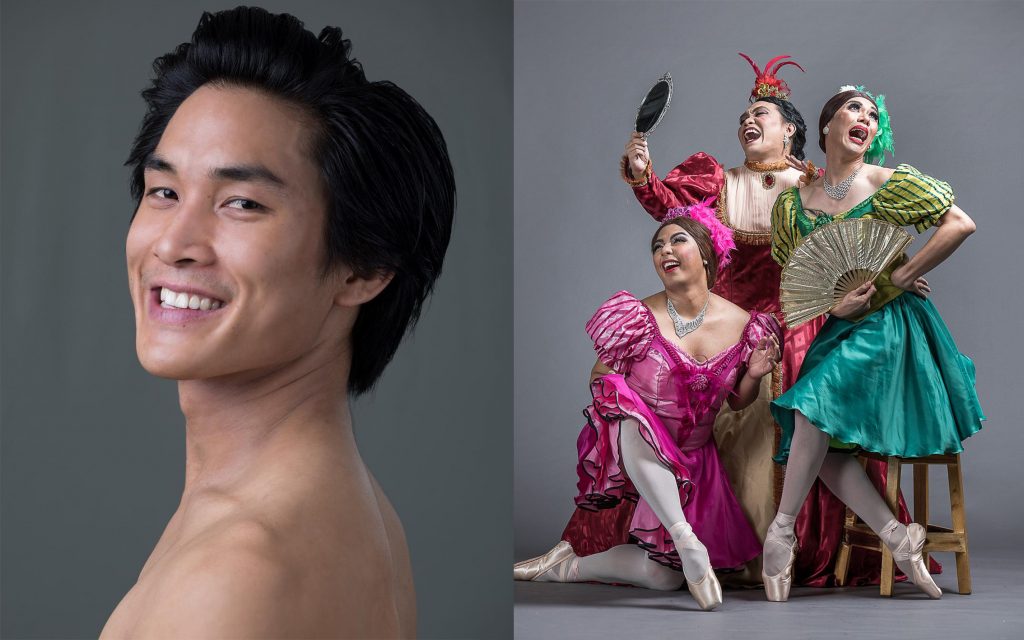 Guest Ballet Artist, Kristoffer Reyes, will have to face Cinderella's wicked step relations if he wants a happy ending./ IMAGE Philippine Ballet Theatre
Witness the unraveling of Ron Jaynario's epic tale of euphoric dreams and timeless love with your family and friends as the magical Cinderella production makes your wishes come true this September!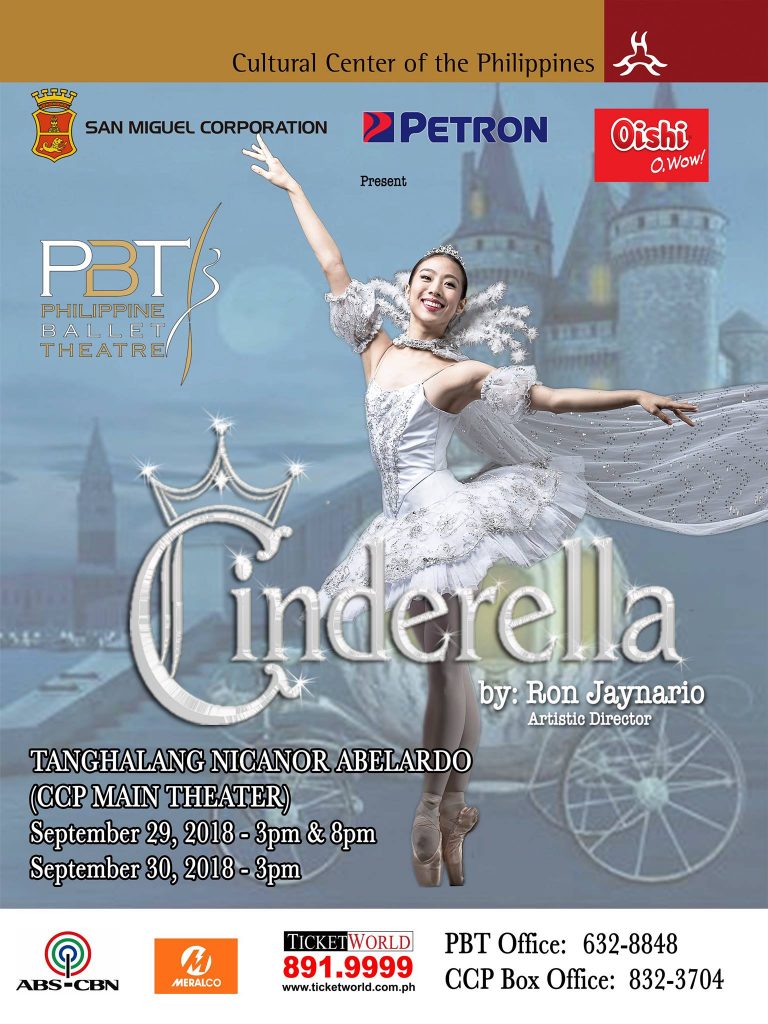 Philippine Ballet Theatre is known for more than three decades of quality performances and their fusion of traditional and modern styles, making them one of the outstanding ballet companies locally and internationally.
For more information,  you may visit their Facebook Page at www.facebook.com/PhilippineBalletTheatre or call them at 632-8848. You may also visit TicketWorld  for discount purchases. 
Details: 
What: Cinderella (Philippine Ballet Theatre)
Where: CCP Main Theater, Tanghalang Nicanor Abelardo
When: September 29 (3 pm and 8 pm) and September 30 (3 pm)
Ticket Information:
Matinee Performances:
September 29 and 30 (3 pm)
PRICE ZONE 1: Php 1,500
PRICE ZONE 2: Php 1,000
PRICE ZONE 3: Php 800
PRICE ZONE 4: Php 400
PRICE ZONE 5: Php 200
PRICE ZONE 6: Php 100
Evening Performance:
September 29 (8 pm)
PRICE ZONE 1: Php 2,000
PRICE ZONE 2: Php 1,500
PRICE ZONE 3: Php 1,000
PRICE ZONE 4: Php 400
PRICE ZONE 5: Php 250
PRICE ZONE 6: Php 125