Meditative Arts Workshop at Ayala Museum Fuses Creativity with Healing
Art, as subjective as it may be, is often portrayed to be a force born out of powerful emotions. In fact, Kilroy J. Oldster, an American arbitrator, and author of Dead Toad Scrolls described an artistic individual as someone who "taps into the destructive emotional energy of guilt and shame and the longing to love and be loveable" and converts these energies into their own brand of creativity.
Storm in the Sea painted by Shobita Sreekumar/ IMAGE Fine Art America
In a nutshell, art can be a storm of emotions balled into one masterpiece, but in other cases, art can be a gentle touch, fully capable of kissing wounds and a welcome embrace to heal our well-being as we embody our role of being a lighthouse for individuals to come safely ashore.
Fortunately, Creative Passion Path brings us just the kind of art we need for our well-being at Ayala Museum this September– The Meditative Arts Workshop!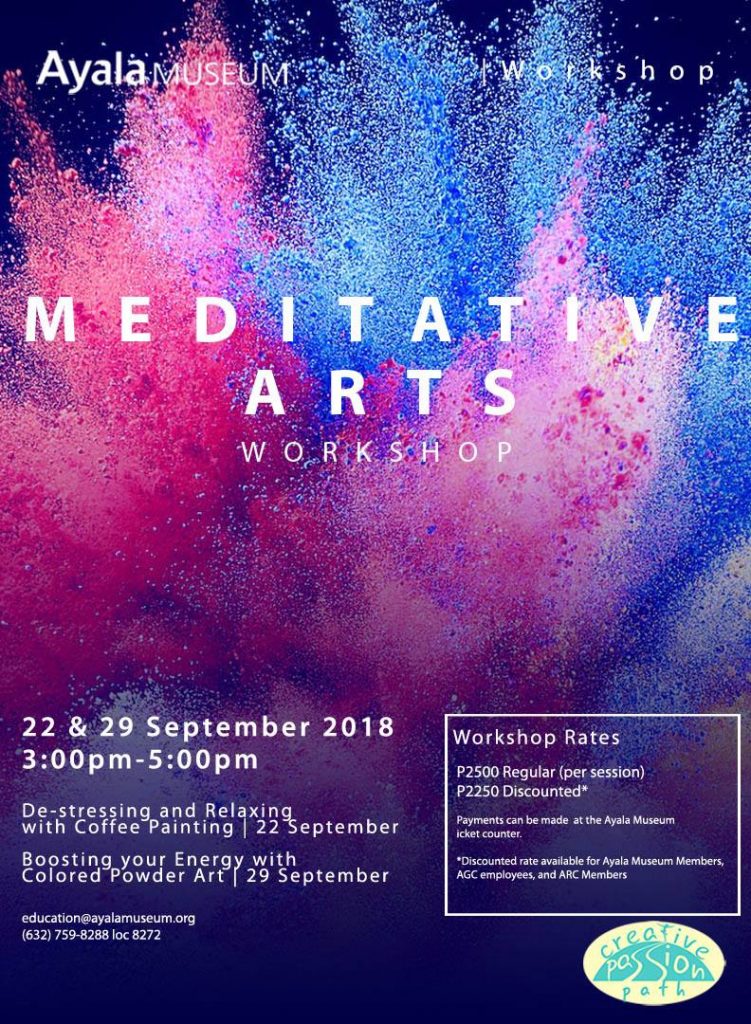 With Creative Passion Path's passion for healing communities through expressive art among other media, Meditative Arts Workshop is comprised of two workshops in a series.
For those who would like to alleviate their stresses, try to experience the relaxing power of their Coffee Painting workshop on September 22; and if an energy boost is all you need, try immersing in the essence of Colored Powder Art on September 29.
Running from 3 pm to 5 pm at the Ayala Museum, both workshops will be under the care of the passionate Tanya Maria Gonzalez, who dwells in expressive arts as a Psychology practitioner, alongside certified Expressive Arts Coach and the Founder of Creative Passion Path herself, Carolyn Tongco.
Carolyn Tongco and Tanya Maria Gonzales of Creative Passion Path are at the helm of the Meditative Arts Workshop at Ayala Museum this September./ IMAGE Creative Passion Path
The Coaches behind Creative Passion Path
Creative Passion Path conducts workshops and provides One-on-One Coaching Sessions in its pursuit of believing that every one of us is capable of uncovering our "inner wisdom and passion path" as we are watered with three main components: respect, presence, and empathy.
Within this kingdom is the brainchild of Creative Passion Path and its Creative Program Director, Carolyn Tongco who likes to call herself a "heartist"– born from her love of both art and caring for others. A professional member of International Expressive Arts Therapy Association (IEATA), the Philippine Association for Child and Play Therapy (PhilPlay), and Philippine Mental Health Association (PMHA), she is also a Certified Expressive Arts Coach who enjoys painting hospital wards to make healing a happy process.
Alongside her is Tanya Maria Gonzalez who is known for the variety of workshops she conducted regarding meditation, emotion management, self-care, and career development among other topics. Healing through body and movement is said to be her forte when it comes to Expressive Arts. With this at the forefront, her research paper reached the International Expressive Arts Therapy Association Conference.
Journey with Carolyn and Tanya as they take you on an adventure, ushering in both mindfulness and creativity to the fore!
For more information on Creative Passion Path and their workshops and other services, you may visit their website at Creative Passion Path. You can also check out Ayala Museum's Facebook Events Page for the Meditative Arts Workshop or call Ayala Museum at 759-8288 loc 8272. You may also send them an e-mail at education@ayalamuseum.org. 
Details:
What: Meditative Arts Workshop
Where: Ayala Museum, Makati Avenue cor. De La Rosa St., Greenbelt Park, Makati City
When: September 22 and 29, 2018 (3 p.m. to 5 p.m.)
Workshop Rates: 
Php 2,500 (Regular)
Php 2,250 (Discount available for Ayala Museum members, AGC employees, and ARC members)
Facebook: www.facebook.com/events/301034260679711
---
Written by: Chin Sanigan
Source: Ayala Museum and Carolyn Tongco of Creative Passion Path