Zoholics: APAC 2018 in Makati This September 17
The global user conference Zoholics hosted by Zoho is making its way for the first time to the Asia Pacific region this September.
Zoholics: APAC 2018 will be visiting Manila, Philippines on September 17, 9:00 a.m. to 6:00 p.m. at Fairmont Makati. The conference commences its tour in Singapore on September 12 and subsequently to Jakarta, Indonesia on September 14.
Zoholics: APAC 2018 is an interactive and workshop-based event comprising keynotes from leading speakers covering topics around sales and marketing, HR, finance, custom applications and collaborative online workspaces needed to sustain the digital transformation journey initiated by businesses.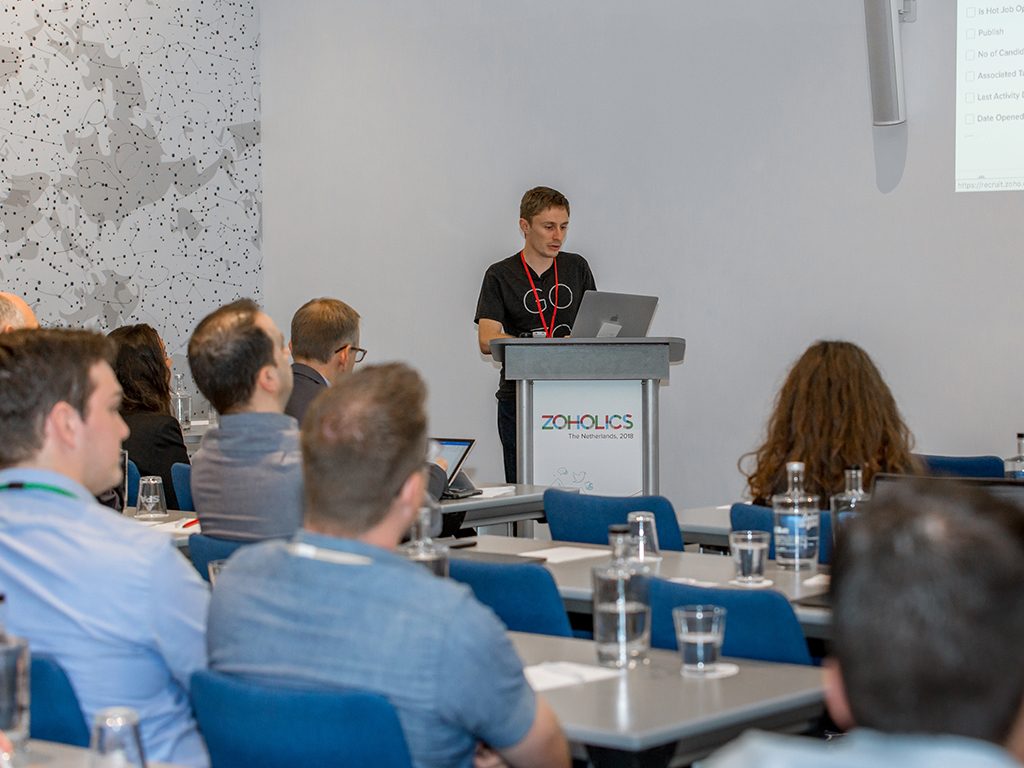 Zoholics 2017
Excitingly, everyone will get to learn, network and acquire resources to take their business to the next level. Here are some of the sessions participants can look forward to:
Zoho: The Big Picture
An introduction to Zoho and its suite of products.
Intro to Zoho One
An overview of Zoho One, the single suite of apps that can help improve all areas of a business.
End-to-End Customer Engagement Suite
Businesses can learn how Zoho apps can help them find, win and support customers, while providing them with an engaging experience.
Custom Apps and Solutions
This session is about quickly building integrations and applications for custom processes unique to each business.
Moreover, whether it is a large corporation or a small-medium enterprise, every business can benefit from Zoho's extensive list of applications. They can get in-depth understanding of Zoho and its suite of applications from a host of speakers who will share insights as well as demonstrate the various uses of Zoho One.
The keynote speakers include:
Gibu Mathew is the Vice President and GM, Asia Pacific, for Zoho Corp. He has been working with Zoho for over 18 years, leading product management, marketing and architecting software products for many of the company's technical cloud and on-premise solutions.
Raju Vegesna is the Chief Evangelist for Zoho. In his 18 years with the company, Raju has held various positions and is strategically involved in the evolution of the Zoho Suite.
Dylan Mahmood works as an evangelist, helping to spread the word about Zoho. He produces videos and other educational material for Zoho's users.
Taylor Backman is an evangelist, who spreads the word about Zoho's unique product suite, culture, and vision. He works with multiple product, marketing, and support teams to help businesses learn how they can best utilize Zoho's offerings.
Zoho offers more than 40 products, ranging from sales and marketing, to finances and HR management, that help businesses run all their operations in the cloud. Users can register for the conference at: www.zoho.com/zoholics/
Zoho is the operating system for business – a single cloud platform with all the necessary applications to run a business entirely from the cloud. It offers applications for marketing, sales, customer support, finance, human resources, employee productivity, and collaboration.
More than 35 million users around the world across hundreds of thousands of companies rely on Zoho every day to run their businesses – including Zoho itself. Zoho applications are available directly through www.zoho.com or through an ecosystem of hundreds of worldwide Zoho partners.
Zoho is a division of Zoho Corp. and headquartered in Pleasanton, CA with international headquarters in Chennai, India, and offices in Austin, London, Yokohama, and Beijing. For more information on Zoho, please visit www.zoho.com.
Details:
What: Zoholics: APAC 2018
Where: Fairmont Makati, 1 Raffles Drive, Makati Ave, Makati
When: September 17, 2018
Tickets: Regular admission – Php 1,500 (To get 50% off on the regular pricing, users can use the following code while registering: ZOHOAP)