POP HUB: Comic Splash x Fandom Fest at MIBF This September 15 to 16
Aside from the myriad of interesting books to see, there's more to be excited about for this year's Manila International Book Fair, as the very first POP HUB: Comic Splash x Fandom Fest Vol. 1 is co-locating the event on the weekends (September 15 to 16) at the SMX Convention Center Function Room 3.
Also read: 39th Manila International Book Fair Opens This September

The country's largest fandoms—The 501st Legion, a Lucasfilm-recognized worldwide costuming organization; FightSaber; The Philippine Tolkien Society; Westeros Philippines; Pinoy Harry Potter; and Hamilton PH among others will come together with renowned comic book creators, artists, writers, and collectors for a weekend of fun fellowship and geeking out.
American TV series Game of Thrones fans can join Westeros Philippines for their talk, "Makeover 101: How Clothes Make the Men and Women of Westeros" on Sept. 15. Meanwhile, if you think you know everything already about Westeros (or Essos), test yourself at the Game of Thrones Henyo on Sept. 16.
Learn to wield the saber with FightSaber Philippines' FightSaber Academy "Basic Saber Training for Kids & Adults" and deepen your knowledge of The Force in their talk "Learning the Ways of The Force" on Sept. 15.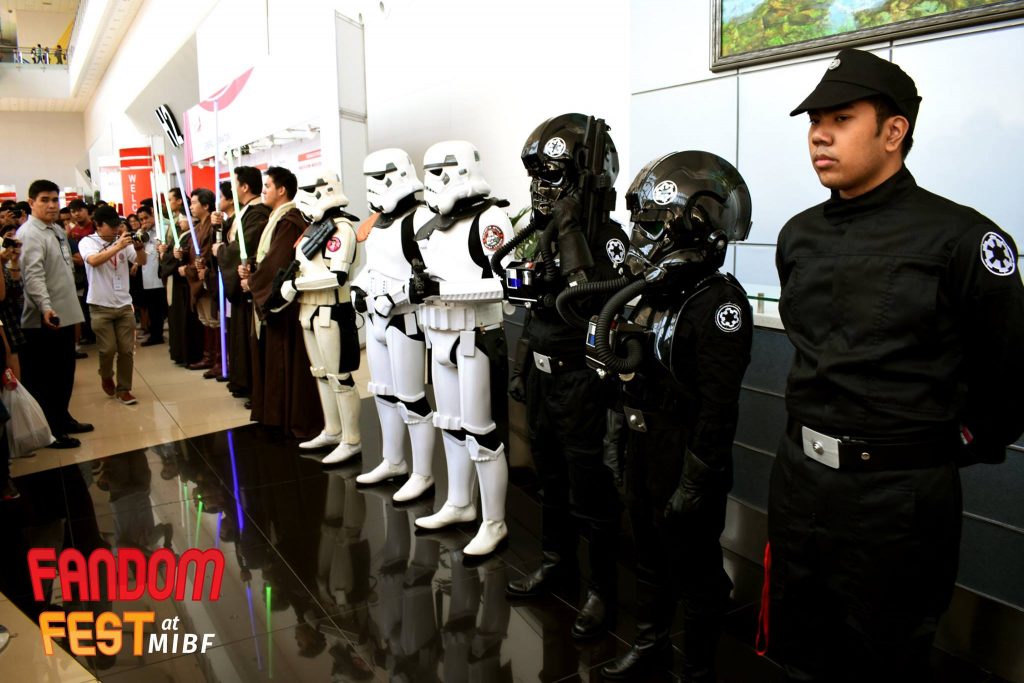 Fandom Fest at MIBF 2017
For all Potterheads out there, cast your best spells with your wands and join the Hogwarts Dueling Club on Sept. 15. If you're feeling brave, take your broom for a spin and participate in the Quidditch Try-Outs. Also, take part in the Lightning Debates with Hogwarts Philippines-Pinoy Harry Potter and Scholastic Asia and sharpen your skills at the Defense Against the Dark Arts Class on Sept. 16.
Fandom Fest at MIBF 2017
Ever wondered how to write your name in one of the languages of Middle Earth? The Philippine Tolkien Society's got you covered in the "Write Your Name in Elvish" workshop on Sept. 15. Join them again on Sept. 16 for their discussion on the "Weapons and Warfare of Middle Earth Part 2".
Sit down with your fellow Trekkies and join Star Trek Philippines for their talks "Can Spock Have Babies? & Other Sci-Fi Questions", "Strange New Worlds: Worldbuilding and Biology", and "These Are The (Favorite) Voyages by John Tawasil" on Sept. 16.
Fandom Fest at MIBF 2017
POP HUB @ MIBF is organized by Primetrade Asia, Inc. For more event details, follow @pophubmnl and @manilaintbookfair on Facebook, Twitter, and Instagram.
---
Details:
What: POP HUB @ 39th Manila Internation Book Fair
Where: SMX Convention Center Function Room 3, Seashell Lane, Mall of Asia Complex, Pasay City
When: September 15 to 16, 2018
Facebook: @pophubmnl, @manilaintbookfair
Instagram: @pophubmnl
Twitter: @pophubmnl