Juan Earth in BGC This September 29
This September 29, Write On Track (WOT) celebrates its 5th anniversary with "Juan Earth" as a way of giving back to nature at Bonifacio High Street Activity Center in Taguig.
WOT, a marketing company, partnered with various non-government organizations (NGOs) and schools to lead that "Juan" step towards taking action to save Mother Earth.
Starting from 10:30 a.m. to 8 p.m., the activity center will be buzzing with exciting activities such as booths, talks, and workshops. Choose and support projects of your likings such as the following:
Adopt-a-Seedling
Juan Earth will have an Adopt-A-Seedling program wherein volunteers can adopt a seedling up to a forest with a corresponding price. This is in support to Haribon Foundation's nationwide movement called ROAD to 2020, which aims to restore 1 million hectares of forests in the Philippines by 2020.
Adopt Bruno and Katy (Dogs and Cats)
During the event, attendees and volunteers can save abandoned and rescued dogs and cats by adopting and fostering them through CARA Welfare Philippines.
Adopt-a-Pawikan Nest
In cooperation with the SIFCARE-CURMA (Coastal Underwater Resource Management Actions), Juan Earth will be having its Adopt A Pawikan Nest where volunteers can adopt a turtle nest for a certain price and release its baby turtles back to the sea.
Adopt-a-Giant Clam
By adopting a baby giant clam, you'll support the University of the Philippines Marine Science Institute to raise clams which are vital to our coral reefs. The adopted clams will be released at the Silaqui Ocean Nursery, the largest population of giant clams in the Philippines.
Meanwhile, there is an ongoing photo contest dedicated to Mother Earth where you can share your talents and skills in taking a "Selfeet" following the environmental theme. Interested to join? Just visit juanearth.com for more details.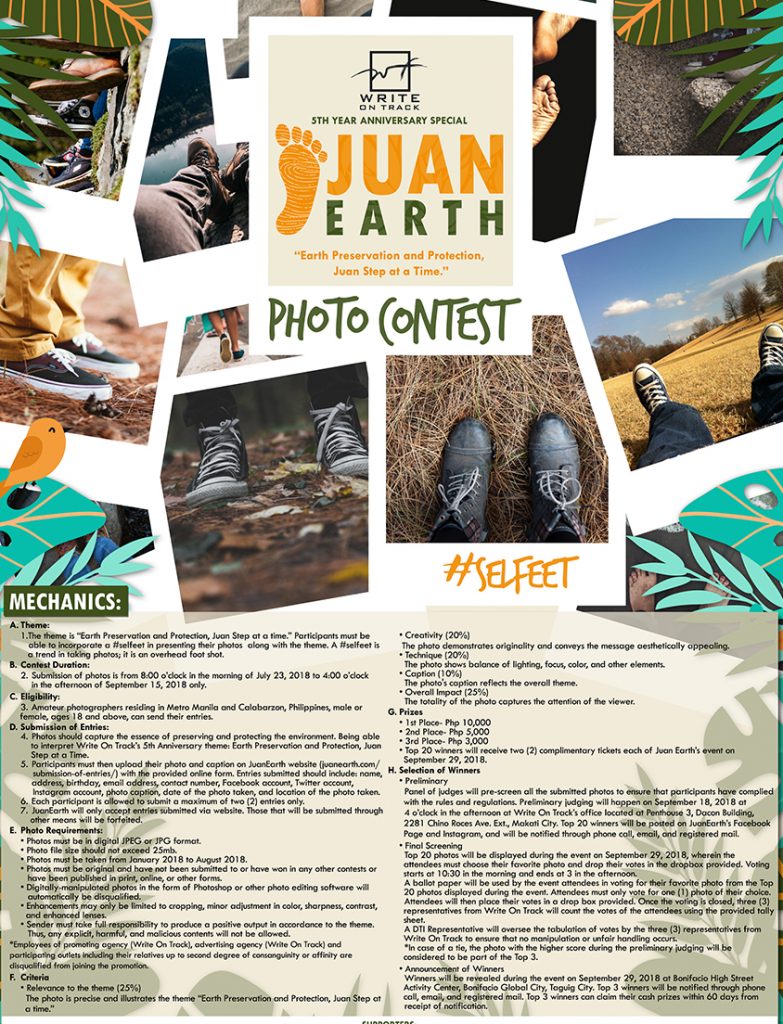 A limited edition Juan Earth shirt will also be given away, in exchange for a used empty plastic bottle or used rubber slipper. Attendees may exchange it at the designated booth.
To make the event more exciting, there will be performances from the FEU-IAS Dance Company, the PUP Teatro Komunikado, and the UST Salinggawi. In closing, renowned Filipino rock band Silent Sanctuary will serenade everyone with their chart-topping hits!
For more information, see the details provided below.
Details:
What: Juan Earth
Where: Bonifacio High Street Activity Center, 9th Avenue, Bonifacio Global City, Taguig City
When: September 29, 2018; 10:30 a.m. to 8 p.m.
Tickets: Free Admission
Facebook: www.facebook.com/JuanEarthPH
Instagram: www.instagram.com/juanearthph
Website: www.juanearth.com