Shake, Rattle, and Run! this Halloween on October 27
Halloween in the Philippines would not be as fun without the exciting gimmicks happening in the metro. This year, make sure that you don't miss the biggest one yet.
On October 27, have a fun, horrific, and healthy adventure as RUN 4 Ur Life presents Manila's biggest Halloween fun run and night party, "Shake, Rattle and Run," happening at the CCP Complex in Pasay City!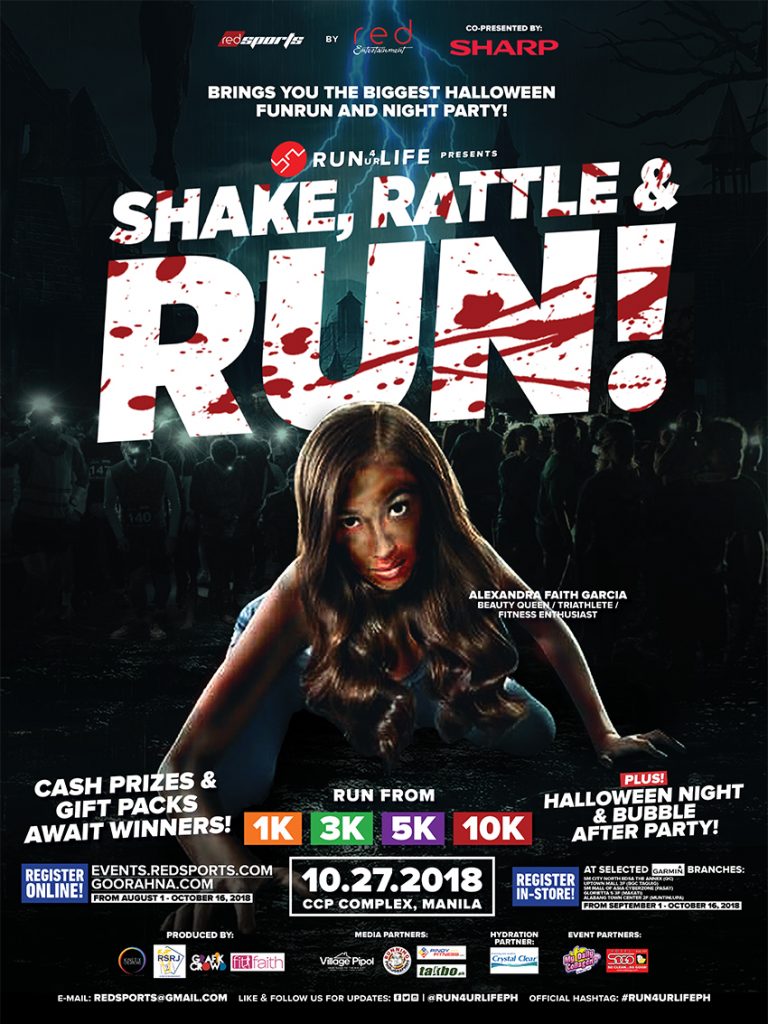 Unlike any other Halloween affairs, the RUN 4 Ur Life series proudly offers another breakthrough event which will make your Halloween spookier than ever while sweating for a healthier lifestyle.
The entire Liwasang Ullalim in CCP Complex will be filled with creeps and cold bits to make the fun run as frightening as possible. The fun run will draw a compelling gathering of loud shouts and hysterics of runners which will definitely make the Halloween experience memorable. Get horrified by creative and spooky costumes conquering the streets of the complex that will totally chill you to the bone. Also, cash prizes and exciting gift packs await the winners of this action-packed event.
Shake, Rattle and Run consists of four (4) categories for kids and adults: 1K, 3K, 5K, and 10K.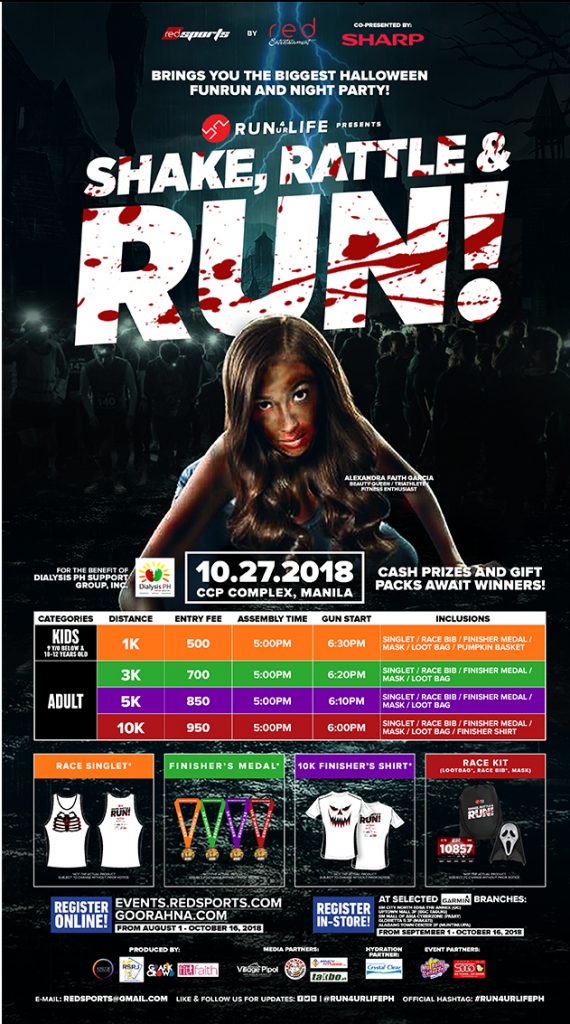 To join the fun, register online at events.redsportsph.com and www.goorahna.com. You may also register through selected Garmin branches and get Php 100 off starting from September 1 to September 16, 2018. Regular registration is until October 16, 2018, for both online and in-store registrations.
Don't hide, bite every creep with this fun experience, and join the most spooktacular event of the year at Shake Rattle and Run 2018. See you there!
RED Sports, FitFaith, and RSRJ present Run4UrLife to bring you Shake, Rattle, and Run!, a fun run that makes being fit a super fun experience. It is a concept event that combines Halloween/horror elements and epic fun that appeals to diverse demographics in the name of fun and fitness. The Shake, Rattle, and Run event will be held for the benefit of Dialysis PH Support Group, Inc. 
Details:
What: Shake, Rattle, and Run 2018
When: October 27, 2018
Where: CCP Complex, Roxas Blvd, Malate, Pasay
Tickets:
1K- Php 500 (Assembly time at 5 p.m., Gun start at 6:30 p.m.)
3K- Php 700 (Assembly time at 5 p.m., Gun start at 6:20 p.m.)
5K- Php 850 (Assembly time at 5 p.m., Gun start at 6:10 p.m.)
10K- Php 950 (Assembly time at 5 p.m., Gun start at 6:00 p.m.)
Email: redsports@gmail.com
Facebook: www.facebook.com/Run4UrLifePH/
Instagram: https://www.instagram.com/run4urlifeph/