'Abstraction through Zobel' Explores Ambiguity at Ayala Museum
Perhaps Arshile Gorky's description of Abstract as an art gave the clearest of definitions when he detailed "Abstraction" as something that "allows a man to see with his mind what he cannot see physically with his eyes".
Reminded of Van Gogh's "impulsive" use of colors in his paintings, Gorky, an Armenian-American painter whose art portrayed his life's tragedy, contributed greatly to the advent of Abstract Expressionism until his death in the late 1940's. While Gorky went on to say how the art "emancipates the mind," clearly what he meant to say was that Abstract is more than meets the eye.
Agony (1947) by Arshile Gorky suggests images of turmoil with the colors and lines used, according to scholars./IMAGE courtesy of ArtStack
Fortunately, the Philippines' very own Fernando Zobel, as the pioneer of Philippine Art, chose to dwell in the art of Abstraction, paving the way to opening other Filipino artists' lenses, more so now with Ayala Museum's Abstraction through Zobel: A Curator's Tour with Ditas Samson.
Join the curator's tour this August 25, from 1 pm to 2:30 pm, with Ayala Foundation's Senior Curator, Ditas Samson, who was also the co-curator of "Fernando Zobel. Contrapuntos" during the 57th International Art Exhibition in Venice, Italy in September 2017. "Fernando Zobel. Contrapuntos" exhibited his painting techniques which are said to be a dichotomy between Asia and Europe, especially Spain.
Like a trip through the labyrinth of Zobel's mind, the curator's tour at Ayala Museum will unravel each layer and element of Fernando Zobel's artworks, in celebration of his 94th year.
IMAGE courtesy of Ayala Museum
Some of his prominent works are the Saeta and Serie Negra series, including Icaro, which is said to be the largest masterpiece in Zobel's collections.
Icaro (1962) Oil on Canvas/ IMAGE courtesy of Ayala Museum
Fernando Zobel of the Zobel de Ayala clan began to cater to his skills in drawing caricatures and landscapes at the age of 18, while he stayed on his bed due to a spine problem. However, this did not get in his way as he studied at Harvard University as a history and literature major, earning his degree in 1949. Later on, he went to Rhode Island School of Design which impressed upon him Mark Rothko's paintings. From there, he returned to the Philippines as a promoter of modern art, especially that of Abstraction.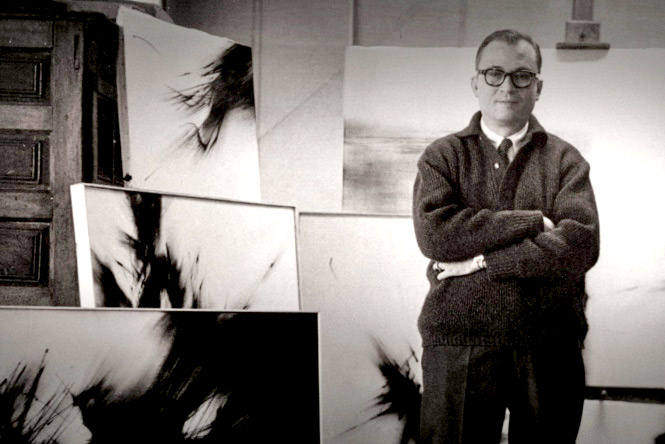 Fernando Zobel was known to be the pioneer of modern art in the Philippines./IMAGE courtesy of Business World
Do you want to know more about Fernando Zobel's contributions to modern art in the Philippines? Join the curator's tour on August 25 and celebrate his oeuvre!
For more information on payments and registration, you can visit their Facebook Events Page at A Curator's Tour: Abstraction through Zobel. You may also e-mail them at education@ayalamuseum.org or call 02-759-8288.
Details:
What: Abstraction through Zobel
Where: Ayala Museum, Makati Avenue cor. De La Rosa St., Greenbelt Park, Makati City
When: August 25, 2018, 1 pm to 2:30 pm
Ticket Information:
Regular- Php 450
Discounted- Php 360 (for Ayala Museum members, Ayala Group employees, Art Appreciation- French Impressionism Ticket Holders)
Students and Teachers- Php 285
Group Rate- Php 650 (2 pax limited slots)
---
Sources: Ayala Museum Press Release, Arshile Gorky at The Art Story, Vincent Van Gogh at The Art Story, Geringer Art Ltd.