JUXTAPOSE: PSID's Adaptive Reuse Exhibit
Buildings are often the epitome of engineering and architectural prowess and all new buildings always evoke a sense of awe. However, time robs all magnificent structures of their luster, eventually losing their purpose.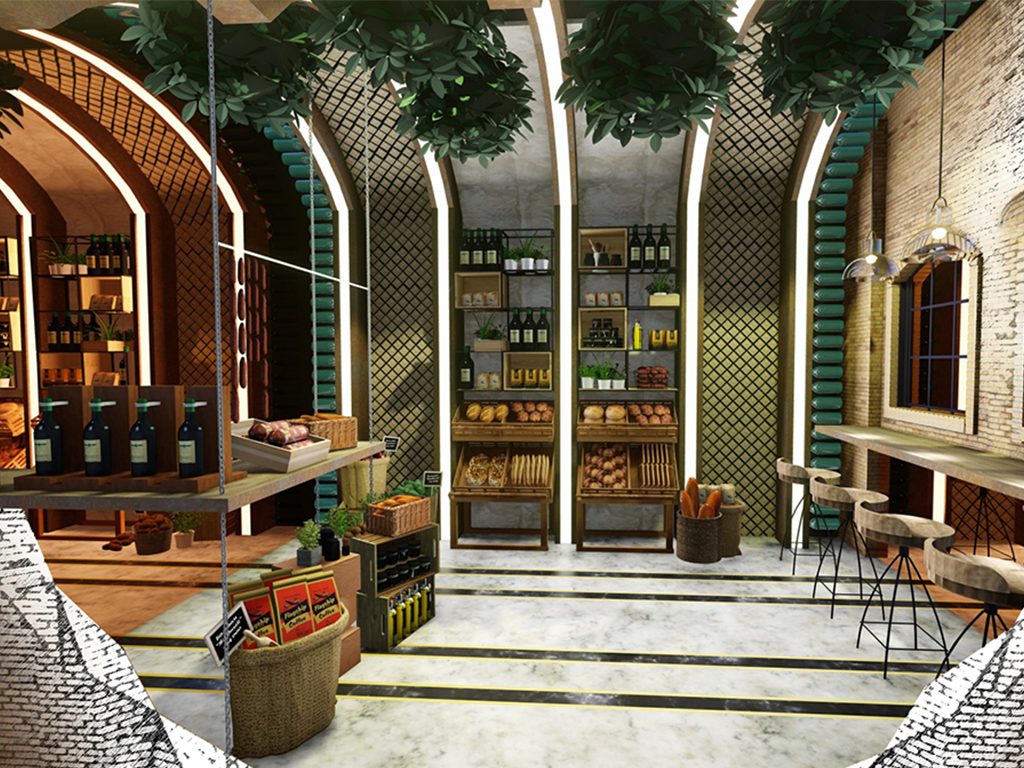 Booth 16, Polo Estacion by Carleen Choi-Kua, Cherrie Ferrer, Judith Pauline Guiang, and Ma. Kathrina Reston. PNR Polo Station is envisioned to be redesigned into an artisan market and local wine shop showcasing the region's local produce and goods. Brick walls, arch windows, and a standalone ruin were retained to keep the space's integrity while modern and local elements of bronze mirror, steel, illuminated acrylic, capiz and a careful selection of furniture and accessories create the rustic contemporary meets industrial design./IMAGE PSID
On its 51st anniversary, the Philippine School of Interior Design will take on the challenge of Adaptive Reuse with the exhibit "JUXTAPOSE" at the penthouse of the Santolan Town Plaza in San Juan City from October 1-31, 2018.
Adaptive reuse is the process of reusing old buildings or sites for a purpose other than it was built for. PSID's graduating batch of 2018 will look to this concept as a solution to design problems. In doing so, they will merge the past with the present by creating designs that will breathe new life into historical spaces.
JUXTAPOSE will have 17 booths divided into three galleries, namely Tahanan, Pangkalakal, and Pang-Industriya.
TAHANAN
The Tahanan gallery will focus on residential buildings like the iconic Bahay na Bato and will feature booths such as The bar beneath…in San Juan, The Vigan Atelier, Small Space, Big Living, Modern Filipino Haven, Bridal Boudoir, and the Marahuyo Spa and Tea House.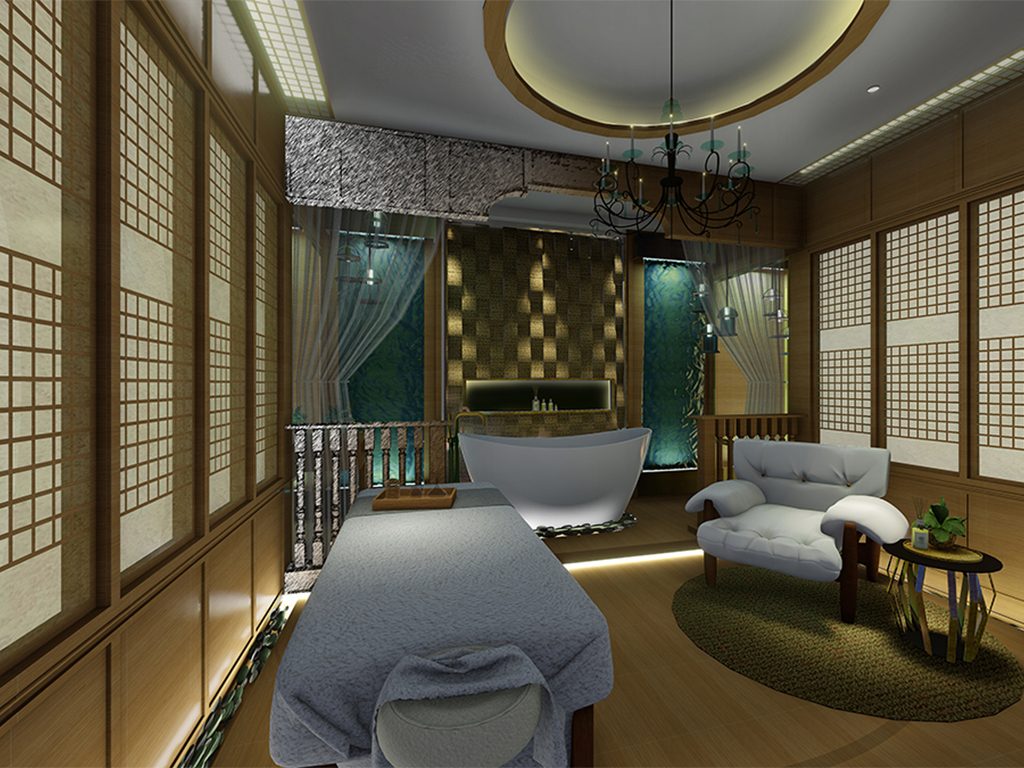 Booth 4, Modern Filipino Haven by Kristine Escober, Pam Lachica, Mary Justine Teng, and Kim Tigue. Taking cues from the Laurel Ancestral House in San Juan City, this private spa relies on the balance of different design elements to create an environment that engages the senses—neutral, earthy colors with warm mood lighting that captures the sense of sight, the mixture of natural wood, textured glass, and metals excite the sense of touch, while the aromas captivate the sense of smell./IMAGE PSID
PANGKALAKAL
In Pangkalakal, students will showcase booths that are reminiscent of the streetscapes of Escolta and the commercial streetscapes of Avenida Rizal with designs like La Moneda Bookshop and Café, CC Café + Creatives, Little Café Museum, Café 308, Kusina Aduana, and Below Zero Gelateria.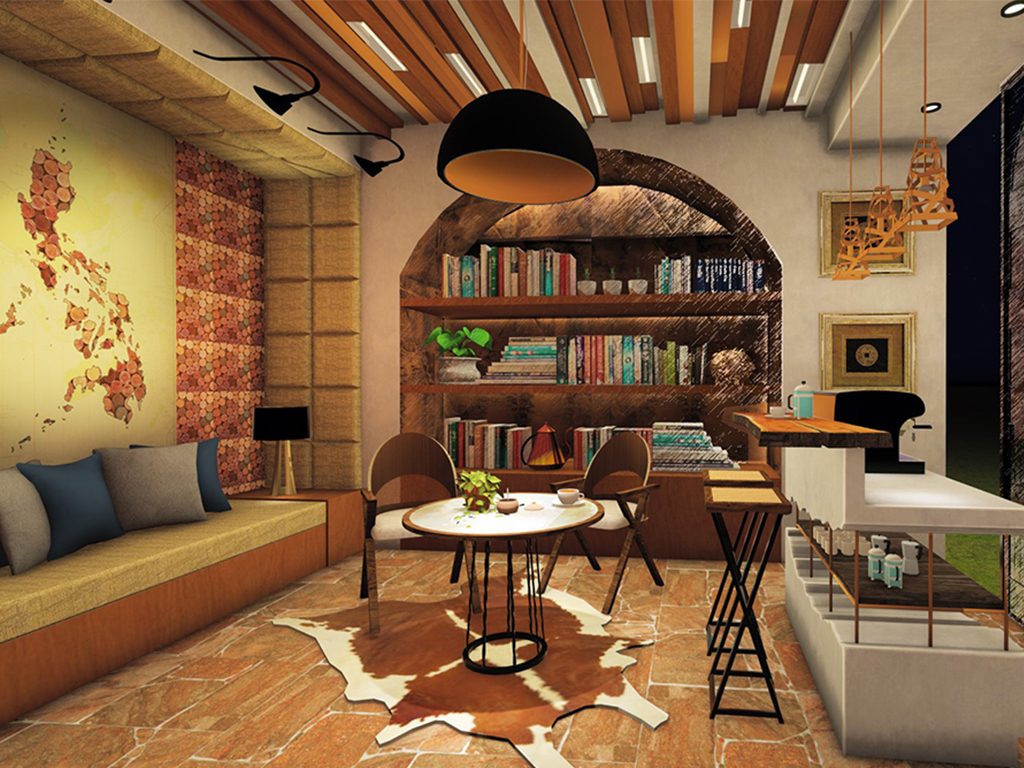 Booth 7, La Moneda Bookshop and Café by Alexis Casas, Kristine Jaspio, Lauren Laudico, and Hannah Tan. This adaptively reused design takes inspiration from the history of the Aduana Building as the Mint House or Casa de Moneda, where the first Philippine coins were made. To echo this pivotal moment, the overall design of the space reflects the lustrous shine of the coin—from the unique artwork showcased against the coin wall to the copper and metallic touches in the fixtures and fabrics used./IMAGE PSID
PANG-INDUSTRIYA
Lastly, the Pang-Industriya gallery will highlight design solutions for old industrial sites with the booths Fit Street, Dor-Moderno, Station No. 15, Polo Estacion, and Gentleman's Barber Lounge.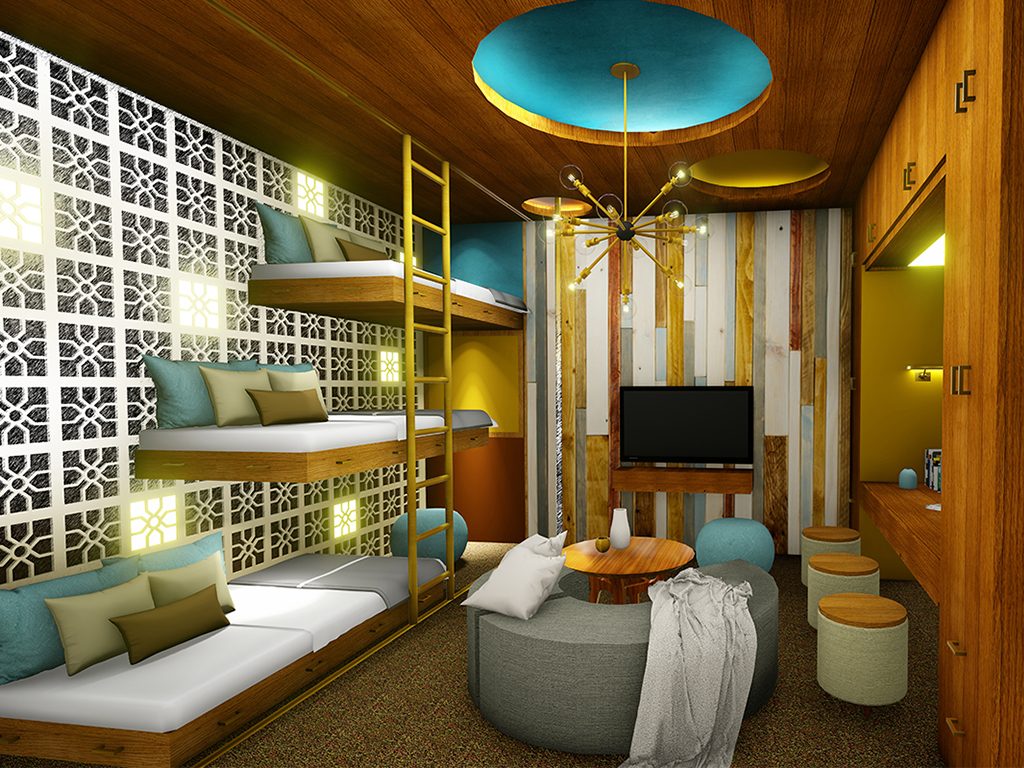 Booth 14, Dor-Moderno by Dudz Dumasig, Naomi Ng, Lei Santelices, and Celina Zaraspe. A modern and contemporary dormitory with interiors and facade inspired by its original design as the San Nicolas Fire Station, the aesthetic blueprint of this mid-century modern dormitory was lifted from the accent walls and metal works derived from its old form. Elements inspired by the original fire station were made intact such as the use of the fireman's poles, the space's wooden interior, and the fire truck ladders./IMAGE PSID
JUXTAPOSE is co-presented by Rockwell, in partnership with the National Commission for Culture and the Arts (NCCA), and mounted in cooperation with All Home, Boysen, Fyrelynn Industries, Habitat, Ilaw Atbp., Larry's Curtains, Matimco, Schema, Tierra Plants, and Toto.
While the exhibit wishes to help Filipinos understand cultural and historical identity further, it will also challenge the audience, cultural heritage conservation proponents, and developers to find creative solutions in the restoration and rehabilitation of historical structures.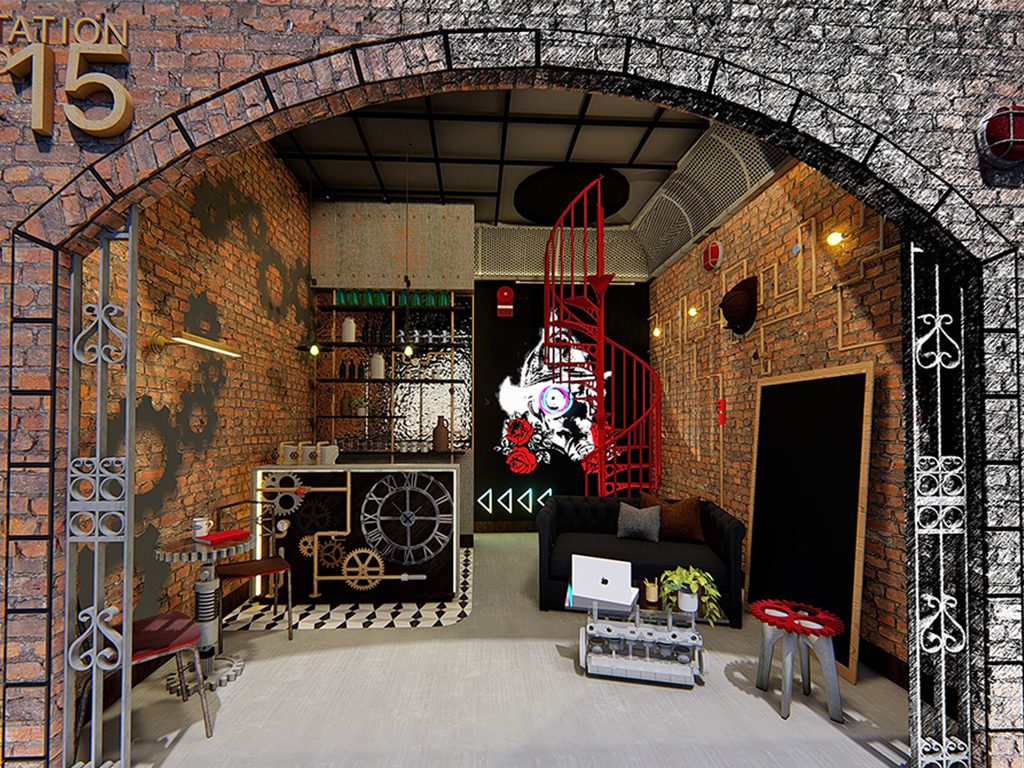 Booth 15, Station No. 15 by Sophia Aguado, Alecsa Alcantara, Naomi Estiva, and Rani Lorenzana. A co-working bar featuring accents inspired by the steampunk genre, the redesigned old Tanduay Fire Station's storage room redefines the curbs of Manila and serves a new purpose to the modern Manileño./IMAGE PSID
Current interior design concepts such as bed and breakfast inns, AirBnB hostels, co-working spaces, and others can take inspiration from these galleries in giving forgotten historical structures a second life.
Details:
What: JUXTAPOSE
When: October 1-31, 2018
Where: Santolan Town Plaza, 276 Col. Bonny Serrano Ave., San Juan City