Master Sales and Win Clients with NLP's Secret Sales Techniques
Have you ever discovered the psychology behind your client's behavior and the art of persuading your clients? Here's a good news! You can now understand the psychology behind your client's needs and build rapport for future clients with Manila Workshop's latest event called Neuro-Linguistic Programming: Mastering Sales & Win Clients with NLP's Secret Sales Techniques this coming October 13, 2018!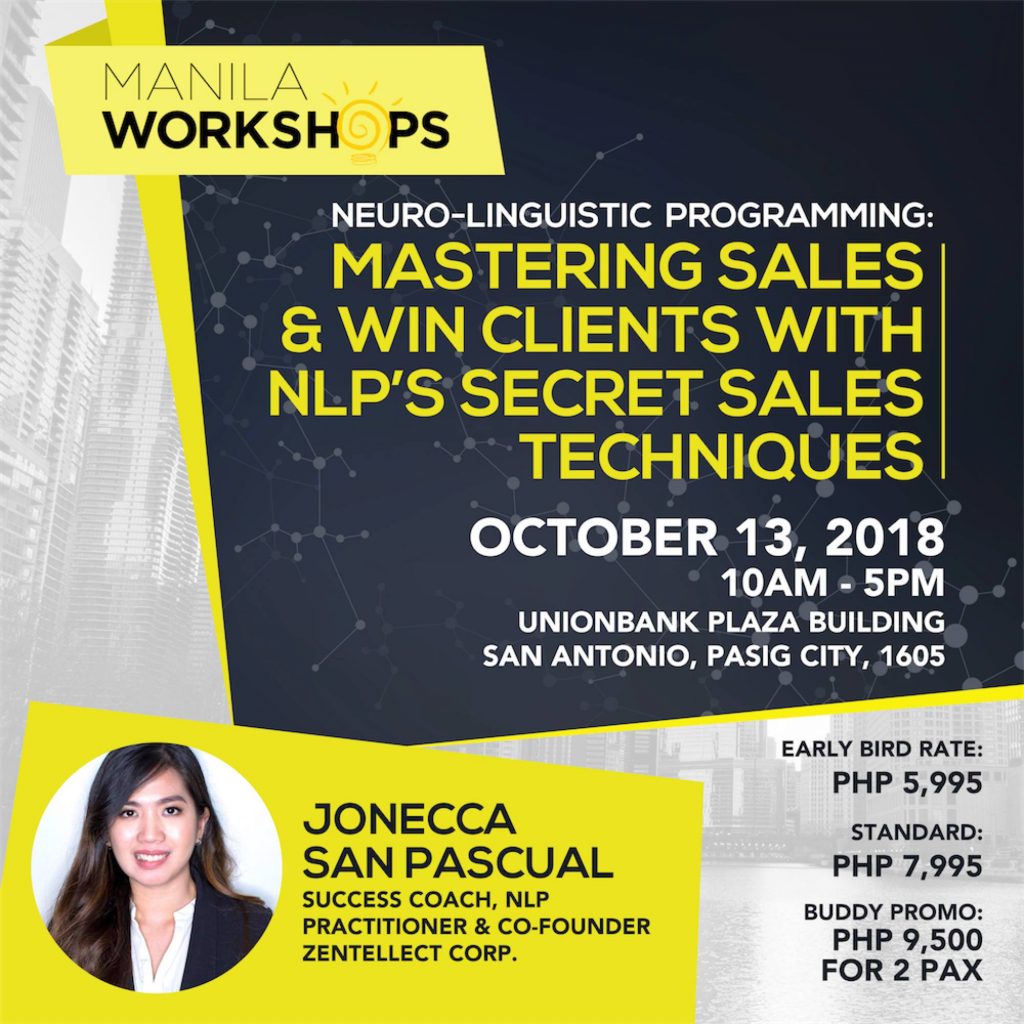 Build trust and rapport with your clients and gain confidence towards communicating with clients and customers through the NLP's Secret Sales Techniques. NLP stands for Neuro-Linguistic Programming where Neuro refers to neurology, Linguistic refers to language, and programming refers to function; which means NLP is simply understanding the language of your mind.
Ms. Jonecca San Pascual, success coach, NLP practitioner and co-founder of Zentellect Corp will conduct the workshop which will help you improve your communication skills and win clients through the art of persuasion and influence through the topics below:
Buiding Sales Relationship
The Power of Rapport & Trust

Understanding The Client's Internal Representational System: Customer Psychology

Building Confidence: Your Path to Success 

Secret Tools of a Conversationalist

Identifying the Barriers in Communication

The Art of Persuasion and Influence

Communicating and Speaking with Power and Command
Ulitmate Selling Formula
Powerful Mind Hacks to Sales Success

Handling and Blocking Objections like a Pro

The Magical Steps to Closing Sales
Register now and boost your company's sales through NLP's Secret Sales Techniques this October 13, 2018, from 10 a.m. to 5 p.m. at UnionBank Plaza, Meralco Avenue, Ortigas Pasig City. Regular rate is Php 7,995.00 and you can register and purchase tickets at manilaworkshops.com/events. For more information, you may contact them at 0995-467-1567 or visit their Facebook page at manilaworkshops for more announcements.
Details: 
What: Neuro-Linguistic Programming: Mastering Sales & Win Clients with NLP's Secret Sales Techniques
When: October 13, 2018
Where: UnionBank Plaza, Meralco Avenue Corner Onyx and Sapphire Roads, Ortigas Center, Pasig City
Facebook: facebook.com/manilaworkshops/
Website: manilaworkshops.com/events
Rates:
Regular Rate – 

 

Php 7,995.00

Early Bird Rate –

 

Php 5,995.00

Group Rate –

 

Php 9,500.00