A1 Live in Manila 2018
Fans of A1 unite! Our favorite British Norweigan band is coming back to Manila on October 21, 2018! The stage will be filled with nostalgia as Ben Adams, Christian Ingrebrigtsen, Paul Marazzi, and Mark Read come together to sing their classic tracks on stage.
On May 25, 2018, A1's official Twitter account (@A1Official) announced that the band members will be together once again for a live performance.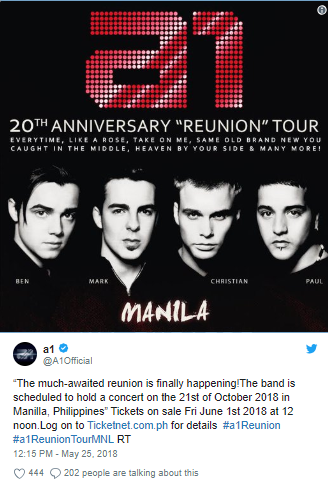 In 2016, A1 fell in love with the Philippines when they performed live at the Kia Theater in Manila and the IEC Pavillion in Cebu. This year's concert will be part of the group's 20th Anniversary tour.
Expect them to perform some of their classic songs like Like A Rose, Same Old Brand New You, Caught in the Middle, Heaven by Your Side, In Love and I Hate It, Take You Home, and Don't Wanna Lose You.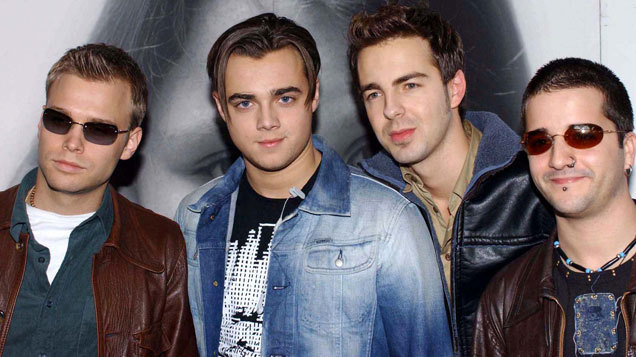 Image courtesy of TV3
Concert tickets have already been out since  June 1 at 12 pm through TicketNet outlets nationwide.
Here are the tickets prices list for a1 live in Manila this October 2018 at the KIA Theatre.
VIP – Php 4,500
ORCHESTRA A – Php 3,750
ORCHESTRA B – Php 3,000
LODGE – Php 4,250
BALCONY A – Php 3,250
BALCONY B – Php 2,250
Feel free to check the official TicketNet website for additional information.
Details:
What: A1 Live In Manila 2018
When: Sunday, October 21, 2018; 8 p.m.
Where: Kia Theater
Ticket: www.ticketnet.com.ph