Young Artists' Studio: Weekend Art Workshops in Estancia Mall
Ralph Waldo Emerson once said that no artist was born professional. Everyone was first an amateur who went through all necessary trails to get to where they are.
Before you become the dream you envision, join first the Young Artists' Studio (YAS) Weekends Art Workshops on 2F Bridgeway, Estancia Mall in Ortigas and get to know what basic principles and knowledge you must acquire.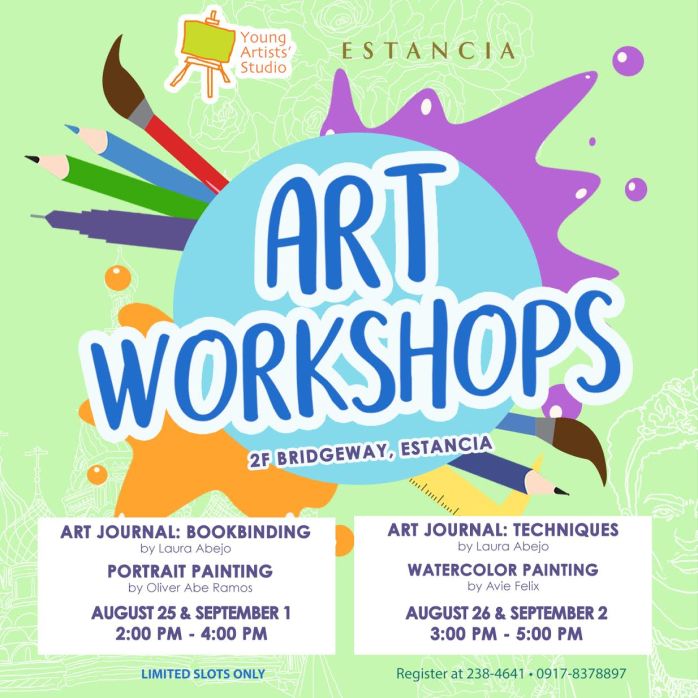 In Art Journaling, participants will learn basic notebook making, theme-planning and crafty decorating. You will get tips on how to recycle magazines, re-use materials, and maximize school supplies to create your dream journal.
The Basic Bookbinding will be on August 25 and September 1 (Saturdays), 2 p.m. to 4 p.m., while the Techniques (Collage & Decor) will be on August 26 and September 2 (Sundays), 2 p.m. to 4 p.m.
The Portrait Drawing workshop, scheduled on August 25 to September 1 (Saturdays), 3 p.m. to 5 p.m., will help everyone learn fundamental techniques and principles of light and shadow in making portraits.
You will also be introduced to watercolor painting techniques and calligraphy using watercolor in Watercolor Painting workshop on August 26 and September 2 (Sundays), 3 p.m. to 5 p.m.
The classes will all be facilitated by contemporary artists and YAS art teachers Ian Castaneda, Avie Felix, Laura Abejo and Oliver Abe Ramos whose all works will also be showcased at the Verse to Form, an exhibit of painting and text, on August 24 to September 2 at the same venue. There is free admission.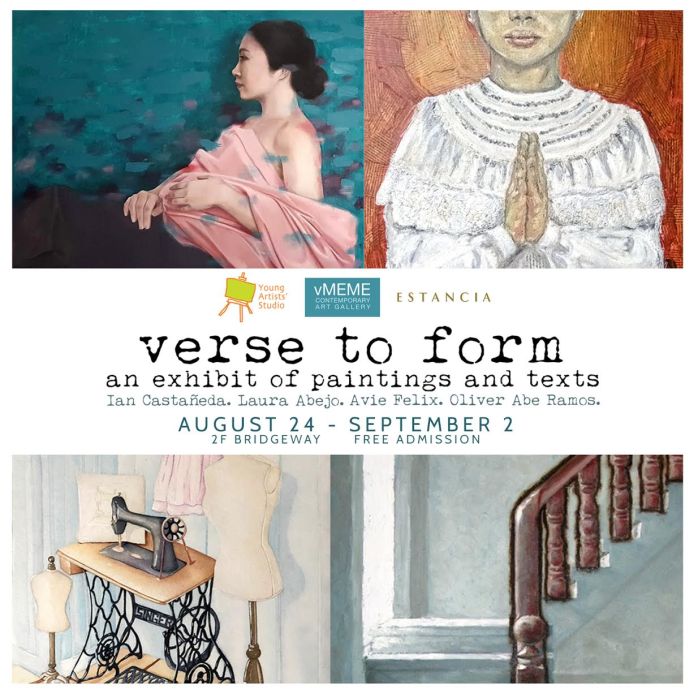 The Art Workshop is open to all art enthusiasts aged 12 and above. Teens and adults are welcome! These workshops are also for free but only limited slots are available so you should register now! Here is the registration process:
Fill out the form on their website.
Like the social media pages of Young Artists Studio and Estancia at Capitol Commons. Share #Verse2FormEstancia posts by not only clicking share but also sharing a quote or poem or verse that you would want to swear. Don't forget the hashtag #Verse2FormEstancia so they can track your post/s.
They will choose 15 participants per workshop and they will be announced on August 20.
Young Artists' Studio is an art school providing year-round art classes for kids and adults. Since 2009, YAS has mentored over 800 aspiring artists, from toddlers to young kids (4-10 y/o), teens and adults. 
Details:
What: Young Artists' Studio Art Workshops
When: August 25-26, 2018 & September 1-2, 2018; times vary
Where: 2F Bridgeway, Estancia Mall, 1605 Meralco Ave, Ortigas Center, Pasig, 1605 Metro Manila