Stand Up and Bike for Dolphins: Japan Dolphin Day 2018
Bike for a cause or gather in solidarity against dolphin hunts. The Earth Island Institute (EII) is organizing this year's Japan Dolphin Day 2018 with the event Stand Up and Bike for Dolphins, which will take bikers from Manila City Hall to the Japan Embassy this September 2, 2018.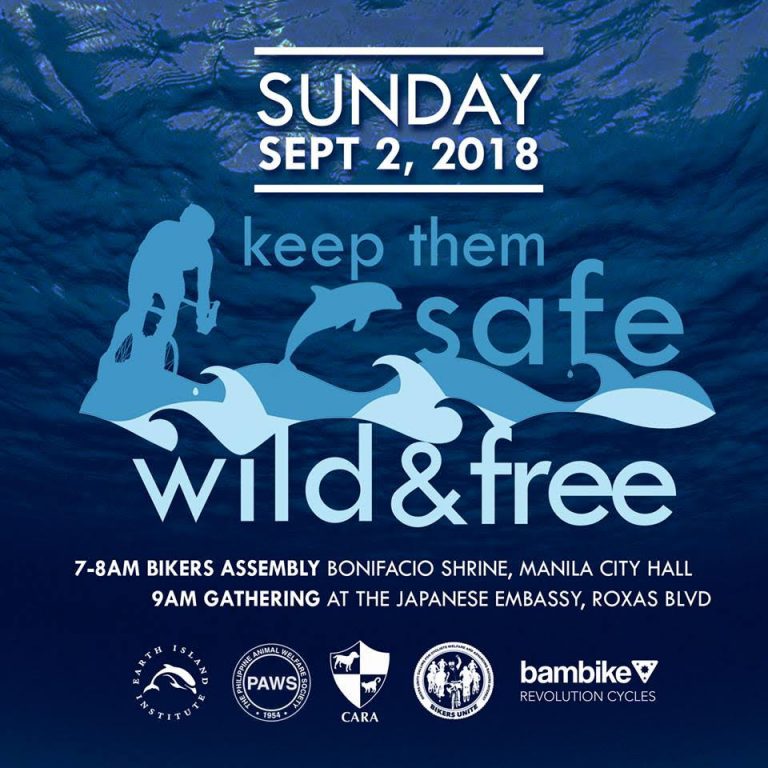 As an archipelagic country, the Philippines is home to a large number of marine mammal species, and marine conservation should be a cause the country must invest on. Keep Them Safe, Wild, and Free is a campaign of information dissemination, education, policy advocacy, lobbying for legislation, and actual action to make the world's oceans better for dolphins, whales, and their habitat.
Every year, dolphin advocates in the Philippines gather against the dolphin hunts, especially those held in the town of Taiji, Japan where drive hunting still takes place on a large scale. Marked with a gathering at the Japanese Embassy in the Philippines in Roxas Blvd., Pasay, the event this year will be in collaboration with Bikers Unite and Bambike.
The bike assembly will start from 7 am at the Andres Bonifacio Shrine located just outside Manila City Hall. There will only be 5 bamboo bikes from Bambike you can borrow during the event. From there, participants will bike to the Japanese Embassy in Roxas Boulevard, Pasay for the solidarity gathering at 9 am for a short program.
Speakers from Earth Island Institute, PAWS, CARA, and other environmental and animal welfare groups will be present for the program. Japan Dolphin Day is a simultaneous international day of awareness with similar events around the world on the same day.
Bring your family to Stand Up and Bike for Dolphins this September 2, 2018, to educate and inform them what we can do to preserve the marine life of Philippine seas and beyond.
Registration is still open and free! Register at www.earthislandph.org/jdd2018 or contact the organizer at 0948-204-6129.
---
This is a press release. Minor edits were made prior to publishing.