Emotional Intelligence Summit Asia 2018: Be A Game Changer
In a world where IQ is important to be able to finish a degree and work in the corporate world, it is said that Emotional Intelligence is still the most important competencies in jobs. Why? Because Emotional Intelligence gives the person the ability to be aware of other people's emotion and harness emotions which they can use for thinking and problem-solving.
The Profiles Group through People Dynamics is bringing us the first ever Emotional Intelligence Summit Asia in the Philippines to further discuss one of the most important competencies in the future of the business world – Emotional Intelligence.
Many people would consider Intelligence Quotient as the biggest factor in the workplace, but it is now time that Emotional Intelligence is being taken seriously. While there's a saying that emotions should be left at home and should not be brought to the doors of your work, businesses are changing and Human Resources are becoming one of the most important teams inside a workplace as they keep a balance of the employee and employer's relationship for a harmoniously work living.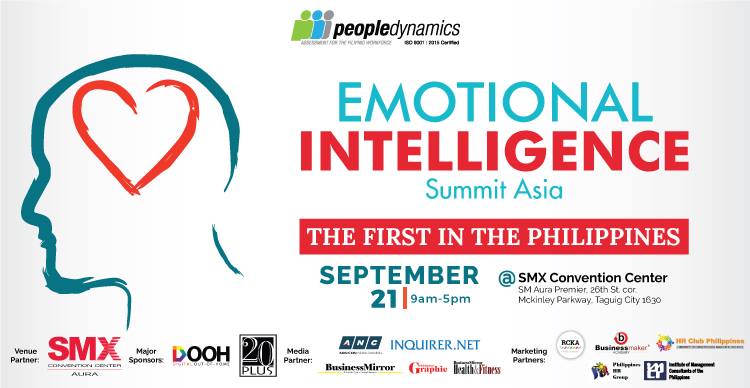 IMAGE inquirer.net
But what does Emotional Intelligence really do to a workplace and why is it that important? In every work, decisions are influenced by the emotional side and most of the time, the choices we make are based on our gut feelings. With emotional intelligence, working in a cross-cultural community will be a lot better as it comes down to understanding, expressing and managing work relationships.
Happening this September 21, 2018, at the SMX Convention Center Aura, be a changemaker and join the Emotional Intelligence Summit Asia, spearheaded by local and international guest speakers and experts such as Dr. Ben Palmer, developer of the first Australian Emotional Intelligence model, Mr. Deiric McCann, an internationally acclaimed speaker and author, and the certified Genos Emotional Intelligence practitioners: Mr. Jayson Lo, Mr. Mondo Castro, and Mr. Eric Caeg. 
To register, go to http://bit.ly/eisummitreg. Register online before August 21, 2018, and get a discount. For more information, call (02) 635-0016 or email marketing@profilesasiapacific.com or visit their event page at Emotional Intelligence Summit Asia 2018. 
Details:
What: Emotional Intelligence Summit Asia 2018
When: September 21, 2018; 9 a.m. to 5 p.m.
Where: SMX Convention Center Aura, SM Aura Premier, 26th cor. McKinley Pkwy., Taguig City
Facebook:facebook.com/theprofilesgroup

Ticket Prices: 
Promo Rate: Php 7195 + VAT (Until August 21)
Early Bird Rate: Php 7300 + VAT
Regular Rate: Php 7995 + VAT
Bundled Rate : Php 32, 500 + VAT