Voice for the Ocean: A Conversation on Conservation
Painful as it is to be mentioned again, the video of a turtle with a plastic straw in its nose provided a wake-up call for many who still refused to believe that our oceans are in danger. The said video has urged more people to patronize reusable goods whether it be bags, drinking glasses, straws, and even zero-waste stores.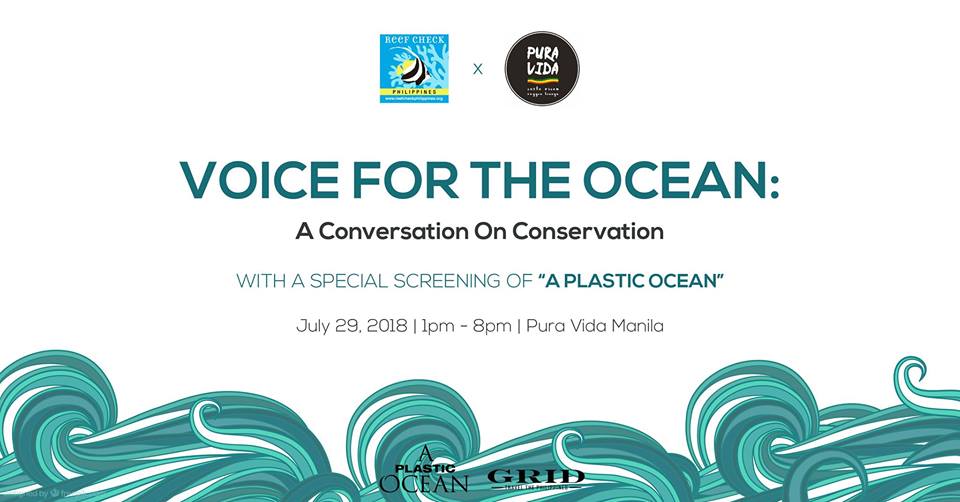 IMAGE Voice for the Ocean: A Conversation on Conservation event page
Admittedly, humans should have been more aware of environmental destruction even before the turtle video, especially because there is no shortage of environmental groups, both local and foreign, who are taking steps to educate the public. Though we can't turn back the clock, there are still a lot of ways to prevent the problem from getting worse.
This Sunday, July 29, 2018, join the discussion Voice for the Ocean: A Conversation on Conservation at Pura Vida Manila.
It's going to be an afternoon of dialogue and drinks with some of the country's most passionate conservationists. There won't be a entrance or registration fee but attendees are encouraged to donate Php 250. This gets attendees a complimentary beer and a chance to win prizes.
Apart from the dialogue, attendees can also start or improve their zero-waste lifestyle because zero-waste products such as reusable straws, mesh bags, and beeswax wraps will be available at pop-up booths. The night will be topped off with a screening of the documentary A Plastic Ocean.
Interested attendees may register here. To learn more about the event, visit the event Facebook page.
Also read: Pura Vida Manila in Makati: A Costa Rican Reggae Bar in Poblacion
Details
What: Voice for the Ocean: A Conversation on Conservation
When: July 29, 2018, 1 p.m. to 8 p.m.
Where: Pura Vida Manila, Don Pedro St., Poblacion, Makati