Reebok Be More Human Race 2018 Levels Up to Final Stage
Have you been in a state of constant standstill, that all you want to do is to start moving? Like a traffic jam, where gridlocks can make one squirm where one is seated, a position of complete inactivity can make one lose their equilibrium.
With Reebok's Be More Human Race 2018, a whole new balance is set as your body encounters a boost of kinetic energy you have never felt before. This July 27 to 29, level up and run the virtual race with more than 8,000 runners just about anywhere you want, within 6 participating countries in Southeast Asia!

IMAGE web.42race.com
With the help of an approved Global Positioning System-based (GPS) Tracker for runners, participants may run among three categories of the Level Up Stage. Join the Beginner entry with the 5 KM run, or the Intermediate level to run for 10 KM, and the Advanced with 21KM race distance.
Among Reebok-approved GPS trackers are Edomondo, Garmin Connect, May My Run, Nike+, Runkeeper, Runtastic, and Stava. Just make sure you have registered and logged in to web.42race.com/reebok, to be able to submit your results after you finished the race. Because it is virtual, running on a treadmill is more than welcome, provided that you are to include your time and distance on your registered account.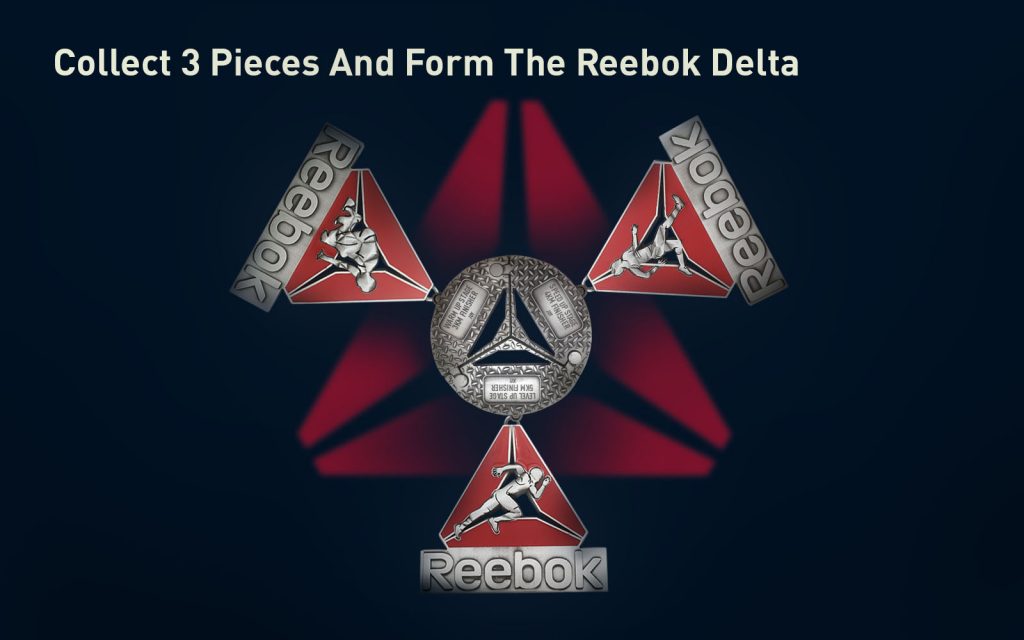 The Reebok Delta is completed when you finished the three stages of the race: Warm Up, Speed Up, and the Level Up./IMAGE web.42.race/reebok
Perhaps what is coveted in Reebok's Be More Human Race is the Reebok Delta, consisting of pieces of medals won from the three stages of the race, namely the Warm Up Stage which ran from May 18 to 20 this year, the Speed Up Stage from June 22 to 24, and the Level Up Stage to commence on July 27 to 29.
Finishers of the three stages of the Be More Human Race are entitled to a finisher's tee./ IMAGE web.42.race/reebok
Participants who registered and accomplished the three stages are also entitled to a finisher's shirt made out of 100% Polyester, good for gym use due to its more comfortable feel.
Although two of the three stages already capped off this year, you may still register for the Level Up stage of the Be More Human Race until July 26 or while slots are still available for runners and enthusiasts alike.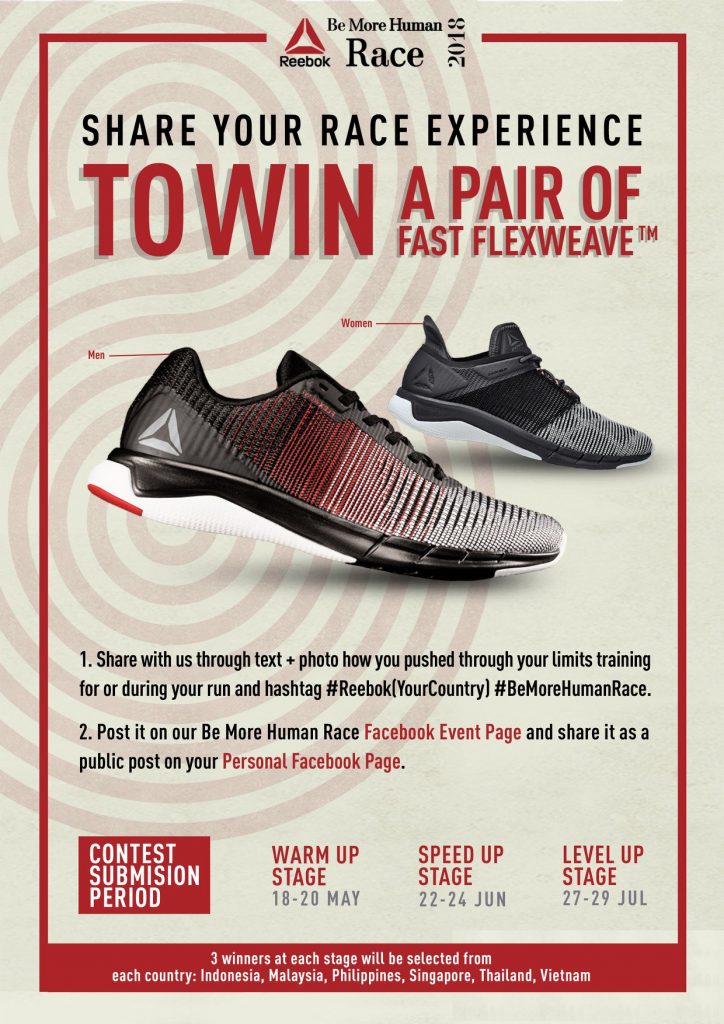 The winners of Reebok's Facebook contest gets to have the Fast Flexweave./ IMAGE ReebokOneSingapore
As a special award, Reebok, known for designing world-class quality fitness gears, is giving away their Fast Flexweave for three Facebook contest winners from Singapore, Malaysia, Indonesia, Vietnam, Thailand, and the Philippines. For more information as to contest mechanics and race requirements, you can visit their  Facebook Event Page or their website.
Details:
What: Reebok Be More Human Virtual Race 2018
Where: Anywhere!
When: July 27 to 29
Price Information: S$9.90 (per stage)
Website: web.42race.com/reebok
---
This is a press release. Minor edits are made prior to publishing.
Sources: Reebok, Facebook Event Page
Featured image grabbed from: Reebok Be More Human Virtual Race 2018's Facebook page