Tripkada Travel Meet-up: Palaro at Lokal Hostel
Get ready as the biggest travel-pooling platform in the Philippines, Tripkada, brings you a night full of games, food and Filipino culture!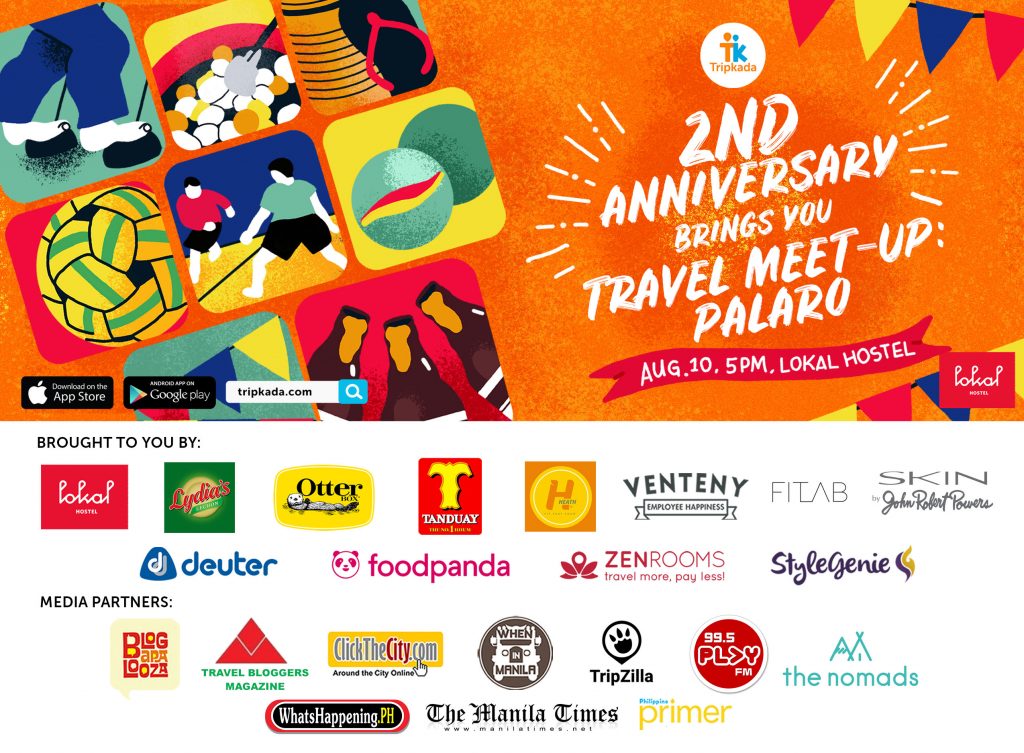 This August 10 at 6 pm, Tripkada will take you back to the rich Filipino tradition through Travel Meet-up: Palaro.  A night of fun and fiesta that will highlight Filipino traditional parlor games from different regions in the Philippines. This will also be a time to introduce new Tripkada destinations and updates with overflowing alcohol from Tanduay Philippines. The event vibe is made more authentically Filipino by one of the first and artsiest hostels in Poblacion – Lokal Hostel.
"We're doing the Palaro Travel Meet-up because we want everyone to go back the best days of their childhood. But More importantly, for our expat friends, we wanna share our culture through revisiting the fun and games that somehow formed some of our Filipino values like sportsmanship, friendliness, and more. We have a perfect venue – Lokal hostel, which is your home for the most,"  said J.P Bayang, Head of Marketing at Tripkada.
Tripkada is a Philippine-made online platform that allows users to book their dream vacation on a budget and on-the-go. Think uber-pooling for trips and adventures.  No need to go through the hassle of planning your itinerary or go through individual bookings for transportation and lodging. With Tripkada, you can seamlessly choose from trips organized by fellow travelers to travel to popular tourist destinations within the archipelago. You could be traversing through Mt. Pulag or surfing through the waves of Baler alongside other avid thrill-seekers just like yourself with just a simple click of a button.
To register for the event, Click here:  www.tripkada.com/trips/travel-meet-up-tripkada-palaro
Details:
What: Tripkada Travel Meet-up: Palaro
When: August 10, 2018; 5 p.m.
Where: Lokal Hostel, 5023 P. Burgos St., Brgy. Poblacion, Makati City
---
This is a press release.