Little Heroes: First Aid and Rescue for Kids
Everyone is prone to trouble and we can't deny it. Wherever we are, accidents can occur in the most unexpected time. You might just be walking along the street or even inside your home and still, accidents are bound to happen.
It would be much better if, at a young age, we already know what to do and what not to. This summer, get your kids (7 to 11 years old) ready for a training led by the Manila Workshop and Early Intervention Management on July 7, 2018.
Little Heroes: First Aid & Rescue for Kids will teach your children basic first aid and rescue. Here, kids will learn the things to be done when an emergency occurs.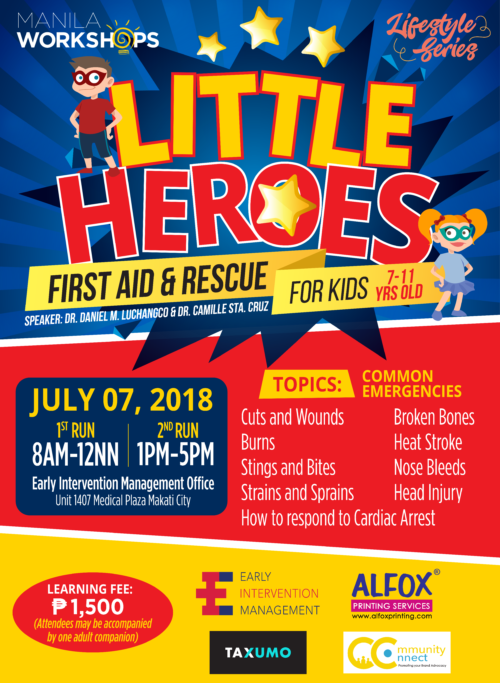 The following are the learnings your kids can acquire in the workshop.
CUTS and WOUNDS
– Proper Handwashing w/ Demo and Return Demo
– Cleaning and Dressing w/ Demo and Return Demo
BURNS
– Dressing
– Prevention
STINGS and BITES
– Dogs and Cats
– Bees
– Jellyfish
– Sea Urchin
STRAINS and SPRAINS
– RICE
– Prevention
– Activity: Compression Bandage
BROKEN BONES
– Activity: Basic Splinting
HEAT EXHAUSTION/HEAT STROKE
– Recognition
– What to do
– Prevention
NOSEBLEEDS
HEAD INJURY
– What to watch out for
– What to do
– CT Scan and X-ray
HOW TO RESPOND TO CARDIAC ARREST
– Recognition
– Opening the Airway
– Calling for help
– Activity: Return Demo
The one-day workshop, wherein attendees may be accompanied by one adult companion, will run from 8 a.m. to 12 nn and 1 p.m to 5 p.m. at the Early Intervention Management Office in Makati City.
The workshop fee is at Php 1,500, inclusive of handouts, certificates, giveaways, and snacks.
To know more about the payment and policy on refunds, you can go to manilaworkshops.com/events/little-heroes-2018.
Details:
What: Little Heroes: First Aid & Rescue for Kids
When: July 7, 2018; 8 a.m. – 12 p.m. and 1 p.m. – 5 p.m.
Where: Early Intervention Management Office, Unit 1407, Medical Plaza, Amorsolo St. cor. Dela Rosa St., Makati City
Ticket Information: Php 1,500
Website: www.manilaworkshops.com