EIGASAI: Japanese Film Festival in Manila is back this 2018
Offering diverse genres of Japanese films, this year's Japanese Film Festival, more popularly known as EIGASAI, opens on July 4 to August 26, 2018, in select screening venues all over the Philippines!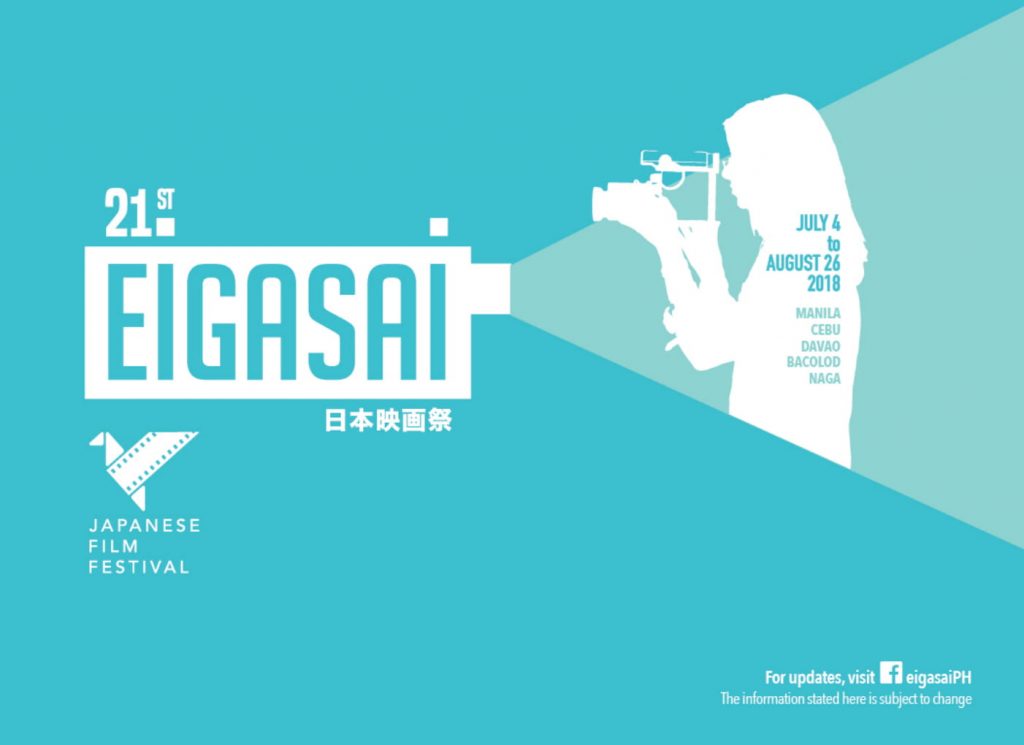 EIGASAI 2018 will be featuring the Philippine premiere of CHIHAYAFURU Part 3, graced by its esteemed director Nori Koizumi, plus special screenings and talks in collaboration with the Japan Foundation projects: EYES for  Embracing Diversity;  Oriza  Hirata's  Manila Notes; and the Spirit of Budo: The  History of Japan's Martial Arts. 
EIGASAI's 21st edition runs from July 4 to August 26, 2018, with 15 full-feature films of diverse genres selected for more than 100 screenings across five major cities nationwide. This year's film festival is set to be unique as it collaborates with other Japan Foundation arts, cultural, and dialogue projects.
EIGASAI 2018 officially kicks off with the encore screenings of the live-action film adaptation of Yuki Suetsugu's manga series Chihayafuru. Part 1 and Part 2 will be open to the Public on July 4 while the Philippine premiere screening of CHIHAYAFURU Part 3 is invitational.
The Opening Night Gala will be at the Greenbelt 5 Gallery on July 4, graced by this year's opening film director Nori Koizumi, who is also scheduled to give Director's Talks on July 6 at the Ateneo de Manila University and July 7 at Greenbelt 1, Cinema 2.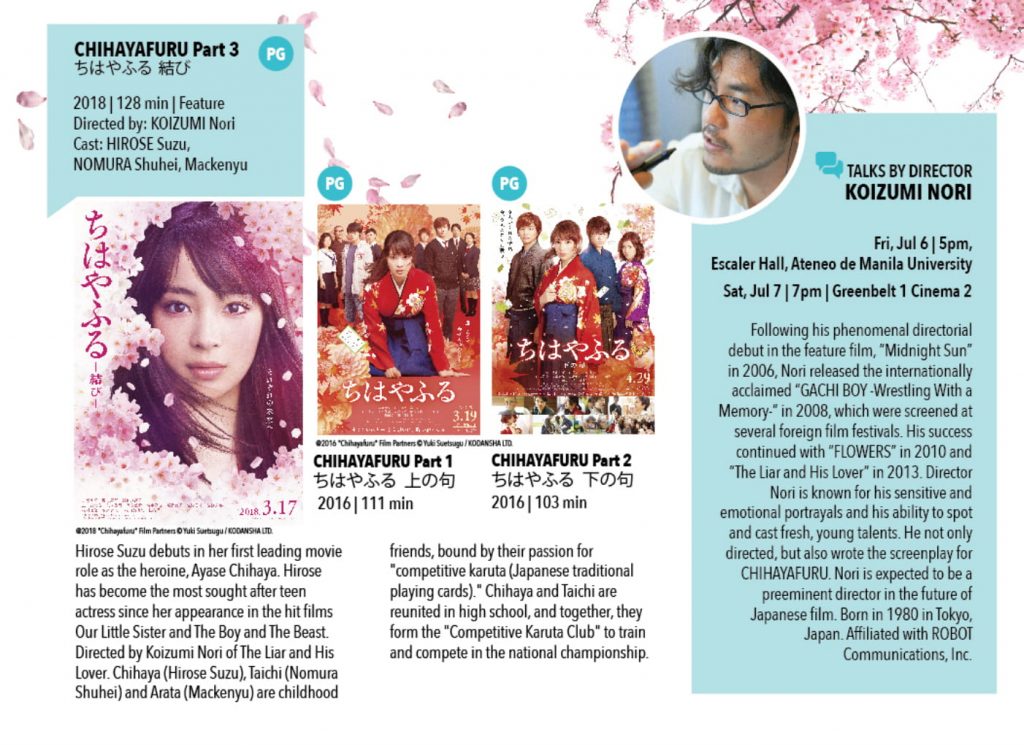 Together with the Cultural  Center of the Philippines  (CCP), the Japan Foundation continued support towards independent filmmakers brings another Japanese independent film to Manila: Of Love and Law.  This documentary film is about a couple who operates Japan's first openly gay firm and won the Best Film Award at the 30th  Tokyo International Film Festival's Independent Japanese Cinema category. Director Hikaru Toda will be present at its Philippine premiere on August 4 at CCP during the Cinemalaya.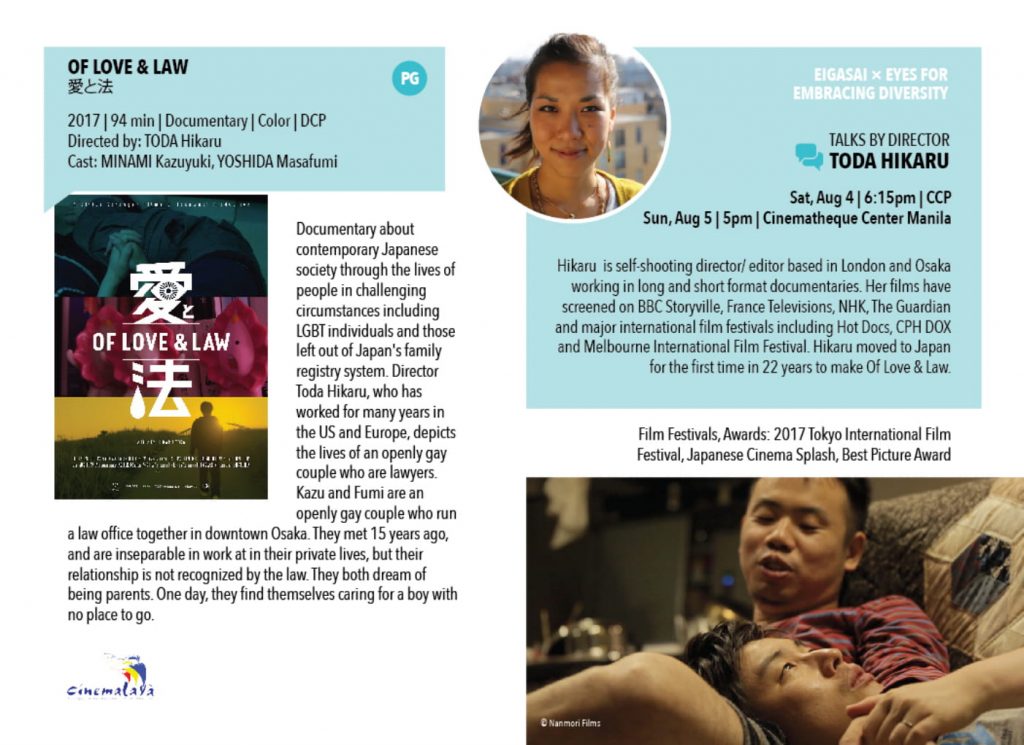 There will also be a special screening and panel discussion on issues surrounding LGBTQ, minorities, and the importance of inclusion on  August 5 at Cinematheque Centre Manila. Another unique film screening and talk are organized in conjunction with  Japanese playwright-director Oriza Hirata's Manila Notes – the Philippine version of the award-winning play Tokyo Notes that premiered in 1994 in Japan 's capital city. This Philippine-Japan collaborative theater project will be Tanghalang Pilipino's third play for its 32nd season, which opens on November 30, 2018.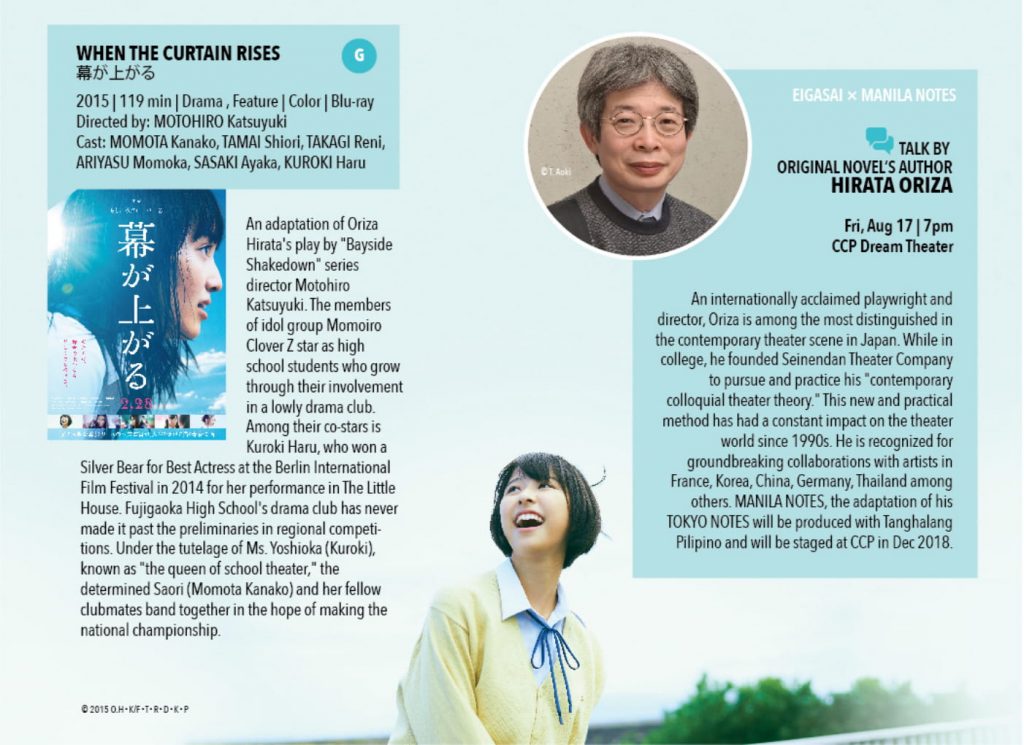 EIGASAI invites Oriza Hirata to give a one-time special talk during the EIGASAI at CCP Dream Theater on August 17 along with the screening of When the Curtain Rises (幕が上がる),  an adaptation of his novel about a high school drama club in a provincial town and Akira Kurosawa's SEVEN SAMURAI (七人の侍)  to be screened at the UP Film Institute – Cine Adarna. 
Other Must-Watch Films in this year's EIGASAI
Completing  the line-up  are nine more  films with English  subtitles that were carefully  selected by the Japan Foundation  Asia Center and the Japan Foundation,  Manila – offering viewers the chance to experience their favorite genre while discovering something new:
Screening Venues
Screening  venues are  scheduled in  Manila, Cebu, Davao,  Bacolod and Naga:
Greenbelt  1 Cinema 2, Makati  City (July  4-8)
Ateneo  de Manila  University,  Quezon  City (July  4-6)
CCP  Complex,  Pasay  City (August 4, 5 during Cinemalaya and August 17)
Cinematheque Centre Manila, Ermita, Manila (August 5)
UP Film Institute – Cine Adarna, UP Diliman, Quezon City (August 15-18)
SM City Davao Cinema, Davao City  (July 12-15)
SM  City  Naga Cinema, Naga City  (July 27-29)
SM  City  Bacolod Cinema, Bacolod  City (August 9-12)
Ayala Center Cebu Cinema, Cebu City (August 23-26)
Admission is free on a first-come, first-served basis, except screenings at Greenbelt 1 Cinema 2 (PHP 100 per screening). Tickets are available online or https://www.sureseats.com/quick-cinema at the cinema ticket booth starting June 27.
Details:  
What: EIGASAI: Japanese Film Festival
When: July 4 to August 26, 2018
Where: Greenbelt  1 Cinema 2, Ateneo  de Manila  University,  CCP  Complex,  Cinematheque Centre Manila, UP Film Institute – Cine Adarna,  SM City Davao Cinema, SM  City  Naga Cinema, SM  City  Bacolod Cinema, Ayala Center Cebu Cinema
For more information, you can check out the official EIGASAI Facebook:  EIGASAI PH
---
This is a press release. Minor edits were made prior to publishing.