Up Your Game at The Freelancer Fair 2018!
If you're a freelancer and you're looking for something to help you UP YOUR GAME, then Manila Workshops has something in store for you this year! Join other freelancers at The Freelancer Fair 'Up Your Game' workshop this coming August 25, 2018!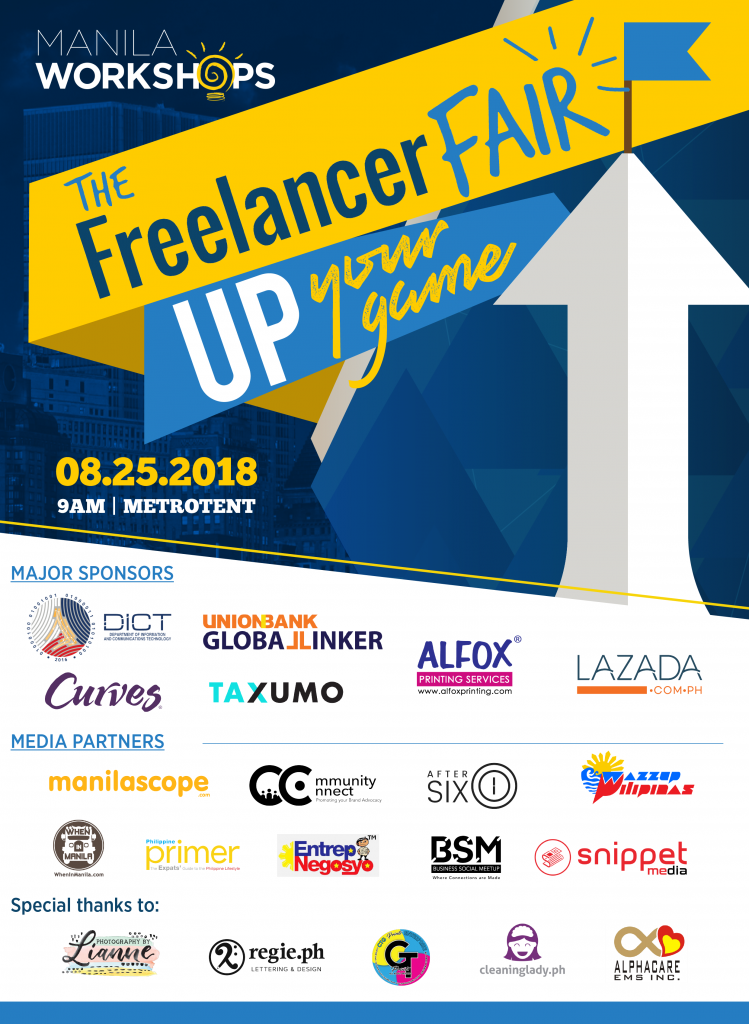 Freelancer Fair is the biggest annual event for Pinoy freelancers in the country. Online freelancers from creative, business, finance etc. will be there to give talks and inspire the next successful generation of freelancers. It is a whole day gathering of freelancers, business owners, and professionals, talking about how to level up in their respective industries.
Every industry is getting competitive every year and it is very important for every freelancer to level up their plans especially when we talk about their crafts. This year's theme is 'Up Your Game', focusing on helping freelancers to be more proactive, resourceful, intentional, strategic and collaborative.
Joining together in one place where everyone can talk about their craft and give helpful tips and advice, this year's Freelancer Fair will happen on August 25, 2018, at Metrotent, Metrowalk Commercial Complex, Pasig City.
Rates are as follows:
Regular – Php 1,000
Bring-a-buddy (for two people) Php 1,300
Group date (for four people) Php 550 each
For more information, you can email them at contact@manilaworkshops.com or visit Manila workshop's website at http://manilaworkshops.com/events.
Details: 
What: The Freelancer Fair
Where: Metrotent, Metrowalk Commercial Complex, Pasig City
When: August 25, 2018; 9:00 am
Registration:
Regular – Php 1,000
Bring-a-buddy (for two people) Php 1,300
Group date (for four people) Php 550 each
---
Written by Denisse Tenorio