4th Joint Economic Briefing in Makati
Enlighten yourself with the most recent updates on investing in the Philippines at this year's 4th Joint Economic Briefing in Makati City.
With the theme Foreign Direct Investments in the Philippines: Opening Roads, learn more of the current changing status of foreign direct investments in the country. The event  happens on June 19, 2018, Makati Diamond Residences from 11:00 am to 2:00 pm.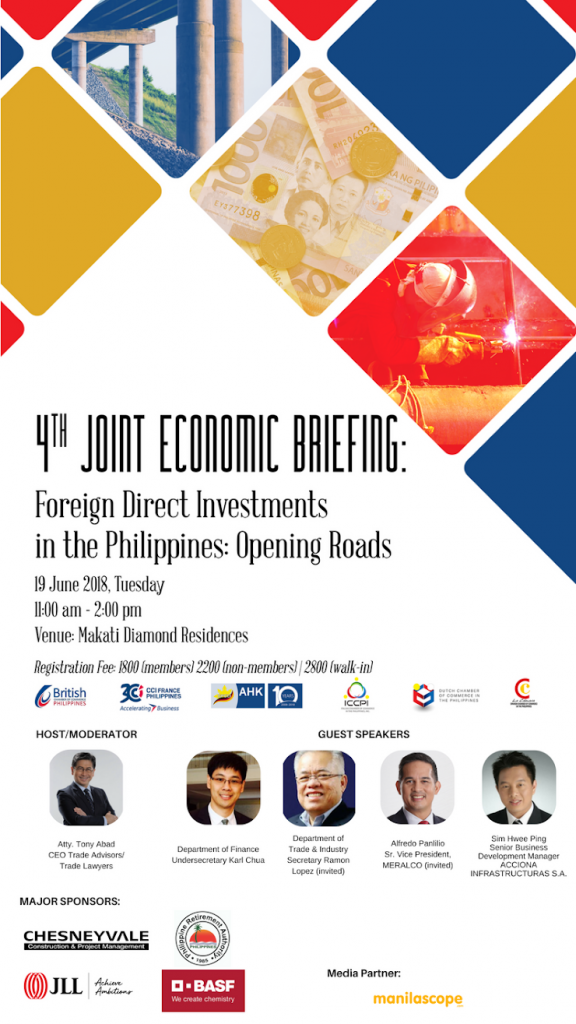 Representing different sectors will be Undersecretary Karl Chua of Department of Finance and Sim Hwee Ping, a senior business development manager of Acciona Infrastructuras S.A.
Guest speakers for the briefing will be Sec. Ramon Lopez of Department of Trade and Industry (DTI) and Alfredo Panlilio, senior Vice President of Meralco. The event aims to promote balance on discussions of the topic, such as the private and public sector of the government.
To make the event possible, partnerships were made with the British, Dutch, French, German, Spanish and Italian Chambers of Commerce in the Philippines. Hosting the event will be Atty. Tony Abad, chief executive officer of Trade Advisors.
Registration fee starts from Php 1,800 for members, Php 2,200 for non-members and Php 2,800 for walk-ins. For registrations, sponsorship opportunities and inquiries, contact the event via email at info@iccpi.org.ph/ trina@lacamaramanila.com or call (+63) 2 978 0279, (+63) 917 563 8633.
It's a chance to get valuable insights in investing in the Philippines now!
Details:
What: 4th Joint Economic Briefing: Foreign Direct Investments in the Philippines: Opening Roads
When: June 19, 2018; 11:00 am to 2:00 pm
Where: Makati Diamond Residences, 118 Legaspi Street, Legaspi Village, Makati City
Registration: https://bit.ly/FDIsinthePhilippines
---
Sources: FCCIP, BCCP, DCCP
Written by: Maria Vinnise Marcelo, Philippine Primer Intern