9th Philippine Business and Entrepreneurs' Expo
Grab the chance to join this business event to connect with possible partners, market, and co-entrepreneurs!
PBEX 2018: 9th Philippine Business and Entrepreneurs' Expo will open its doors this year for another chance to "Start. Expand. Connect. Grow your business more!" The three-day event will start from July 20 to 22 and will take place at SM Megamall, Mandaluyong City.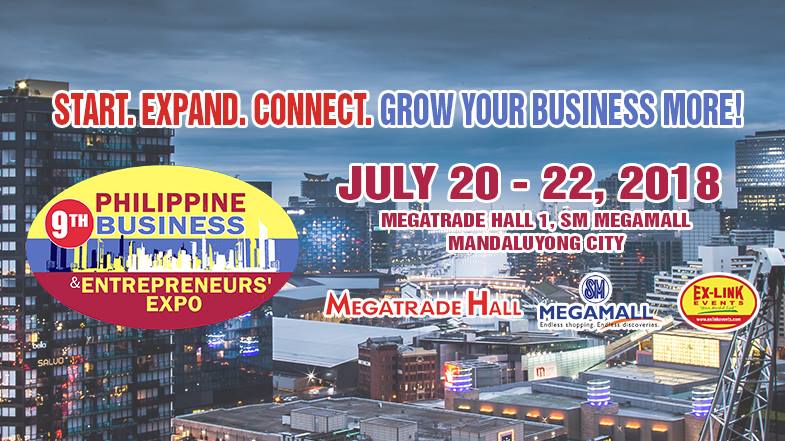 Last year, the event gained more than 3,000 of visitors with activities such as forums and seminars that would help owners of micro, small, and medium enterprises (MSMEs) make a great deal of innovation with recent trends on business. They were also able to showcase their products or services thru booths that give way for them to be known to their market and possible business allies.
Thank you to ETV #proudtobeentrepinoy for featuring PBEX 2017: 8th Philippine Business and Entrepreneurs' Expo. They will be joining us tomorrow at the Entrep Success Forum so be at the Megatrade Hall 1 from 12noon onwards. #PBEX2017

Philippine Business and Entrepreneurs Expoさんの投稿 2017年7月29日(土)
PBEX has been a platform highlighting MSMEs as a part of economic growth. In fact, their mission to take action in helping entrepreneurs of micro, small and medium-sized businesses shaped the event. Every year, the trends, strategies and new platforms that occur are mostly the topic of discussions. The event was also a way of promoting these MSMEs in a less expensive way than the usual platforms in marketing.
The admission for this event is FREE! For inquiries on the event and on registration of your business, call 633-0153, 535-1150, 643-3887 or 642-2769, send a message at 0920-924-2532 / 0920-981-4376 or email info@exlinkevents.com. You can also register here. For more updates on the schedule of events, visit PBEX facebook page or PBEX website.  
Let the businesses grow as you take part in this year's Philippine Business & Entrepreneurs' Expo!
Details:
What: PBEX 2018: 9th Philippine Business & Entrepreneurs' Expo
When: July 20-22, 2018
Where: Megatrade Hall 1, SM Megamall, Epifanio de los Santos Ave, Ortigas Center, Mandaluyong
Registration: http://www.philippinebusinessentrepreneursexpo.com/join/
Facebook: https://www.facebook.com/PhilippineBusinessEntrepreneursExpo/
Website: http://www.philippinebusinessentrepreneursexpo.com
---
Sources: PBEX facebook page, PBEX website
Written by: Maria Vinnise Marcelo, Philippine Primer Intern