DMCON: Digital Marketing Conference 2018
Learning never stops as Neotrade brings you the 5th Digital Marketing Conference 2018, where you can learn as much as you can!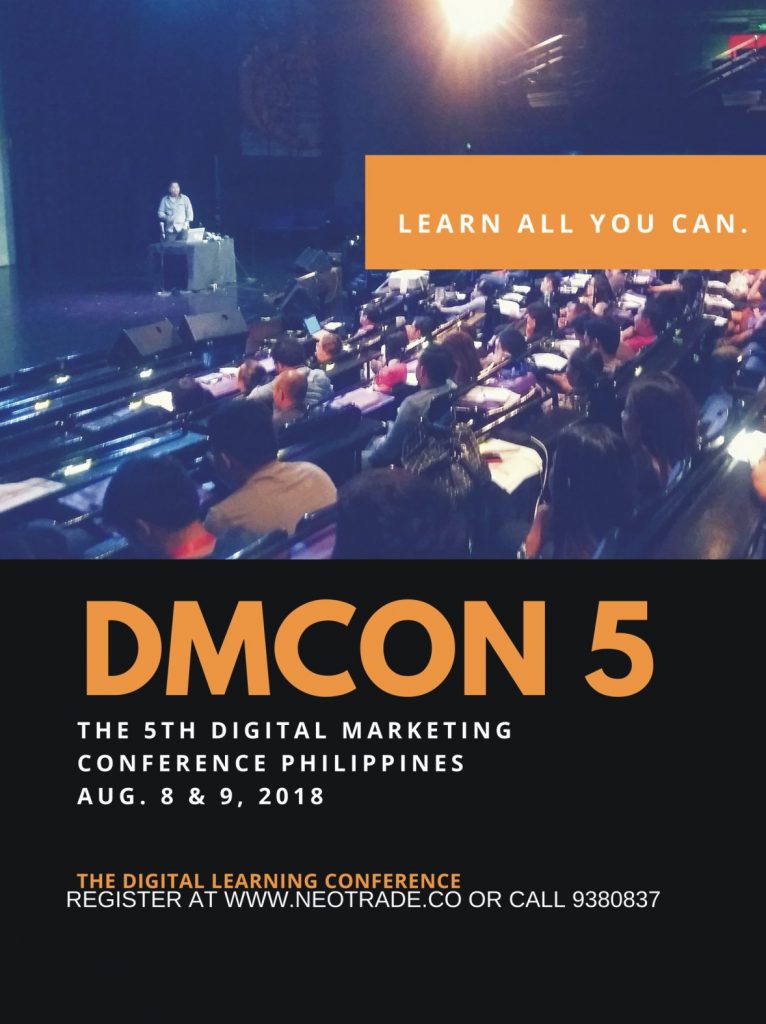 Happening this August 8 to 9, 2018 from 10 AM  to 6 PM at Megatrade Conference Center, 5th Level SM Megamall B, Mandaluyong City, the Digital Marketing Conference Philippines is designed to help those who have basic knowledge of digital marketing to level up in the market.
Some of the most respected digital marketing experts in the industry will be sharing advice, tips, and knowledge for future marketers. This will help boost every businesses' digital marketing strategy. Packed with skills, knowledge, and experience, this learning conference will definitely help the attendees to understand the different points of the digital marketing industry.
Whether you are a student or a business professional, the Digital Marketing Conference is a great opportunity to learn. The conference features 14 learning sessions, listed below:
Digital Marketing Strategy
Future Proofing your Social Media
Facebook Marketing
Analytics
Video
Social Media Community Management
Search
Mobile Marketing
Content Marketing
Email Marketing
E-Commerce
Websites
Google Adwords
Content Creation
Marketing groups and teams are highly encouraged as they offer affordable group rates. Except for the super early bird reg and student reg, groups can avail the buy 5 and get 1 free, buy 10 get 3 free, and buy 15 and get 5 free promos. Inclusive of all ACCESS TO ALL SEMINARS and Certificate of Attendance. The rate is as follows:
Super Early Bird Reg : P4,800 plus vat
for payments on or before April 23, 2018
Early Bird Reg : Php 5,800 plus vat
for payments from April 24 to May 12, 2018
Super Regular Reg : Php 6,800 plus vat
for payments from May 13 to 31, 2018
Regular Reg : Php 7,800 plus vat
for payments from June 1 to 30, 2018
Standard Reg : Php 8,800 plus vat
for payments from July 1 to 31, 2017
Onsite Reg: Php 9,800 plus vat
Academe Reg Php 4,000 plus vat
for payments until May.30, 2018
For queries, you can contact NEO CCM ENT EVENTS CORP at 9380837 /09167312040 or email them at neotrade168@gmail.com
Like them also on Facebook at https://www.facebook.com/NeotradeEvents/ and https://www.facebook.com/dmconphil/