Indonesian Food Festival 2018
This year, the Indonesian Society of the Philippines together with the Embassy of the Republic of Indonesia – Manila, brings us their authentic cuisines with their special spices in the Indonesian Food Festival with the theme "Authentic Indonesian Spices and Delicacies."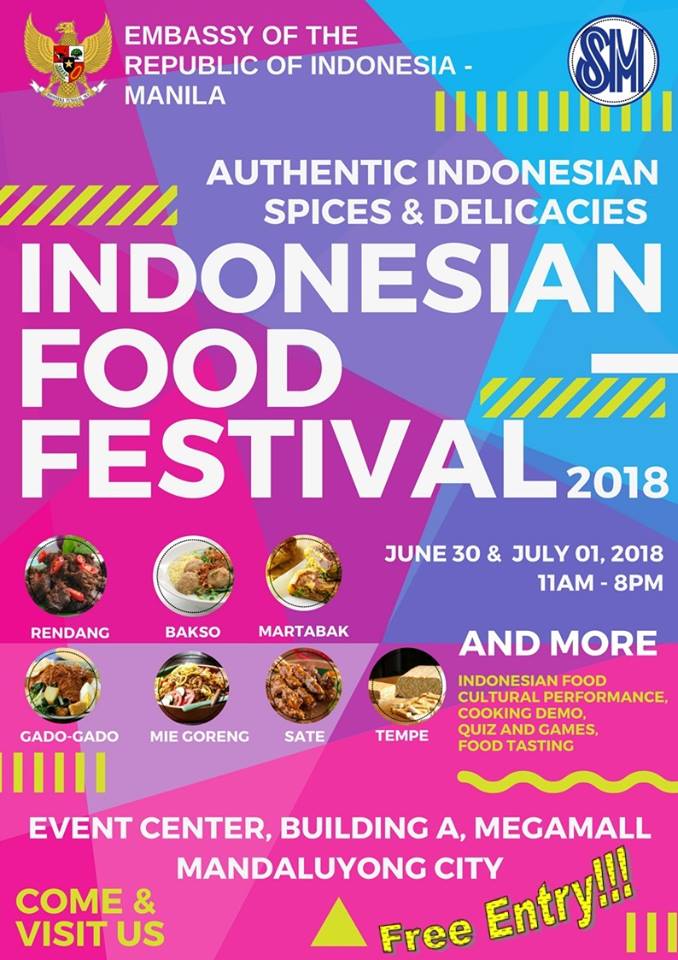 As vibrant as their culture, Indonesia has some of the best spices in the world. The so-called "spice island" is from the east Indonesian archipelago and nutmeg or mace, clove, pandan leaves, keluwak, and galangal are just some of their native spices.
Have a taste of their best Indonesian cuisines and delicacies as they bring us their culture through their dishes, cultural performances, cooking demo, quizzes and food tasting! Come and visit them at the Event Center, Building A of SM Megamall in Mandaluyong City this June 30, 2018, and July 01, 2018! Admission is FREE.
For more information, you can check them out on Facebook at https://www.facebook.com/KBRI.Manila/.
Details
What: Indonesian Food Festival 2018
When: June 30 and July 1, 2018; 11 am to 8 pm
Where: Event Center, Building A, SM Megamall, Mandaluyong City
---
Source: KBRI Manila