Philippines-Australia Friendship Day 2018
To create stronger bonds between Philippines and Australia, the Australian Embassy in the Philippines celebrates years of great relationship once again with the Philippines. The Philippines-Australia Friendship Day 2018 is happening from May 21 to 27, commemorating seven decades of friendship with #FilAussieDay.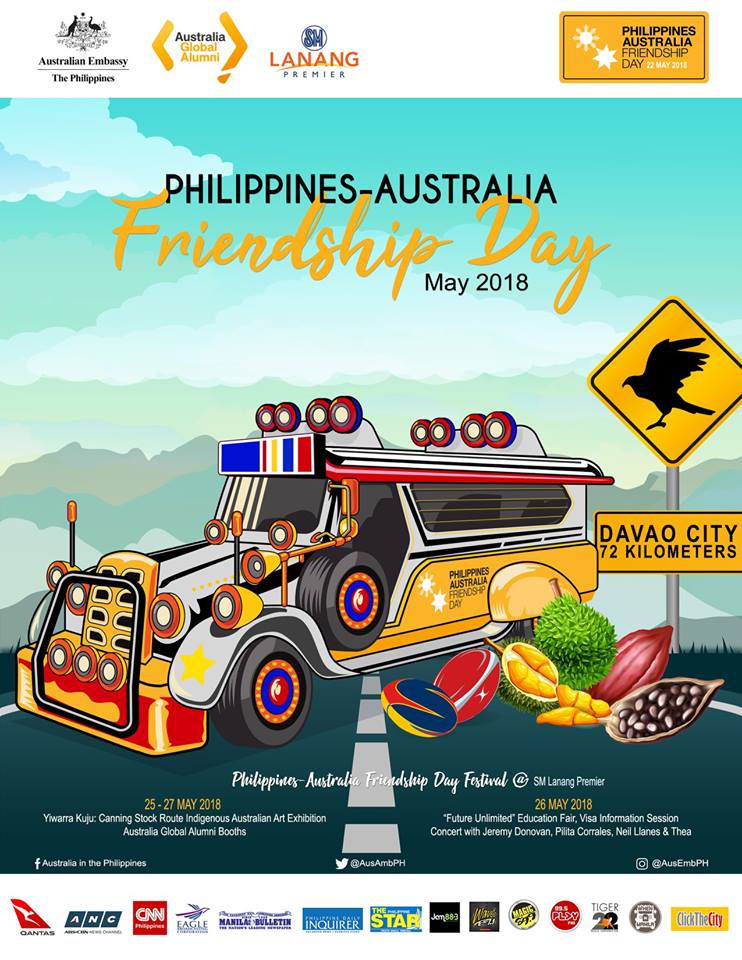 The event will have its kickoff at the Davao City Hall to recognize the Philippines-Australia Friendship Day, to be followed by the the three-day festival with various events lined up. From May 25 to 27, Yiwarra Kuju: Canning Stock Route Indigenous Australian Art Exhibition and Australia Global Alumni Booths will be available.
On May 26 at 2:00 pm, there will be a presentation on studying in Australia and visa information session dubbed as "Future Unlimited." On the same day at 6:00 pm, the highlight of the event will be the concert with Jeremy Donovan, Pilita Corrales, Neil Llanes, and Thea. The event will also showcase Davao local talents. These events will take place at SM Lanang Premier, Davao City.
We're so pleased City Government of Davao has declared 21 to 27 May as Philippines-Australia Friendship Week!If you're in Davao join us for some fun activities to celebrate our strong bonds. For those who can't make it, keep an eye out on FB, Instagram, and Twitter to see what we get up to!

Australia in The Philippinesさんの投稿 2018年5月20日(日)
Recognizing the relationship between the Philippines and Commonwealth of Australia was Davao City Mayor Sara Duterte. She also invited everyone to come and visit Davao for the event and mentioned how both countries come to benefit each other as their relationship grows.
More surprises are lined up for the event of recognition of friendship among Philippines and Australia.  Join the local community of Davao and Australians in the day of strengthening ties and bonds at #FilAussieDay 2018!
Details:
What: Philippines-Australia Friendship Day 2018
When: May 21-27, 2018
Where: Davao City Hall, Davao City and SM City Lanang Premier, J.P. Laurel Ave, Agdao, Davao City, 8000 Davao del Sur
Facebook: https://www.facebook.com/AustralianEmbassyManila
Website: http://philippines.embassy.gov.au/
---
Images grabbed from: Australia Embassy in the Philippines
Sources: Australia Embassy in the Philippines, PressReader
Written by: Maria Vinnise Marcelo, Philippine Primer Intern