She for She: Women in Business Forum 2018
Long before the era where women were treated as possessions, it was close to impossible for women to equip things they do not need. Women empowerment has now evolved. Now, women are commended for their roles in the society.
With the recent international Mother's day celebration, French Chamber of Commerce and Industry in the Philippines together with Spanish Chamber of Commerce in the Philippines- La Camara gives you an event to strengthen women being women as they take part in this society and in this era. She for She: Women in Business Forum aims to communicate with women on different fields and issues they face on May 17 from 9:00 A.M. to 5:00 P.M. at Makati Diamond Residences, Makati City.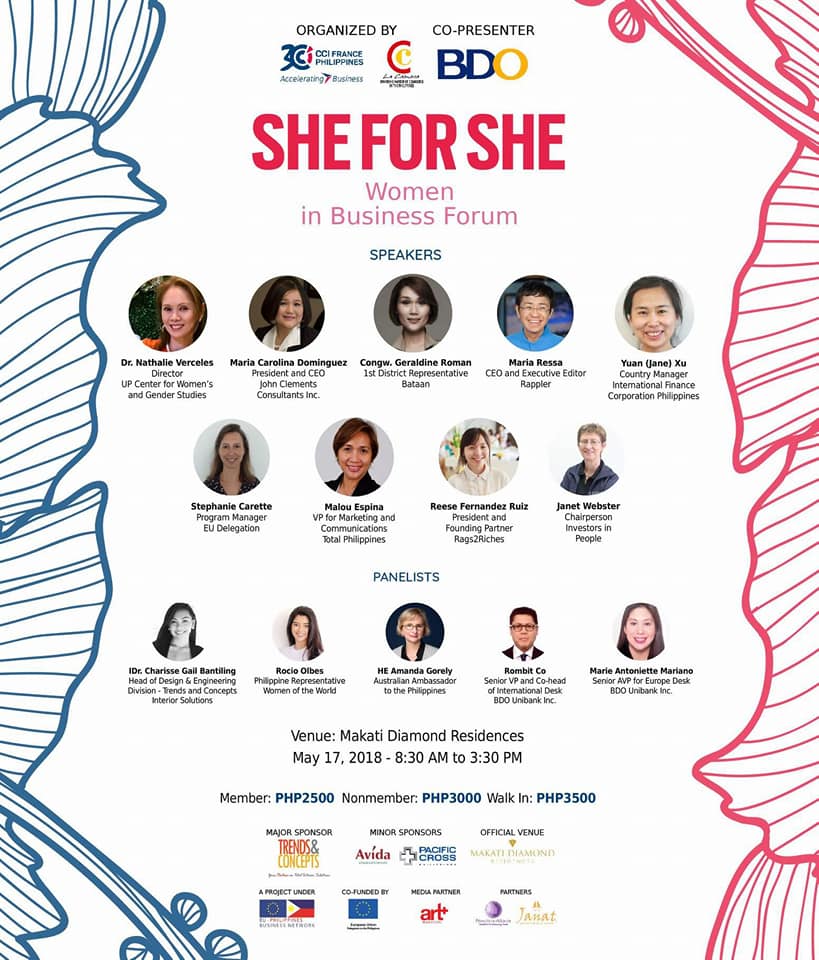 Discussing what challenges they face in everyday situations, the event will also present women who are known in different fields. They will share their struggles, experiences, techniques and even success in this forum. Speakers will get to contribute their milestones to pave way for participants who also seeks to be known, grow and recognized in the business as women. With a number of speakers to learn from, this will also be a platform for further understanding of gender equality and practices towards women empowerment.
Nine speakers will be heard on the event. One of them will be the CEO and Executive Editor of the news platform Rappler, Ms. Maria Ressa to share her journalistic career and her experience on her way through. The event will also showcase the first transgender woman elected in the government, Ms. Geraldine Roman who was recognized in TIME magazine as one of the most inspiring women of 2016. More speakers are lined up to learn from.
For registration, click here. Tickets are priced as listed below.
Members: Php 2,500
Non-members: Php 3,000
Walk-in: Php 3,500
Details:
What: She for She: Women in Business Forum
When: May 17, 2018; 9:00 A.M. to 5:00 P.M.
Where: Makati Diamond Residences 118 Legazpi Street, Legaspi Village, Makati
Facebook page: https://www.facebook.com/events/405913366537777/
Registration: http://bit.ly/SheforShe-Registration
---
Sources: She for She: Women in Business forum facebook page, Spanish Chamber of Commerce in The Philippines – La Cámara facebook page, CCI France Philippines website
Images grabbed from: CCI France Philippines website, Spanish Chamber of Commerce in The Philippines – La Cámara facebook page
Written by: Maria Vinnise Marcelo, Philippine Primer Intern