23rd Graphic Expo 2018 at SMX Convention Center
Activate creative minds to innovate, integrate and take a step into changing the world. From May 31 to June 2, creativity will again stand out as the 23rd edition of Graphic Expo opens at SMX Convention Center, Mall of Asia, Pasay City. Exhibiting various materials that connect you to your interest in different facets of graphics, the event will be filled with seminars, exhibits, and activities to exercise your skills.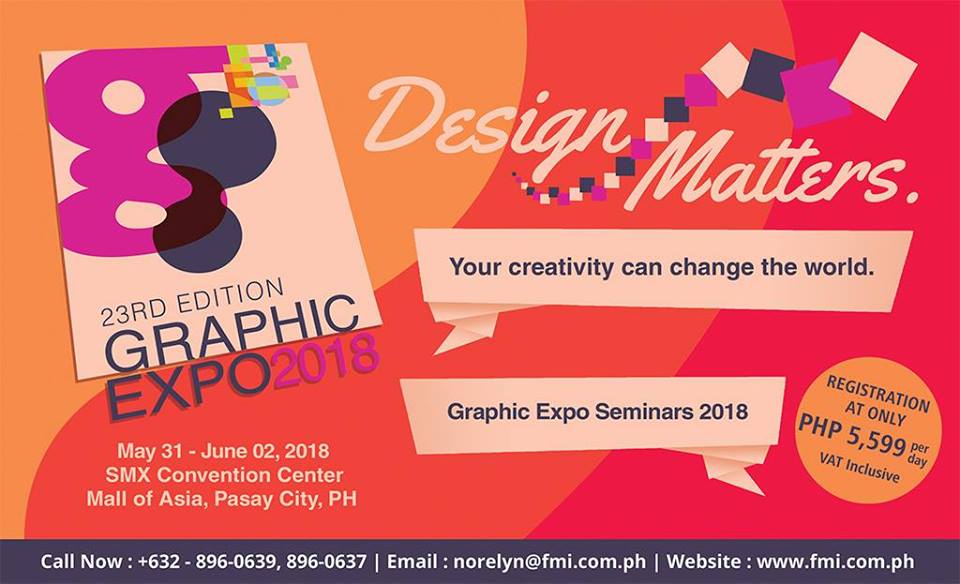 Graphic Expo has been prominent as the premier trade show that lets industries meet with its market, businessmen, suppliers, and people who play roles along in the industry. Showcasing graphic design, creative imaging, outdoor advertising, and the like, a number of participants last year came from design studios and advertising agencies along with the photographers and production houses which incorporates such creativity with their jobs.
Adding engagement to the exhibition, special events are lined up like a T-shirt design contest, drone photo-video exhibit, camera clubs, body painting, and a wedding fashion show. Visitors of the event could gain ideas for business, innovations on technology, and make connections. They are also geared for numerous seminars from Day 1 to Day 3. Here's the list of seminars that the event offers:
Day 1 – May 31, 2018 (Thursday)
Branding, Labels and Product Packaging

Designing Flyers and Brochures

Mastering Adobe Photoshop CC 2018

Basic Drone Photo-Video Seminar

Customer Testimonial Videos

InDesign MasterClass
Day 2 – June 1, 2018 (Friday)
Typography And Typeface Design

Digital Illustration With Adobe Illustrator CC

Adobe Photoshop CC 2018: Advanced Tonal & Color Correction (plus Color Manipulation)

Adobe Photoshop CC 2018: Video Editing in Photoshop CC

Data 101 – Preparing a Backup Plan for the Future

Design For Humans

Color Management: Get The Colors Right The First Time

Updates Made Easy: What's new in Premiere Pro CC 2018?

Explainer Videos with Premiere Pro CC 2018

Lightroom Masterclass: Faster Workflow, Tips, And Techniques

Powerful Web Designs Without Code Using Adobe Muse
Day 3 – June 2, 2018 (Saturday)
Responsive Web Design and Accessibility

Digital Communications in Facebook

ABC, 123D – Learn 3D Animation!

Basics of Digital Painting

Cinemagraph: Where Photos Come Alive

Understanding, Appreciating The Basics Of Photojournalism

Annual Report Photography

Video Project Breakdown: Premiere Pro CC 2018 What to keep and what to remove

Editing Demystified with Premiere Pro CC 2018

Better and Faster Designs: Illustrator Masterclass: Strictly Classified

Maximize your Creative Cloud subscription and investment
Entrance to the exhibition is free from its first to last day. All you need is to register with a business card or I.D. to get your expo badge. The event starts from10 am to 7 pm. The registration fee for seminar attendees is priced at Php 5,599 inclusive of VAT, which includes access to two half-day sessions, snacks, kit, and certificate. Attendees are recommended to wear proper attire.
Join the Graphic Expo and know more ways of how your creativity can change the world.
Details:
What: 23rd Graphic Expo 2018
When: May 31 – June 2, 2018; 10 am – 7 pm
Where: SMX Convention Center, Seashell Lane Mall of Asia Complex, Pasay, 1300 Metro Manila
Website: fmi.com.ph/graphicexpo2018
Facebook page: Fiera de Manila, Inc.
Booth Reservation: fmi.com.ph/graphicexpo2018/exhibit-trade-shows/booth-reservation
For inquiries:
Call: 02-896-0639, 02-896-0637
Email: norelyn@fmi.com.ph
---
Written by Maria Vinnise A. Marcelo, Philippine Primer Intern
Sources: 23rd Graphic Expo 2018 facebook events page, Fiera de Manila Graphic Expo website