Books and Roses in the Park: Celebrate Día del Libro in Ayala Triangle
On Saturday, April 21, Instituto Cervantes, the cultural arm of the Embassy of Spain, will once again be abuzz with cultural and fun activities to celebrate the Día del Libro or the International Book Day. Thousands of books will be gathered around its premises in the Ayala Triangle. As in previous years, Día del Libro will feature top bookstores and publishing houses that will be selling a wide array of books at a 20% discount. Following the tradition in Spain, every book purchase would entitle one to a free rose.
Apart from the book market, visitors to Día del Libro will be treated to poetry recitals, free Spanish classes, book presentations, street art to commemorate de 200 years of Prado Museum, games, as well as activities for the children.
One of the main features of the day will be a free concert by the Manila Symphony Orchestra. The "Concierto en el parque," scheduled at 5:30 pm, will feature classical pieces from the Spanish and Filipino repertoire.
First introduced in Manila by Instituto Cervantes in 2006, the tradition of Día del Libro began in Barcelona, Spain. To the present, the tradition is commemorated on St. George's Day (April 23), during which men and women exchange roses and books. This date also honors the demise of two of history's greatest writers – Miguel de Cervantes and William Shakespeare – who coincidentally died on the very same day, April 23, 1616. These significant incidences prompted the UNESCO in 1995 to declare April 23 as "World Book and Copyright Day" to instill the love of reading among the youth and to promote respect for the rights of authors over their literary and artistic works. April is also the birth month of the classic Filipino poet Francisco Balagtas, and to honor him the NCCA declared April the National Literature Month.
After an enthusiastic reception by Makati citizens in 2016 and 2017, the Pop-up Library "The Book Stop" comes back to Ayala Triangle. The project, designed by WTA Architecture & Design Studio, is a non-profit library for the entire community, where visitors can interact in lively discussions with fellow readers and share their love of books, borrow volumes for free and exchange books. The aim here is reinvention – reinvigorating and re-establishing the library in Filipino society.
Rewrite a classic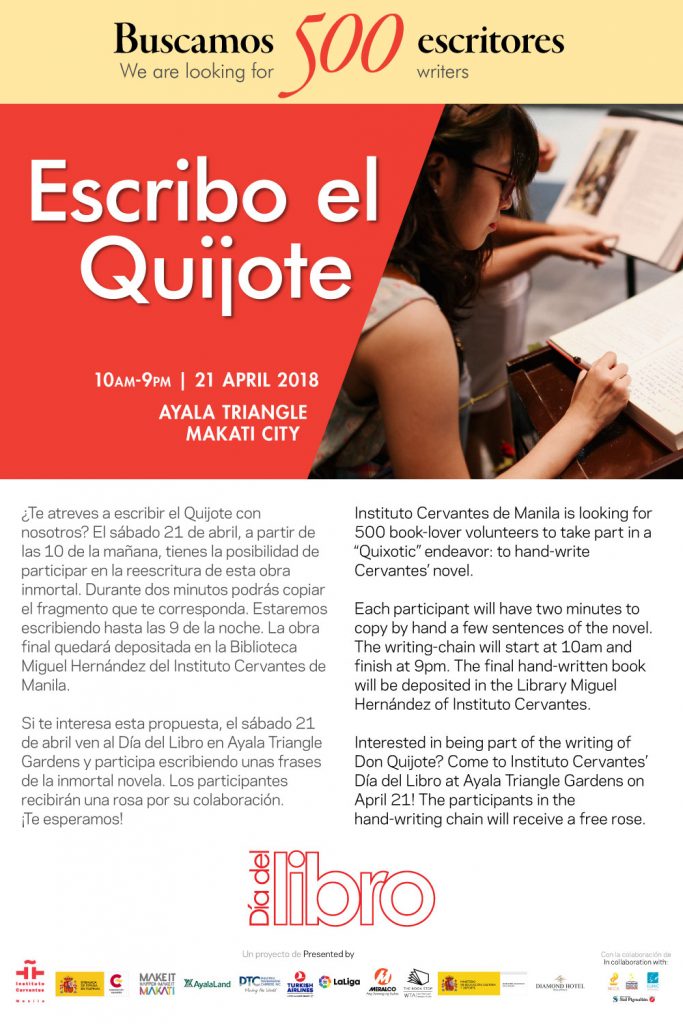 Instituto Cervantes is challenging visitors to join a Quixotic attempt: to copy Don Quixote de La Mancha by hand. Among the events organized by Instituto Cervantes to commemorate the Day of Miguel de Cervantes is the Rewriting of Don Quijote. The Spanish cultural center is in search of 500 book-loving volunteers to take part in a "Quixotic" endeavor: to hand-write Cervantes' novel. The final hand-written book will be deposited in the Library of Instituto Cervantes. People interested to take part in the writing of Don Quijote can join on the same day with no prior registration. Participants in the handwriting chain will receive a rose.
Aside from the wide arrange of books to be sold on Día del Libro, more exciting activities are lined-up for this special day. La Liga, the Spanish Football League, will invite Manileños to score a goal in its "Chuta-Gol", a game with cool prizes!
The day will be filled with more activities for children. At 11 am, storytellers Kooky Tuason and Marty Tengco will delight kids with tales in both English and Filipino. At 2 pm there will be a Silent Disco for children.
Thanks to the collaboration of publishing houses like Anvil or bookshops like National Bookstore, visitors will have the opportunity to meet authors, who will be signing their works. Among the writers who will be signing copies will be Ambeth Ocampo, Robert Magnuson, Pierra Calasanz-Labrador, and/or Yvette Fernandez. Fil-American novelist Elaine Castillo will sign copies of her novel "America is Not the Heart" a2 pmpm, while Spanish writer Ramon Vilaró will launch his book Mabuhay. A Historical Travel Narrative at 3 pm at the Miguel Hernández Library of Instituto Cervantes.
Poetry will also be present through the Spoken Word performance of Michellan Alagao at 1 pm, courtesy of NBDB.
An evening of revelry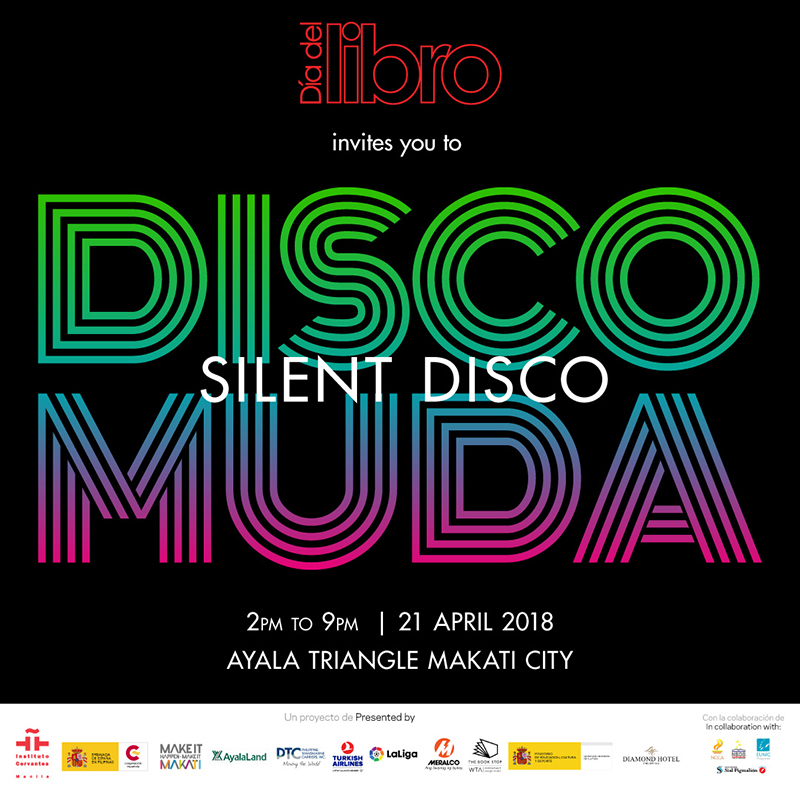 This year's celebration will include an evening twist with the Silent Disco from 7pm to 9pm, as well as a whole program of leisure and activities, including a feast of Spanish food, games… Join Día del Libro and experience a jam-packed evening of excitement. And for this year's celebration, Instituto Cervantes will be giving out hundreds of books – for FREE!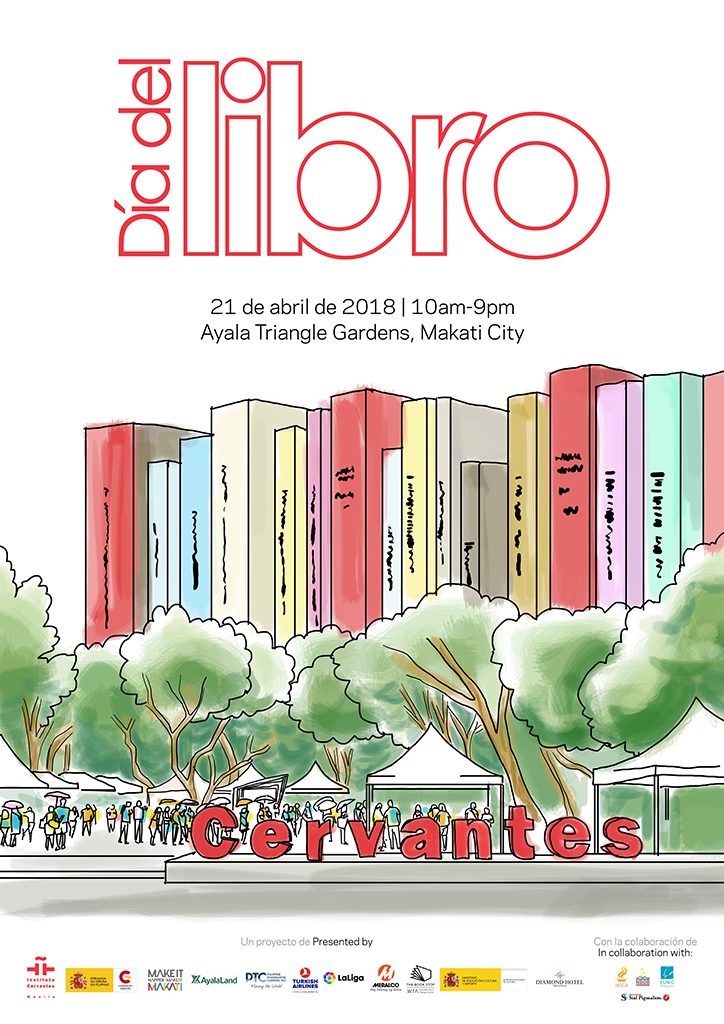 Día del Libro is organized by Instituto Cervantes de Manila, the Embassy of Spain in the Philippines, in collaboration with Ayala Land, the Spanish Agency International Cooperation for Development (AECID), La Liga, The Book Stop – WTA Architecture & Design Studio, Philippine Transmarine Carriers (PTC), One Meralco Foundation, Turkish Airlines, Ministerio de Educación, Cultura y Deporte of Spain, Diamond Hotel, the National Commission for Culture and the Arts, Eunic Philippines, the National Book Development Board, Editorial Sial Pigmalión, and the best Manila bookstores.
Admission to all Día del libro activities is FREE on a FIRST-COME, FIRST-SERVED basis. For more information, please call 5261482 or visit http://manila.cervantes.es or www.facebook.com/InstitutoCervantesManila. Instituto Cervantes de Manila is at Ayala Tower One & Philippine Stock Exchange Tower Plaza, Ground Floor, Ayala Triangle, Ayala Avenue, Makati.
Details:
What: Dia del Libro
When: April 21, 2018; 10 am – 9 pm
Where: Ayala Triangle Gardens, Makati City
Admission is free
---
This is a press release from Instituto Cervantes de Manila. Minor edits were made prior to publishing.