7th Baby, Kids & Family Expo Summer Edition on April 21
Make the most out of your summer experience at the 7th Baby, Kids & Family Expo (BKFEP) Summer Edition happening on April 21-22, 2018 at the Megatrade Hall, SM Megamall, Mandaluyong City.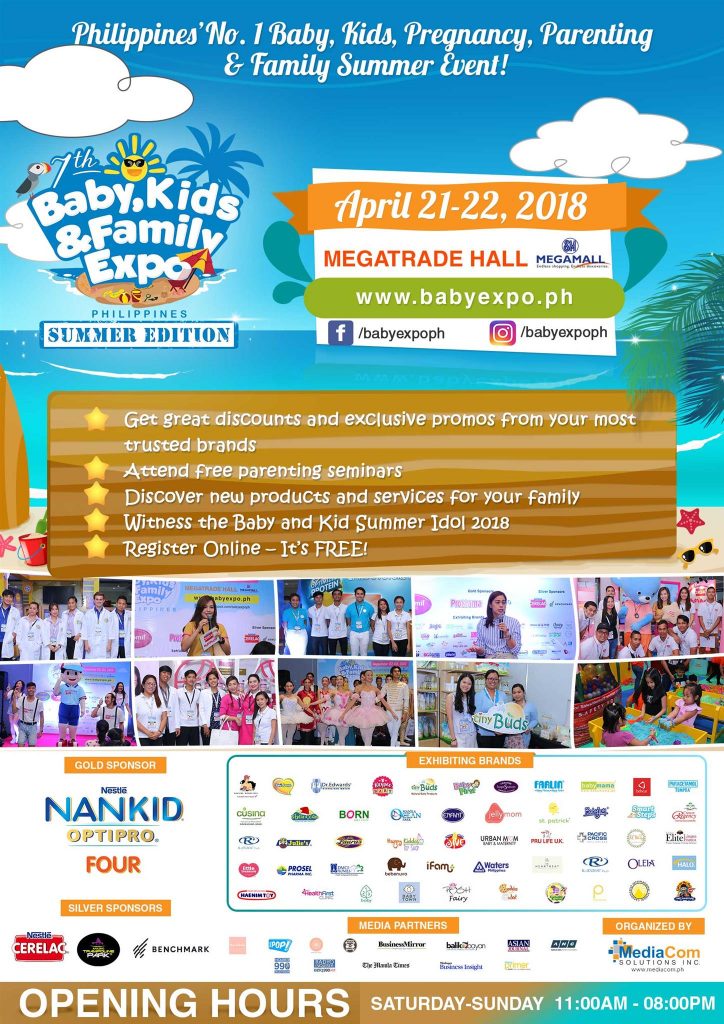 BKFEP is known as a one-stop shop event for all baby, kids, maternity and family needs. The event will feature over 100 brands in 1,384 sqm exhibit space and expects over 10,000 visitors.
This two-day family event will give expecting parents and families an opportunity to discover the latest and most innovative products & services for the whole family, and avail of exclusive discounts from much beloved brands, like Enfant, Enchanted Kingdom, Uni-Love, Tiny Buds, St. Patrick, Babymama, Farlin, Babyjoy, Urban Mom Store and Smart Steps.
The event is sponsored by Nestle Nankid and Cerelac. BKFEP will also feature a Wonderland Playground Area, a Breastfeeding Station, a Diaper Changing Area, a Arts and Craft Station and a Stage Activity Area, where various activities will be held, for example Parenting Seminars, Celebrity Mom Talks, Raffle & Games, Ballet Performances, Mascot Appearances, Sing & Dance Performances and the much awaited Baby and Kid Summer Idol 2018 Awarding.
If you are interested to attend the largest baby, kids and family summer event of the year, register online for FREE! For more information, see details below.
Details
What: 7th Baby, Kids & Family Expo Summer Edition
When: April 21-22, 2018
Where: Megatrade Hall, SM Megamall, Mandaluyong City
Website for registration: www.babyexpo.ph/april/
Facebook page: www.facebook.com/babyexpoph
For sponsorship or booth inquiries you may contact Barbie Belo at +63-2-218-7748, +63-906-266-1575 or send an email to barbie@babyexpo.ph