AWCP Bazaar on April 17
From the American Women's Club of the Philippines (AWCP) comes this month's bazaar! AWCP's Bazaar is back April 17, Tuesday at the SMX Convention Center, SM Mall of Asia! This bazaar is for shoppers looking for high-quality, hand-crafted goods such as jewelry, local wood crafts, themed art, clothing, accessories, skin care products, seasonal and special holiday items, and more!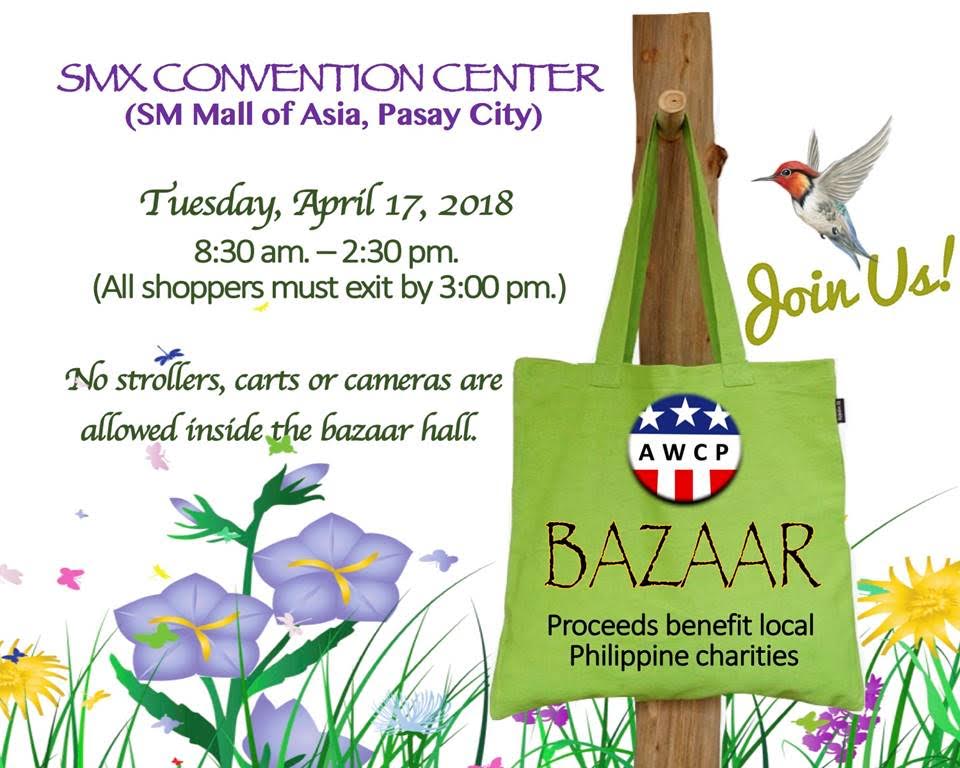 The AWCP is an organization of expat women from America and other countries. The organization is where members form a network for support and to participate in community service. The bazaar is their event to fund their activities that will benefit local charities that support health, education, cultural, and growth for families in the Philippines.
Here are the upcoming schedules for the ACWP Bazaar 2018 at the SMX Convention Center
April 17, Tuesday
May 15, Tuesday
June 18, Monday
July 10, Tuesday
August 7, Tuesday
September 5, Wednesday
October 2, Tuesday
November 20, Tuesday
December 11, Tuesday
For the April 17 schedule, doors will open from 8:30 am to 2:30 pm. No strollers, carts or cameras will be allowed inside the bazaar hall. For more information visit http://www.awcphilippines.net.
Details:
What: AWCP Bazaar
When: April 17, 8:30 am to 2:30 pm
Where: SMX Convention Center, SM Mall of Asia, Pasay City
Website: http://www.awcphilippines.net