Opportunities and Challenges for Expat Partners Workshop
Having trouble adjusting? Come and join us in a workshop especially made for expat partners!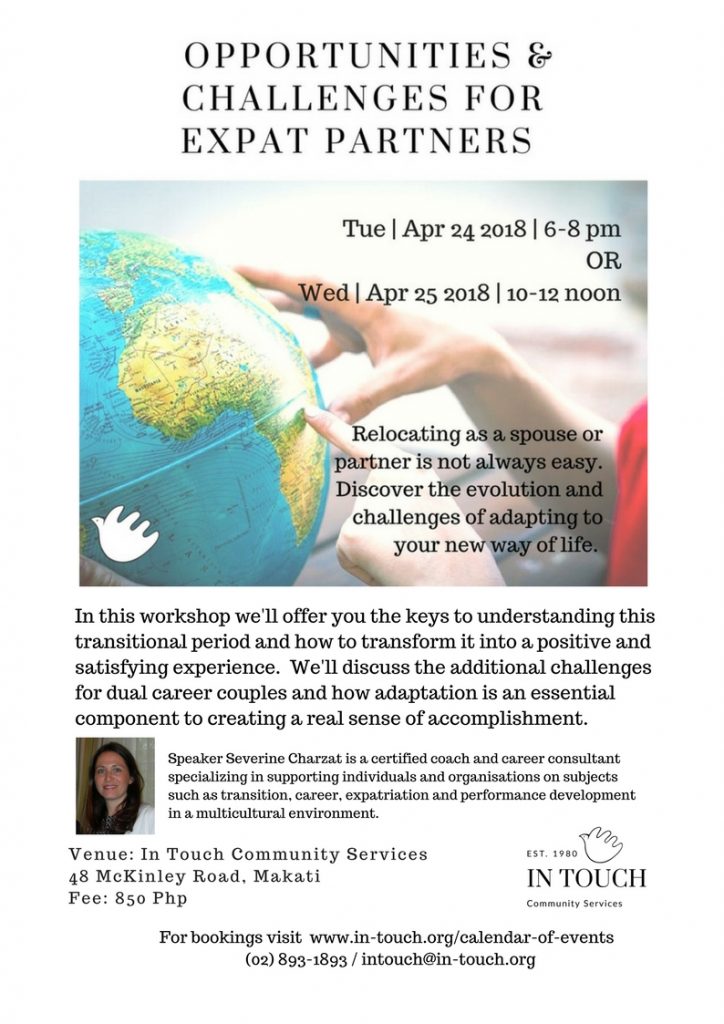 The earnestness of Filipino community led the increase of expats, hence, In Touch Community Services will conduct a significant workshop that lets you know about the notable ways of understanding the adjustment period that every expat experience.
In this two-hour workshop, one will learn a lot on how to deal with challenges and how to make living in a different country easier with expat couples. With a notable key speaker, participants will learn a thing or two on how to handle difficulties when it comes to expat partners. The speaker, Severine Charzat, is a  a career consultant focusing on advocating individuals and organizations on different subjects like career and expatriation.
The workshop will be held in two different dates, with one happening on April 24 at 6 to 8 pm and the other one on April 25 at 10 am to 12 noon.
Join the Opportunities & Challenges for Expat Partners Workshop to know more about the expat life! The workshops will be held at In Touch Community Services, 48 McKinley Road Makati for Php 850. To register, log on to  in-touch.org/opportunities–challenges-for-expat-partners.htm.
Details
What: Opportunities and Challenges for Expat Partners
Where: In Touch Community Services, 48 McKinley Road, Makati
When: April 24, 6 pm -8 pm (Tuesday) or April 25, 10 am -12 nn (Wednesday)
Fee: Php 850