Atlantis Advanced Musical Theater for Adults
Atlantis Theatrical is pleased to announce its inaugural Advanced Musical Theater Workshop for Adults. In this month-long workshop aimed at emerging actors, students will rehearse to stage a production of Seussical™ (Theatre for Young Audiences Version).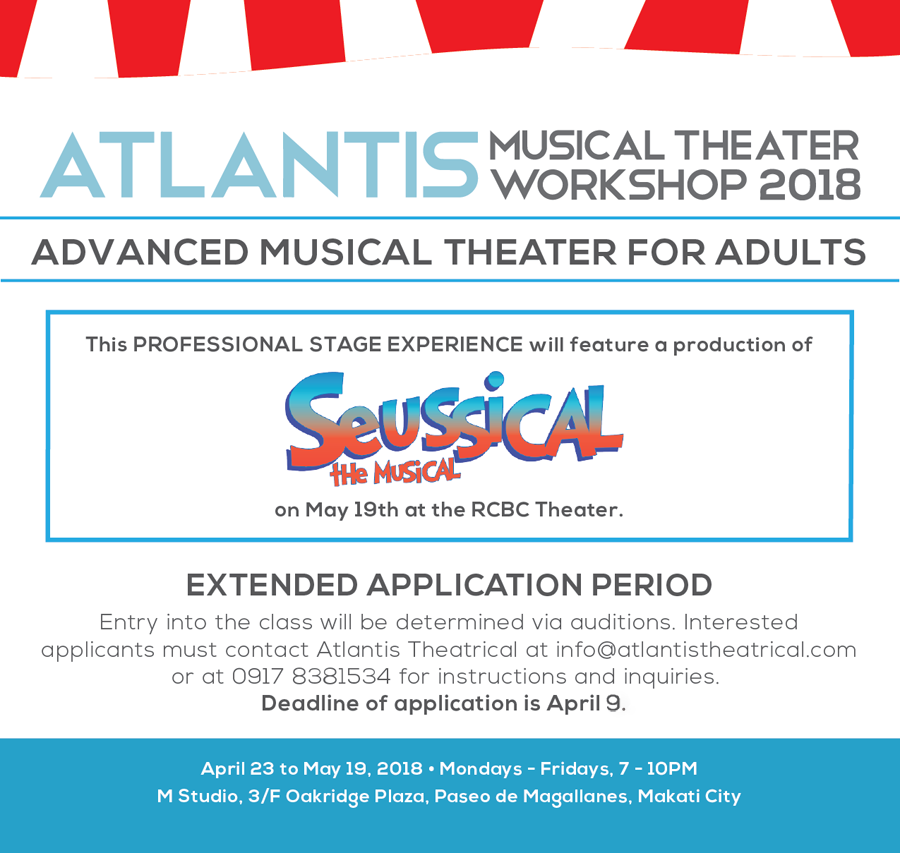 Rehearsals will be held from April 23 to May 18, Mondays to Fridays (7–10 pm), at M Studio, 3/F Oakridge Plaza, Paseo de Magallanes, Makati City. Through the rehearsal process, students will learn to connect and play with the material, to create good habits as an actor, and to work with other actors and a highly experienced creative team in a professional theater environment.
Entry into the class will be determined via auditions. The class is open to individuals 16 years old and up, and applicants must have prior musical theater training or performing experience with a theater company.
Interested applicants must contact ATLANTIS at info@atlantistheatrical.com or at 09178381534 to inquire about application procedures. Deadline for application is April 9, 2018. Based on the works of Dr. Seuss and brought to life by Tony winners Lynn Ahrens and Stephen Flaherty, Seussical™ brings together some of Dr. Seuss's most loved characters in one fantastical adventure.
Seussical™ is presented through a special arrangement with Music Theatre International and will play for one night only at the Carlos P. Romulo Auditorium, RCBC Plaza, Makati City on May 19, 8 pm.
Details
What: Atlantis Advanced Musical Theatre for Adults
Where: M Studio, 3/F Oakridge Plaza, Paseo de Magallanes, Makati City
When: April 23 to May 18, 2018
Contact: (0917) 838 1534,  info@atlantistheatrical.com, facebook.com/ATEGasia
---
This is a press release. Minor edits were made by Philippine Primer editors.