Summer Workshops 2018 from Power Mac Center
The premier Apple partner, Power Mac Center (PMC) wants you to know that they have the fun yet different kind of playground to explore this summer. Their latest series of summer workshops is the exciting activity for your kids!
PMC's summer courses are thoroughly selected modules crafted to meet the interests of the new digital generation. The creative and the enthusiasts may choose from the following five-day session classes: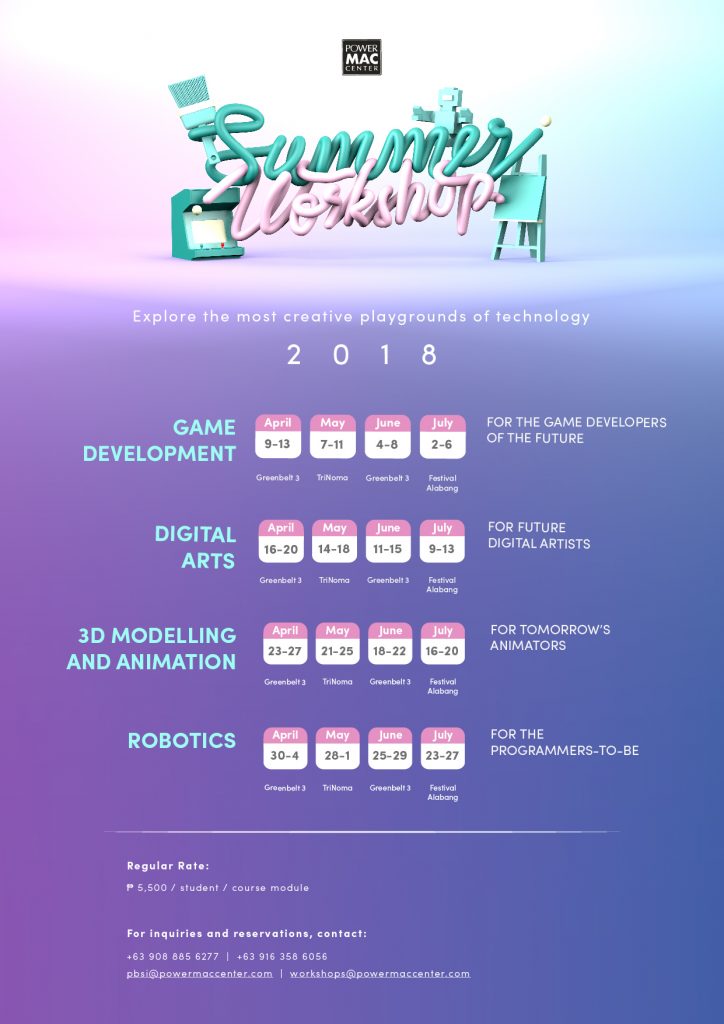 Game Development, Digital Arts, 3D Modelling and Animation, or Robotics. All workshops will be held in Power Mac Center training rooms at Greenbelt 3, TriNoma, and Festival Alabang and open to all kids 8 to 15 years old. The fee is at Php 5,500 per course, all inclusive of the use of Apple devices, the required applications, and all other learning materials. Attendees will take home a certificate and a flash drive with their individual projects created during the workshop.
"It has already been a decade since we started creating and promoting different playgrounds of technology for the Power Mac Center Training Center, yet surely, with the positive impact it has brought to a lot of kids now, you can expect us to continue this advocacy for the next decade or more," said Power Mac Center Marketing Director Joey Alvarez.
Reservation is validated by full payment and follows a "First come, first served" policy. Payment may be made at Power Mac Center Greenbelt 3, TriNoma, or Festival Alabang, or at the Training Center at 2L Cedar Executive Bldg. 1, 1006 Arnaiz Avenue, Makati City.
For more details, email pbsi@powermaccenter.com
DETAILS
What: Power Mac Center Summer Workshop 2018
When: April to July 2018
Where: Power Mac Center training rooms at Greenbelt 3, TriNoma, and Festival Alabang
Email: pbsi@powermaccenter.com
Contact: (632) 553 4211 / (632) 553 6399 / +63 908 885 6277 / +63 916 358 6056
FEE
Workshop fee: Php 5,500 per course for 5 sessions