DreamPlay's Sing Off 2018
Attention, please! DreamPlay will hold a singing contest for kids ages 6 to 12 years old! This is your time to shine! Can you dance? Do you want to sing your hearts out? If your answer is yes then this it competition is for you!
Contestants will be performing songs from DreamWorks Animation movies with the Grand Finals being held at Chaos, City of Dreams Manila on May 19, 2018.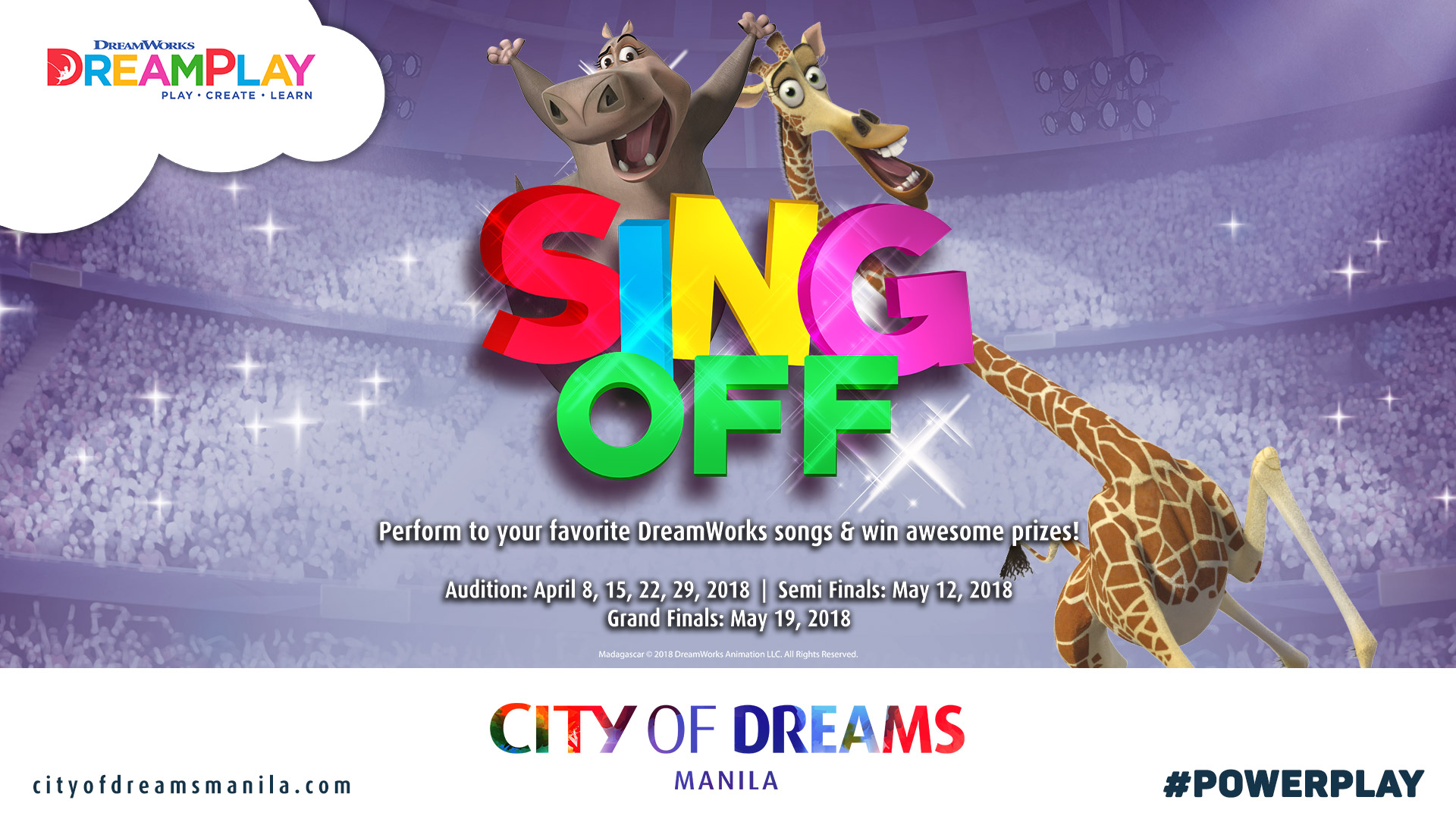 Competition mechanics are as follows:
Open to all young talented performers from 6 to 12 years of age.
Interested parties may also send an email request to dreamplay@cod-manila.com. Copy of the entry form shall be sent to the contestant's email address.
Contestants shall submit their entry form together with a copy of their birth certificate and parent/guardians copy of identification card to DreamPlay, City of Dreams Manila.
Submission of the entry form is from March 22, 2018, up to April 18, 2018. Upon submission of the requirements, the competition date shall be given to the contestant.
Employees of Melco Resorts and Entertainment (PHP) Corp., its advertising agency, and promo organizers including their relatives up to second degree of consanguinity or affinity are disqualified to join the contest.
All official contestants shall be required to perform any song from DreamWorks animation movies.
Contestants may join the elimination round only once.
Contestants who will pass the elimination rounds shall compete in the semi-finals.
The five contestants with the highest score on each elimination date shall move forward to the semi-finals. 10 finalists shall be chosen and be will be performing live in the Grand Finals.
This is the perfect summer activity for your child as they unleash their skills and talents!
---
Source: www.cityofdreamsmanila.com
Details
What: DreamPlay's Sing-Off 2018
Where: City of Dreams Manila, Paranaque City
When: May 19, 2018