April Summer Workshops at Sparklelab
Summer and students usually mean one thing: no classes! That means a lot of bumming out with friends. Learning, however, doesn't stop just because school is out. Make yours and your child's summer more productive by enrolling them in Sparklelab's 2018 Summer Workshops this April:
Toy Mill: Mad Scientist (Sparklelab Makati and Alabang)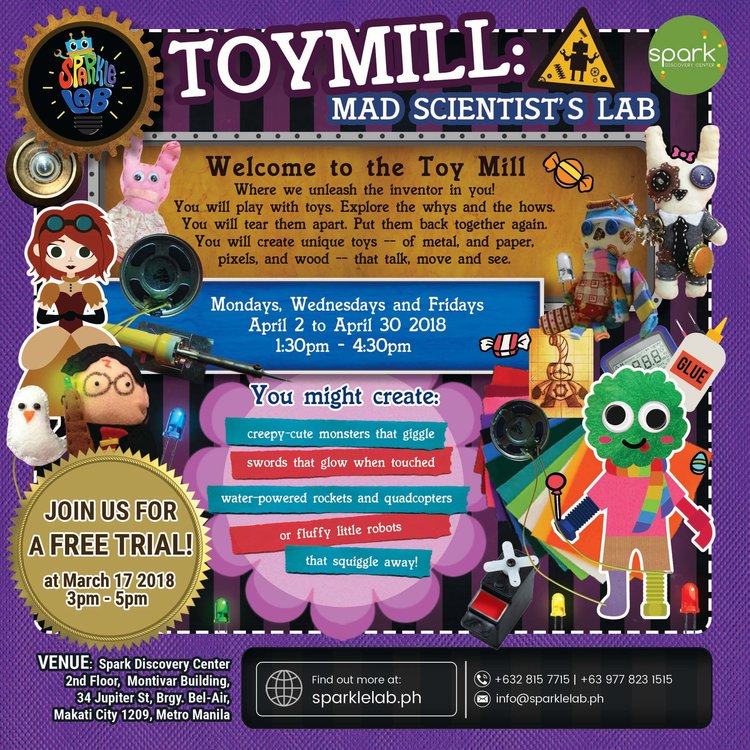 Learn to create creepy yet cute talking monsters, dancing paper animals, race cars (not the internal combustion powered ones, don't worry), and water-propelled rockets at Sparklelab Makati and Alabang!
Unleash the inner inventor in you at Sparklelab's Toy Mill: Mad Scientist, happening from Mondays, Wednesdays, and Fridays, April 2 – 27, 1:30 pm – 4:30 pm at Spark Discovery Center in Makati and Tuesdays and Thursdays, April 17 – May 24, 2 pm – 5 pm at Sparklelab Alabang! Swing by the Spark Discovery Center on March 17 and you'll be in for a free trial!
Registration is at Php 15,000 per participant for 12 sessions.
Workshops at Sparklelab San Juan
Gamemakers: Arcade Olympiad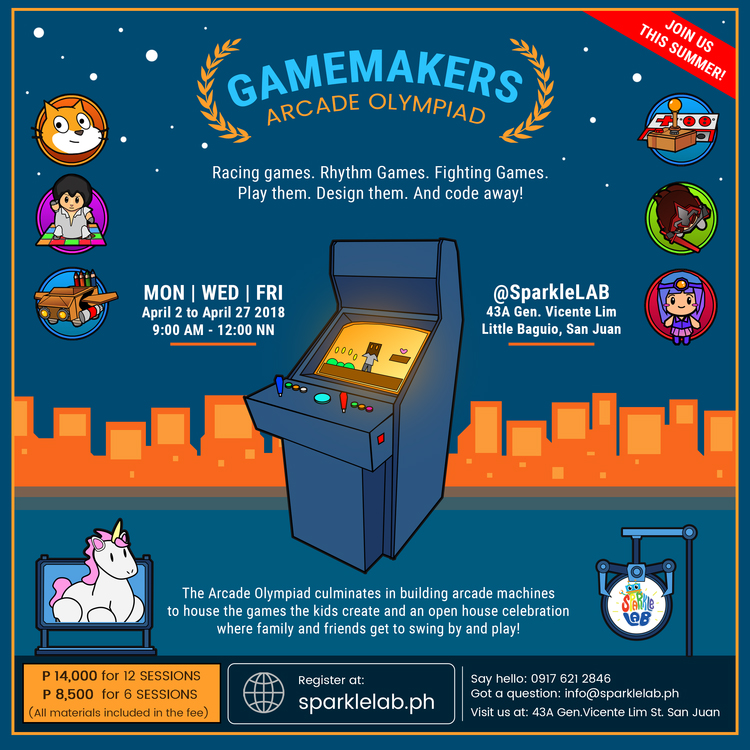 We all know everyone loves to play games, especially the nostalgia of arcade machines… but have you ever wondered what it takes to make one? Play games, explore a variety of game genres, understand their history and develop your very own digital game at Gamemakers: Arcade Olympiad, happening Mondays, Wednesdays, and Fridays from April 2 – 27, 9 am – 12 noon!
Register now and you'll be pleasantly surprised on the 27th of April!
Registration is at Php 14,000 for 12 sessions.
Toy Mill: Time Travel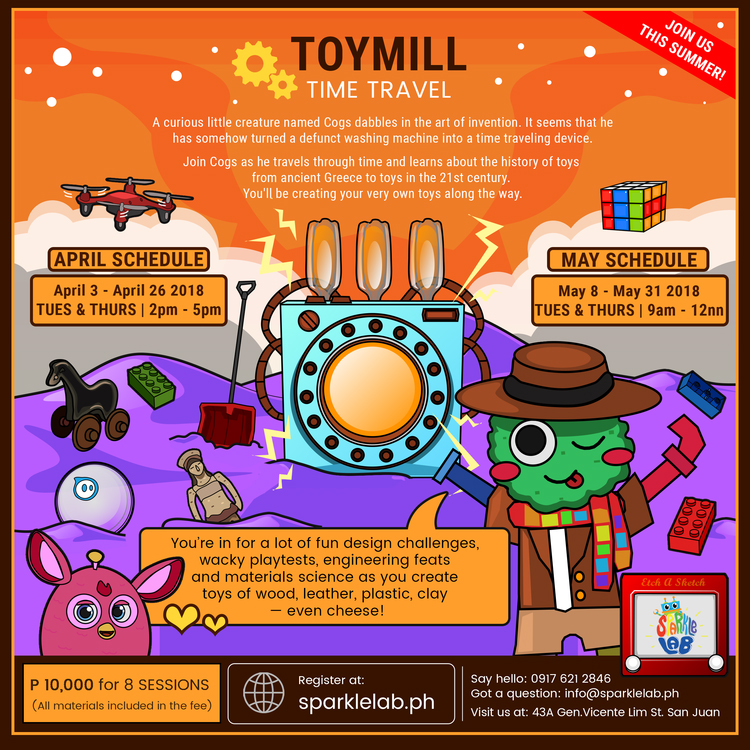 There's a cute little creature named Cogs that loves to dabble in the art of invention. He's somehow turned an old washing machine into a time machine, and he wants you to join him in his time travel escapades! Join Cogs and take on the role of a toy archaeologist as you journey through the history of toys with Toy Mill: Time Travel, happening every Tuesday and Thursday, April 3 – 26 from 2 pm – 5 pm!
Registration is at Php 10,000 for 8 sessions.
SFX Lab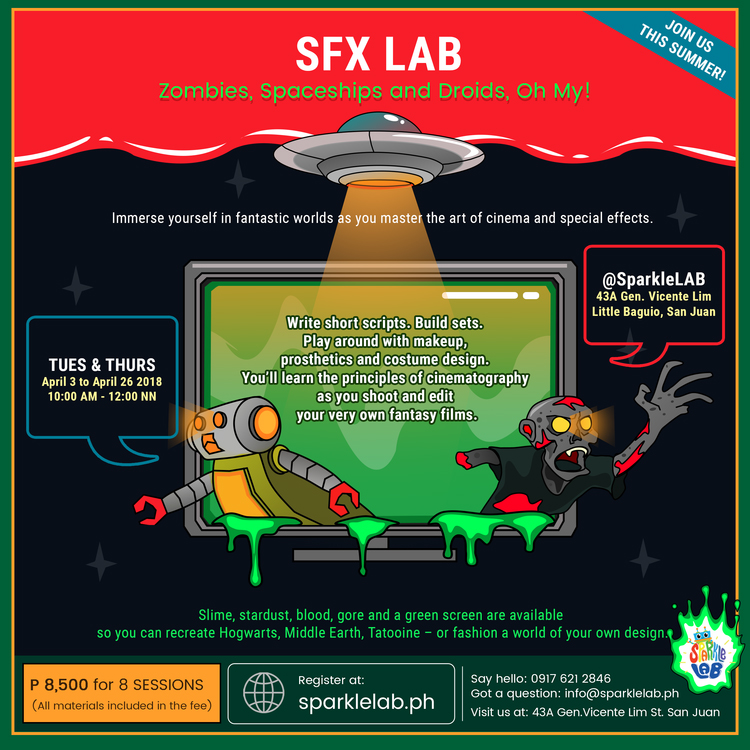 Ever wonder how your favorite Marvel and DC movies were made? Dive right into the world of cinema and special effects with SFX Lab, happening every Tuesday and Thursday, April 3 – 26 from 10 am – 12 pm! Write short scripts. Build sets. Play around with makeup, prosthetics and costume design. Learn the principles of cinematography as you shoot and edit your mini-fantasy films!
Registration fee is at Php 8,500 for 8 sessions.
Minecraft Club series
If your child is hopelessly addicted to Minecraft, then this workshop series is perfect for them. It'll help them get outside more and still be able to apply what they know and love from Minecraft with Sparklelab's Minecraft Club workshop series!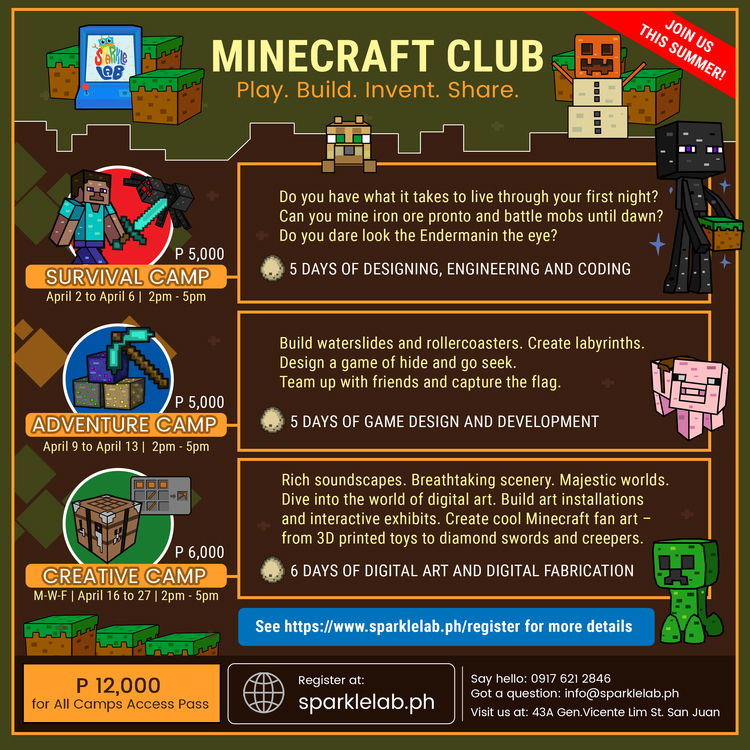 Does your kid have what it takes to live through their first night? Can he/she mine iron ore pronto and battle mobs until dawn? Does he/she dare look the Enderman in the eye? Then enroll them in the Minecraft Club: Survival Camp, a five-day intensive camp to learn more about design, engineering, and coding, all in an effort to survive the night both in Minecraft and in the real world!
Build waterslides and rollercoasters. Create labyrinths. Design a game of hide-and-go seek. Team up with friends and capture the flag at Minecraft Club: Adventure Camp! Let your kids learn the principles of game design and development as they design levels, build worlds, and engineer play!
Let your child create rich soundscapes, breathtaking scenery, and majestic worlds at Minecraft Club: Creative Camp! Sign up and be immersed in the world of digital art as they create their very own art installations and interactive exhibits featuring projections from the Minecraft world. Oh, and did we mention they get to keep what they create?
The Survival Camp happens from April 2 – 6  and comes in at Php 5,000. Adventure Camp happens from April 9 – 13 for only Php 5,000. Lastly, the Creative Camp happens from April 16 – 27 and comes in at Php 6,000. Want your child to experience all three camps? Avail of their All Camps Access Pass for only Php 12,000!
Have you decided on which workshop to join? If you have, then sign up for your preferred workshop at www.sparklelab.ph/register and click on the location of your desired Sparklelab workshop.
Log-on to www.sparklelab.ph/summerworkshops2018 for more information on each workshop, and bookmark our page for the May workshop schedules at Sparklelab!
---
Written by Andronico Del Rosario
Google Map:
https://www.google.com/maps/d/u/0/viewer?mid=1GHfizgeD7zAftHm6JjYNB4wsJIUhmu-Q&ll=14.524756648370959%2C121.07032362539064&z=12