Experience the UK at the Great British Festival 2018
Experience the best of British culture and innovation at the Great British Festival on February 23, 2018, as the British Embassy Manila brings together different UK brands to create a fun-filled day with great British music, fashion, food, and arts at the Glorietta Activity Center.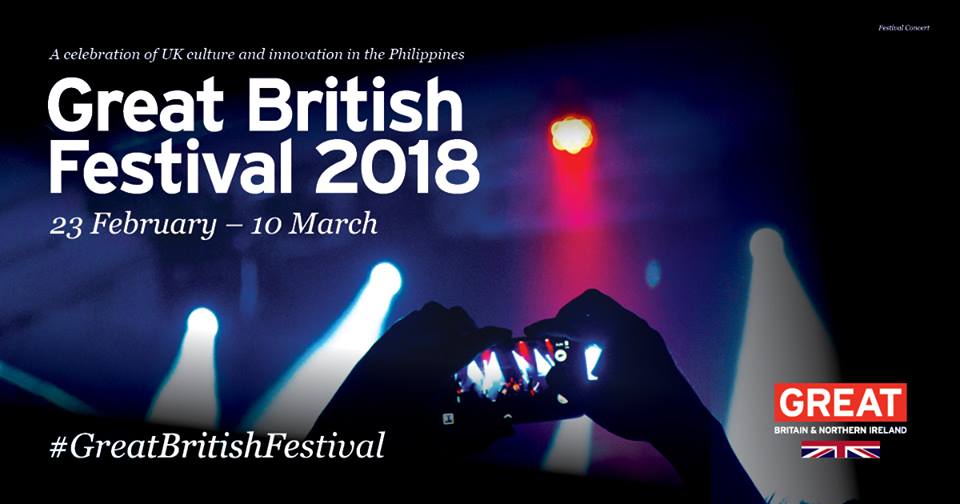 Different fun activities await everyone this Friday. There will be interactive exhibits, multiple raffles, a great trivia challenge, British film screenings, book reading for children, a whiskey pavilion, and the much-anticipated Rockaoke Contest (with the first prize of two tickets to London on Etihad Airways).
Admission to the Great British Festival event is free.
This year's Festival will be a celebration of UK culture and innovation and will reach out across the Philippines. It will run for two weeks, with events happening in Metro Manila, Iloilo, Cebu, Dumaguete, and Baguio.
#GreatBritishFestival 2018 Teaser

The #GreatBritishFestival is back! Join us on 23 February at Glorietta for the main event. Fantastic live performances and exciting prizes to be won.We'll also be going on tour. See you in Cebu, Iloilo, Dumaguete and Baguio in March!

British Embassy Manilaさんの投稿 2018年2月16日(金)
Organised by the British Embassy and its partners, the Great British Festival 2018 will be a great showcase of the creativity, innovation, culture, heritage and knowledge that spell Britain's success in fashion, music, sport, education, and design.
For more information, check out The British Embassy Manila on Facebook (facebook.com/ukinthephilippines), Twitter (twitter.com/ukinphilippines) or visit our website (www.gov.uk/world/philippines).
Details:
What: The Great British Festival 2018
Where: Glorietta 2, Palm Drive, Makati City
When: February 23 to March 10, 2018
Tickets: ADMISSION IS FREE
---
This is a press release. Minor edits were made by Philippine Primer editors.